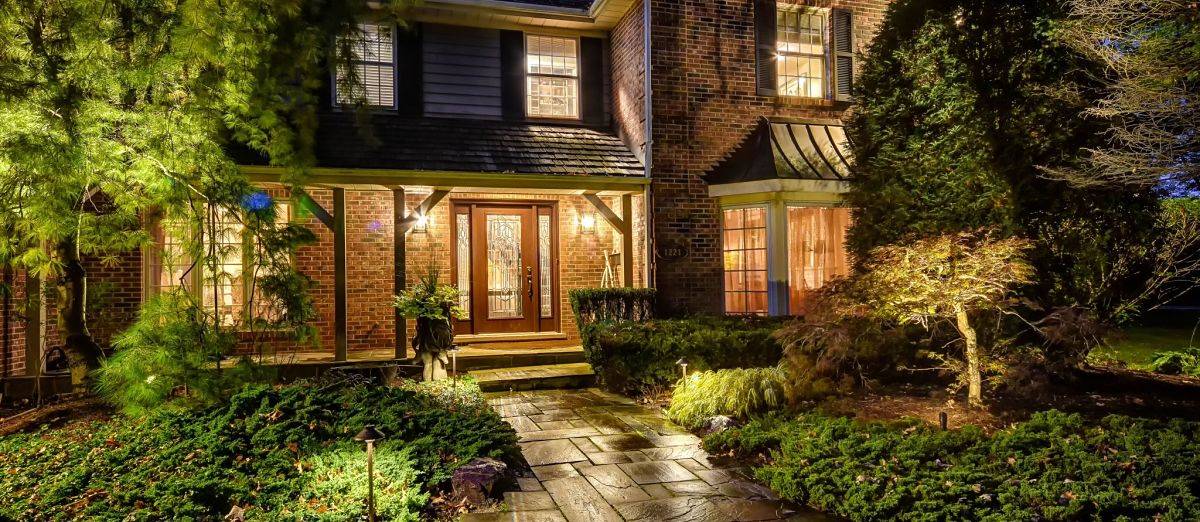 By: Dave Askelson
Homeowners reached out to me for a sprinkler and lighting quote last summer.
After discussing how to properly irrigate their lawn and plant material, we discussed thoughts on how to illuminate the property.
I asked the couple their goals, and they strictly wanted to focus on the landscape. No illumination on the house. They took pride in the natural look of the landscape. We decided to provide a look that enhanced the landscape through balance and subtle lighting.
The first thing I noticed pulling up to the home was the large natural center island with mature trees that were there since before they purchased the home 30+ years ago. Both husband and wife wanted to make sure the large center island around the perimeter of the circular drive was well lit so their guests could receive ambient light while driving to their home at night. Due to a lack of street lights, their property was extremely dark at night. With the use of seven LED accent up-lights, we light up several of the large trees, as well as some ornate specimens. Our fixtures can be adjusted for beam width, as well as intensity, allowing us to customize the final product to fit each homeowner's needs. Not only were the homeowners happy with the ambient light, but they felt a sense of security with the presence of a well lit front yard. There were three trees along the front of the house that we focused on, as well. Without providing any direct light on the house, the illumination of the three trees provided a distinct balance across the front of the home. As an added measure three path lights were placed in a staggered manner along the front walkway from the circular driveway to the front door. The homeowner's insisted on having the path lights blend into the landscape during the day, which was done with providing an assortment of models to choose. We used an architectural bronze finish to blend in with the topsoil and ground cover.
Once in the backyard, I felt like I entered a sanctuary. Beautiful mature trees, with many ornamental trees added to the back of the property around a fire pit. The goal was to provide ambient light around the back patio and deck, and then showcase the fire pit area at the back end of the yard. As you can see in the photos, the patio/deck area had a more intense illumination for guests. Step lighting added to the safety factor, as there are two tiers to the deck. Softer lighting was the objective when dealing with the ornamental and exotic trees surrounding the fire pit.