Our Pathway Lighting Systems
Increase your security and safety for your family and visitors by improving pathway lighting. Whether it's nighttime or just a dark corner in your yard, we can light up the problem spots. Pathway lighting can be both functional and decorative. The lights can highlight or guide you within your home's property. Pathway lighting also deters potential thieves or unwanted visitors from entering your home in the first place. Beautify a garden path, a walkway, or a trail. The possibilities are endless with our attractive pathway lighting systems.
What Type of Pathway Lighting Can You Do?
Pathway Lighting System Ideas:
Pool pathway lighting
Front yard stone pathway
Create a new pathway in your existing yard
Garden lighting path
Trees behind your home
Perimeter lighting to deter robbers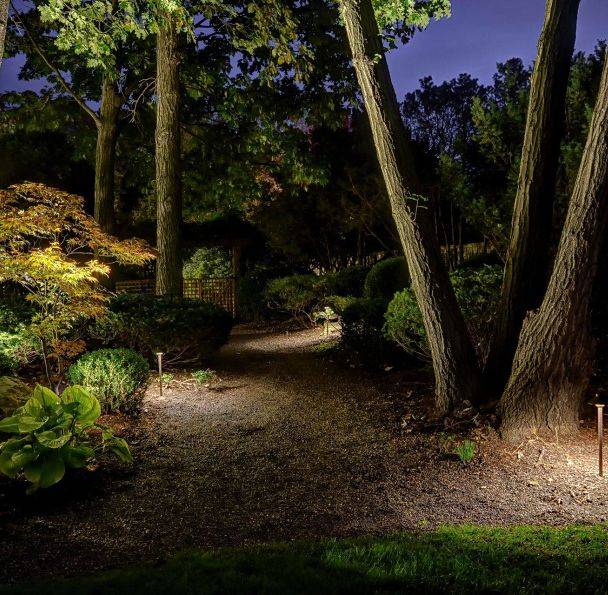 Talk To A Professional Today

Andres from American National Sprinkler & Lighting came by yesterday to perform the annual "shut-down" of my sprinkler system. As always, they were on time, professional and finished the job quickly. My system is 10 years old now and I've never had a problem with it, and the support for the system is always right on the mark. I would recommend Andres and ANSL without hesitation to anyone looking for a great systems.

Stan Clement


September 29, 2019
From the front desk to the field, we make sure to make every interaction with us is as pleasurable as possible. We work hard to make your vision for your home a reality. It's easy to share your ideas with us and get the feedback you need. We let you know what is possible and the options you have to create the best looking yard through lighting. Our experts will guide you in every step of the process for a full service experience.
American National Sprinkler & Lighting provides great solutions and alternatives when it comes to green options. We have both add on packages and Eco-friendly options that can actually save you money while saving the environment. We use a low voltage system which is safe for children and pets without the worry of electric shock. This low voltage system significantly reduces the amount of energy it takes to light up your home. Best of all, our fixtures are built to last with copper and non-corrosive materials; this means you get to enjoy the lighting without having to go out and buy new fixtures every time there's a problem.
Energy efficient low voltage lighting
Safe for the family
Long term fixtures that last