Our Outdoor Lighting Designs
A great lighting system is created based on individual homeowners wants, needs, and tastes. Each system should be customized specifically to that property and homeowner. We start with a free consultation where we take your ideas and input and couple that with our outdoor lighting design expertise and experience to develop the perfect plan for your property.
Our designers look at each property to create a plan that works aesthetically and within your budget. Systems can be designed in phases to account for future expansion and/or budgets. There are many different ways to bring your home to live at night - walkways, trees, gardens, patios, downlighting, special features, and the home itself to name a few.
Products We Use to Create One of a Kind Designs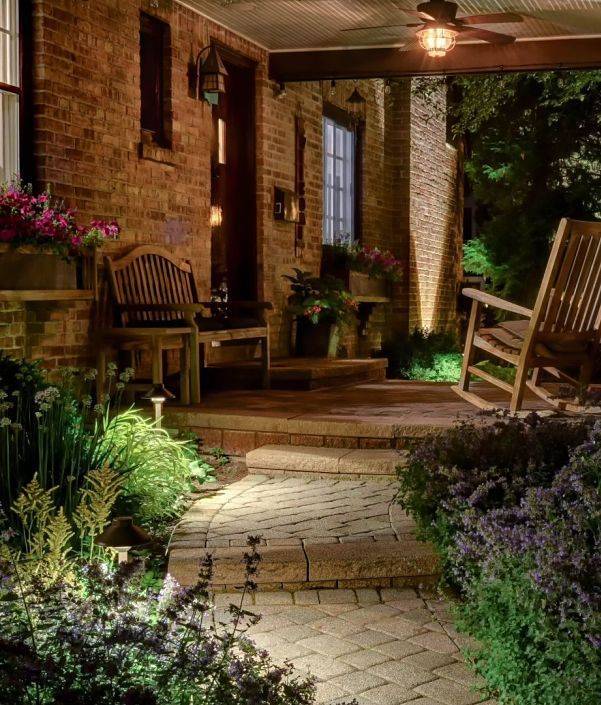 Traditional fixtures with LED drop in bulbs
Same as above (except limited brightness equivalents)
Bulb replacement without replacing entire fixture
Can modify beam spread without replacing entire fixture
Range of brightness equivalents
Several beam spreads options
Different color temperatures
Filters that create different effects
Zoning, Dimming, Color Changing Systems
Areas can be turned on and off independently
Brightness of the system can be programmed to account for darkness
Color of the fixtures can be changed for holidays, special occasions, or just fun.
All controllable from your smart device
Talk To A Professional Today
Andres from American National Sprinkler & Lighting came by yesterday to perform the annual "shut-down" of my sprinkler system. As always, they were on time, professional and finished the job quickly. My system is 10 years old now and I've never had a problem with it, and the support for the system is always right on the mark. I would recommend Andres and ANSL without hesitation to anyone looking for a great systems.

Stan Clement


September 29, 2019
Different Effects That Make Your Property Special
Our designers have over 40 years experience transforming dark properties and bringing them to life at night. We look forward to meeting you and being a part of this outdoor lighting design project.
Paths, Walkways, and Patios
Lit paths provide safety and security
Walkways that are well lit are inviting
Patio lighting can create a stay-cation feel
Uplighting cones, peaks, and walls
Casting shadows on walls by lighting plant material
Highlighting addresses, chimneys, and front door entrances
Accenting trees with uplighting (Trunks and Canopies)
Back lighting plant material
Downlighting from trees to imitate moonlight
Illuminate plant beds with downlights from trees