Want to be the envy and the talk of the neighborhood? Want to have a golf course quality lawn and be ecologically responsible while exerting minimal effort? American National Sprinkler & Lighting has the answer, an in-ground residential sprinkler system!
Utilizing the latest technology, American National Sprinkler & Lighting lawn sprinkler systems are self-sufficient watering systems, which provide the essential irrigation needs for lawns.
When designed properly, a residential sprinkler system will eliminate the need to water with a garden hose thereby saving you valuable time and money.
Once a system is installed, you can sit back and let the system do its job. Interaction between you and the residential sprinkler system is minimal, with minor adjustments being made for the particular season.
Adjustments are made via the control panel, typically located in the garage and involve no more than manipulating a few buttons or rotating a dial. That's it!
"We are friendly and easy to talk to.  You have questions and we are eager to answer them!  We invite you to start the conversation."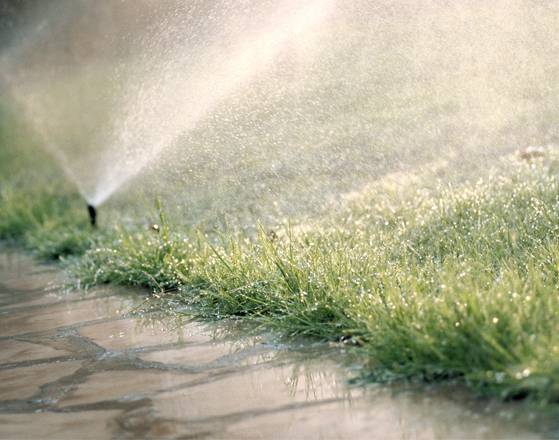 What are the advantages of owning an in ground lawn sprinkler system?
You will not need to worry about over-watering. The system works on a timed cycle and will turn off when completed. The rain sensor gauge will turn your system off automatically when it starts to rain.
There is no need to drag around hoses. You will feel confident your lawn/plantings will always be watered, even if you are not at home.
Landscaping is delicate and expensive. Owning a sprinkler system will insure the lawn, flowers, shrubs and trees receive the correct amount of water on a consistent basis. Thus, your landscape investment will be protected.
As quoted in the Chicago Tribune, "in ground sprinkler systems for lawns and landscaping are in high demand, especially in the upper bracket segment of the market, they add value to the selling price and help immensely in the sale of your home."
Frequently Asked Questions (FAQ's)