Why You Need a Yard Sprinkler System This Summer
Why You Need a Yard Sprinkler System
This Summer
Yard Sprinkler System: Is it Worth the Cost?
You have just moved into a new home, or want to improve the lawn of your existing residence. You are considering a yard sprinkler system, but do not know if it is worth the cost. At American National Sprinkler & Lighting, we want to give you a few things to consider:
They Are Money Well-Spent
Talk with homeowners and landscapers, and they will resoundingly tell you a yard sprinkler system is a wise investment.
First of all, it gives you consistent water coverage in every zone of your yard. You can set the timers to water your flowers 5 minutes every other day, while your lawn may need 15-20 minutes every other day, depending on the weather. This means a healthier lawn and more vibrant flower beds. Horticulture experts recommend watering deeply every other day, rather than a shallow water every day. It helps the root system grow more deeply into the soil, which insures healthier grass and plants.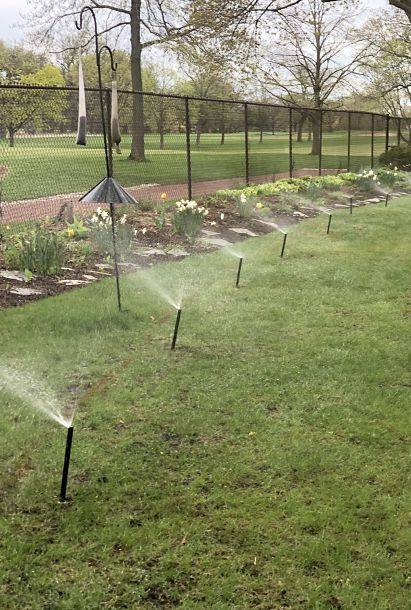 Have you ever started a manual sprinkler in your yard, then walked off and forgot it was still watering? The result can be a marsh instead of a properly watered lawn. Over-watering can cause a fungus called Red Thread. If you see it on your lawn, it may look a bit like cotton candy, and can be very detrimental. It can be eradicated with chemicals, but it is best to not have it in the first place. Even if you don't have Red Thread, when you forget about a hose running, it can lead to a lot of wasted water. The other problem is that one area of your yard may be extremely well watered, while the rest is left dry. With a yard sprinkler system, you can set a clock and walk away. Your yard will be evenly watered, and you save yourself time as well, which is always a good thing in the hot summertime months!
Are There Any City or Neighborhood Codes to Consider?
It depends. Codes and regulations vary on whether you live in a certain city, township or on a lake. It is wise to have your yard inspected and garner a proper permit before work can begin. One of the things that is important is the pressure valve, to be sure it is up to code. Once a yard sprinkler system is installed, exterior and interior pressure valves will be added to regulate the pressure. That is something our irrigation technicians can do before they begin the job.
How Long Does it Take & What Will it Cost?
Yard sprinkler system projects can be completed in 1-2 days. The cost varies depending on the number of zones on your property. The best time to install a yard sprinkler system is between April and October, so we are right in the middle of the best time for you! Properly cared-for, the systems can last a lifetime, and the maintenance is low. Our expert crews at American National Sprinkler & Lighting can consult with you on what would make the most sense for your particular property and watering needs. You may also want an irrigation technician to come out in the spring to test every zone, making sure all the sprinkler heads are functioning correctly, and watering where they need to be, and then be back in the fall to shut the system down for the winter.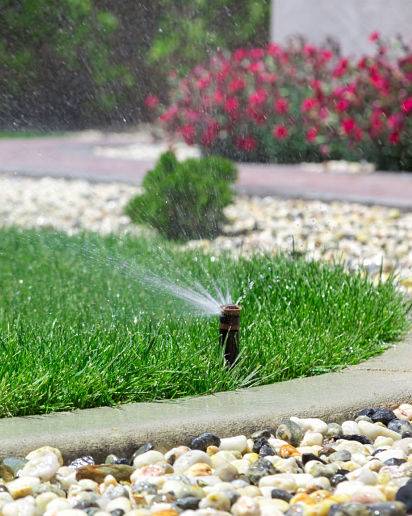 We mentioned earlier that it is best for your lawn and flowerbeds to water every other day, in order for the root systems to fully develop. The best time to water during those days is between 4-5 am. The reason is that it gives the lawn and plants time to fully soak up the water before the summer heat. The idea here is that you want to water when the sun is not beating down on your lawn, and taking away the benefits of deeply watering. If you water in the afternoon, the sun will burn it off much more rapidly, and you'll need to use more water than if you water in the early morning. That's another reason why a yard sprinkler system makes so much sense: who wants to be up at 4 am to start their sprinklers? If it is a particular hot, dry summer, you might want to set your system to go off each day, but it is important to keep a watch on the weather trends, so if you are getting ready for a summertime thunderstorm, you can turn off the sprinkler system, and then restart it for the next dry spell.
We do recommend an irrigation technician come out and check the sprinkler heads to make sure they are operating as they should. Typically, a normal home has about six zones, so the entire watering cycle would take about an hour to an hour-and-a-half. In the fall, it is important to have the lines blown out by an irrigation technician, particularly in our region of the country, if you do not blow out the lines, the leftover water will freeze and expand and eventually crack the lines.
Get a Yard Sprinkler System Today!
In 1984, American National Sprinkler & Lighting began with 1 vehicle and 3 employees in a small office in Wheeling. We decided early on that our dedication to the customer would be our #1 reason for success. Our motto is "Install One Time...Satisfaction For a Lifetime." We take that motto seriously. We want to install a perfectly-designed and reliable sprinkler system for you, and assist you in maintaining it for life. It is a service-oriented industry, and we know our reputation is dependent on the service we provide to you. Thanks to good service and satisfied customers, we have grown to more than 40 vehicles and 80 employees, which are based in our 13,000 square foot facility in Mundelain, Illinois.
We are driven to achieve customer satisfaction, so contact us and let American National Sprinkler & Lighting work for you! Call us today at (847) 388-0321