Custom Outdoor Lighting Made Just For You
The best kind of outdoor lighting system is the kind that brings your ideas to reality. If you have an idea for a functional and beautiful outdoor lighting system, give us the opportunity to bring it to life. We can transform your home's landscape to be amazing both in the day and nighttime.
We offer free consultations to sit down and have the custom outdoor lighting team evaluate your property. Additionally, we can develop a personalized lighting solution that best suits your budget.
With over 30 years of experiences and 75 years of combined team experience, your home and its design are in safe hands.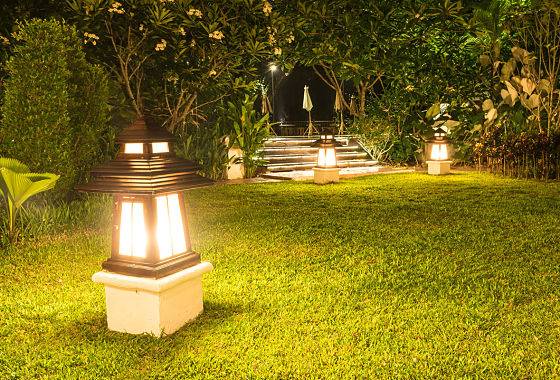 Custom Outdoor Lighting Options Include:
Landscape lighting:
For specialty designing that highlights the best parts of your landscape, we are experienced in making your yard come to life at night. Whether you have trees, flowers, art, statues, and trails that need light, we'll make sure your house is well-lit and still tasteful.
Security lighting:
The ability to protect your home and still be practical about your outdoor lighting system is our specialty. Ask for a free consultation to see how we can best highlight any dark spots and corners in your home.
Pathway lighting:
Our outdoor lighting system can also highlight any driveway or path that leads to your home. Both beautiful and practical, adding pathway lighting can enhance your home's look.
Patio lighting:
A professional lighting system can make your patio inviting and enhance the personality of your home though features such as pool lighting and house backdrop flood lights.
Home exterior:
You can never change a first impression and making sure your house has a breathtaking one. No matter how big or small your home, we can make sure it is beautifully lit.
Front/backyard lighting:
Our experts will make sure our lighting system accentuates the unique architecture in both your front and back yards. You can light up different aspects of your yard to best light it up at night.
Garden lighting:
No matter how big or small your garden is, we know how much work you put into it. Let us handle the lighting so your green thumb shines through even at night.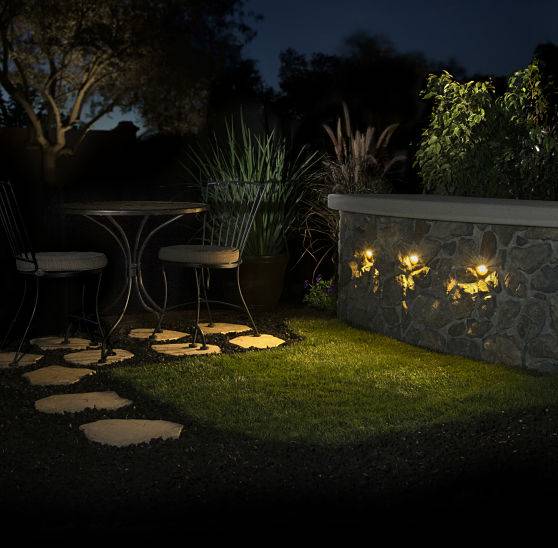 The Key to Our One of a Kind Designs
We utilize a wide variety of bulbs, fixtures, smart technology and more to create an exterior lighting system that is truly customized to your home. The types of products we use to accomplish this personalization include:
Traditional fixtures with LED drop in bulbs. These are simple to replace and allow for easily modified beam spread without replacing the entire fixture.
Integrated LED fixtures with a range of brightness equivalents, beam spread options, color temperatures and filters.
Zoning, dimming, and color changing systems that can be independently controlled, programmed to account for darkness and easily color changed for holidays and special events all through your smart device. 
Highlighing Special Features
Many of our clients like to highlight features such as:
Statues
Fountains
Garden Decor
Tree and bushes
What to Expect from American National
At American National Sprinkler & Lighting, our number one commitment has always been to our customers. Whatever work you need to be done, our expert team will schedule flexible service calls at your convenience. We'll work with you to minimize the amount of time you need to be home.
With more than 75 years of combined industry experience, our customer service and expertise are the best in the business. We've been proud to serve the northern Chicago suburbs for more than 30 years, and it is our vast industry knowledge and dedication to our customers that has led to our continued success.
We hire only expertly-trained, accommodating industry professionals and work with nothing but the highest quality materials to make sure your custom outdoor lighting is done right the first time and lasts for years to come. 
If you are ready to begin your custom outdoor lighting project or would like to talk to a member of your team, give us a call at (847) 393-4826 or fill out our Contact Form and we will connect with you soon!