American National Services
American National For Your Lighting Needs
Adding an automatic outdoor lighting system makes your home more attractive and allows you to highlight the best parts of your property like your patio, pool, and gardens. Using light to brighten your outdoor living space increases your home's value and allows you to enjoy your home into the night hours.
Our outdoor lighting systems will illuminate your property and provide light to dark spots, steps, and pathways. Lighting your home can prevent theft and home invasions while increasing your home's value and curb appeal at night.
Let's face it, when your property is properly lit, it looks great! Heads will turn, including yours. It shows pride in one of your greatest investments, your home.
American National For Your Sprinkler and Irrigation Needs
An automatic sprinkler system can enhance your home's curb appeal by keeping your landscape investment properly irrigated. An expertly installed system will efficiently water your lawn and flowers to keep everything looking its best and making your home look attractive at all times.
Savings on Your Water Bill
By using our top of the line software, your sprinkler system is programmed so that your lawn and green areas will always receive the correct amount of water and, never more than needed. It's efficiency will allow you to grow healthy landscapes and save you money at the same time.
Healthier Lawn & Enjoy the Convenience
Our sprinkler systems will make watering a breeze. There will be no more need to stand out in your yard with the hose watering time and time again. Save time and enjoy the convenience of having a healthy lawn.
American National Sprinkler & Lighting began installing lawn sprinkler systems in 1984 with 1 vehicle and 3 employees in a small office in Wheeling.
Our philosophy and dedication to the customer is the number 1 reason for our success and the origin of our motto, "INSTALL ONE TIME …SATISFACTION FOR A LIFETIME".
We have grown in size to a fleet of over 40 vehicles with 80 employees housed in our 13,000 square foot facility in Mundelein, IL.
Our mantra – install a perfectly designed and reliable sprinkler and/or lighting system and maintain it for life.
Lawn sprinkler and outdoor lighting are both service-oriented industries. In a service industry, a company is only as good as its ability to service its customers well. WE ARE DRIVEN TO ACHIEVE CUSTOMER SATISFACTION!
If a customer needs a lawn sprinkler system or lighting service our 20 plus technicians, coupled with amazing office staff, are able to schedule and complete the repair in 1 or 2 days and most times without the customer needing to be home.
We take great pride in our service response time and ability to solve all issues. Our office staff understands the importance of quick turnaround times when scheduling an appointment with the homeowner. The office staff is friendly and courteous and will coordinate with your busy schedule.
We continually update our vehicles and communication hardware allowing us to effectively service our client base.
At American National, we believe in scheduling a service call at your convenience. We have developed a scheduling program to minimize the time you need to be at home, and also work 7 days per week to accommodate working families.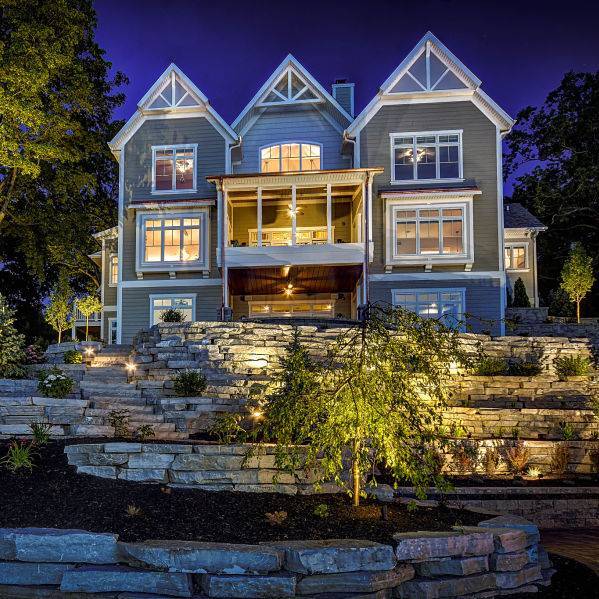 Our office staff will contact you in the spring to schedule the opening of your lawn sprinkler system and to service your lighting system. We will also call you in the fall to schedule the closing of your lawn sprinkler system.
From our office staff handling the incoming calls 12 months per year to our experienced service technicians ready to handle the work order ticket to our 13,000 square foot facility which enables us to stock our trucks efficiently.
We have a reputation of integrity and high standards among individual customers, landscape architects, landscape contractors and builders. We constantly strive to earn this trust. Our office takes great pride in servicing our clients accurately and promptly. Lastly, our unmatched labor force consists of service and installation experts who have been employed by us for an average of 20 years. Their technical skill and work ethic are the backbone of our company.
In business, since 1984 we have accumulated over 8,500 satisfied lighting and lawn sprinkler clients. Our team of talented design professionals can tailor your lighting and/or sprinkler system to maximize the appearance of your landscape.
25 service technicians with over 400 years of experience in lighting and sprinkler service.
Sales staff with over 80 years of combined knowledge in sprinkler and lighting design.
Skilled installation foremen who understand how to design and install sprinkler and lighting systems.
Referred by over 300 landscape contractors, landscape architects and builders.
13,000 square foot facility which allows us to stock inventory to meet any immediate client needs.
Sprinkling and lighting the Chicagoland area for over 30 years with a fleet of 45 vehicles.
All technicians are licensed, bonded, and insured for your protection.
Sprinkler systems designed perfectly with head to head coverage which makes us the leader in the industry.
Lighting tailored for each homeowner to accent their landscape and outdoor environment.
Talk To A Professional Today
I highly recommend American National sprinkler and Lighting. They make the process to have our sprinklers opened and closed so easy. Jose Luis and his team always do such a great job!

Sima Nielsen


October 31, 2019
American National Sprinkler & Lighting takes pride in servicing our customers from inception to completion and many years thereafter.
"Install one time … satisfaction for a lifetime" amplifies our mission statement as a company:
Efficient and friendly customer service
State of the art products coupled with fantastic warranties
Professional and skilled installers
Amazing follow-up service
Over
0

+

Satisfied Customers
"To those looking for a trusted and reliable sprinkler service with fair pricing and tremendous customer service, I recommend American National to you. The company is extremely organized, professional, high quality and fast service. I am a customer who appreciates great service when I find it and know it's hard to find"
Eric Hurckes, Naperville, IL
"In this day, one doesn't find all contractors to be commendable. We would like to express our appreciation American National Sprinkler & Lighting's work—well done!"
Betty Bauer, Grayslake, IL 60030
"Your company did an excellent job with the installation. I am impressed with the conduct of all of your employees. They are polite, courteous and knowledgeable. I am an extremely pleased customer and have told many people about your company and excellent service."
Dr. Steven & Gail Schubert, Buffalo Grove, IL