Lighting Your Path to Outdoor Beauty with LED Lighting Installation
Lighting Your Path to Outdoor Beauty with LED Lighting Installation
The Art of LED Lighting Installation
Picture this: it is the end of a long workday and you are pulling your car into your driveway long after dusk. Your neighbor's houses are dark, and you are grateful to have your home illuminated in soft, welcoming light, and LED lighting installation can make all the difference in the beauty of your home.
There is a practical side to LED lighting installation as well. Lighting provides security, and would-be intruders won't target homes that are well-lit at night. Lighting is both science and art: you don't want to come home to flood lights, but you want lights strategically placed to enhance the beauty and security of your home, and that's where our experienced team at American National can help!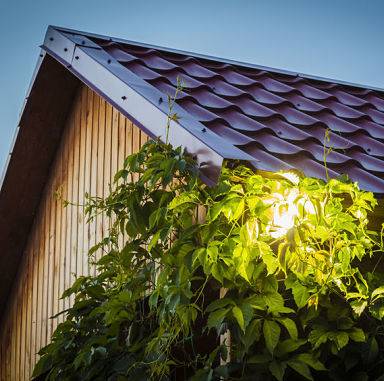 I Keep Hearing About LED: Why LED Lighting Installation Outside?
LED stands for Light Emitting Diode. They have quickly become the best choice for outdoor lighting for several reasons:
Bright light: LEDs emit a brighter white than traditional bulbs, helping to target areas that need to be illuminated at night.
They live longer: LEDs can last up to 50,000 hours, which under normal use could mean 25 years.
They save energy: LEDs have more lumens per watt, they shine more brightly and use less energy, so that can be money in your bank account.
No more warm up time: traditional lighting takes some time to warm up and turn on which can be difficult in colder climates like Chicago.
They are tough: LED lighting is manufactured with durable materials like plastic, rather than glass, which makes them a better choice to handle harsh weather conditions.
They are flexible: LED lighting comes in a wide variety of forms and our team of experts at American National can work with you to give you the perfect LED lighting installation for your home.
They are eco-friendly: We use low voltage exterior lighting, so while you and your family are enjoying the warm ambiance of the outdoors you are also reducing your electric bill!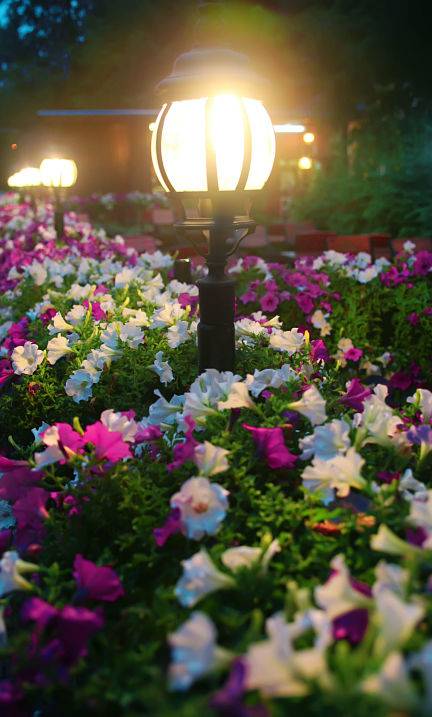 Get a Dramatic Enhancement
Our team of LED lighting installation experts at American National can work with you to create exterior lighting that enhances the architecture of your home, as well as the landscaping. This can help to make your home look good all 12 months of the year, providing a dramatic enhancement to the look and feel of your home. With proper positioning, your outdoor lights can create magic after the sun goes down, giving your home instant curb appeal.
Many of our clients decide to illuminate some stately trees. This can be done two ways. One way it to shine an LED light up from the ground to showcase the tree's canopy, which can be very dramatic. Another way is to install the LED light at the top of the tree and let it shine down, creating a majestic look. Our team can also install LED lighting along pathways, creating a mystical journey from place to place. They are also well-used to illuminate your front door, making it easy for visitors to navigate your walkway in order to ring the doorbell.
Lighting truly creates the illusion that your home is larger than it is, by focusing on outside features that draw your eye to your front door. If you ever plan to sell your home, LED lighting installation can make your home much more valuable by its dramatic views at night.
In addition, we use variety of tools to achieve some very dramatic effects. For example, we can put your lighting system on dimmer switches, that can be altered according to the time of day, time of year, and mood you want to set for your get-together. We can also program the lights to change color if you are wanting to create a certain holiday mood. Once our experts set up your system, it can all be controlled from your smartphone, so you won't even have to get up from your patio chair in order to change the mood!
Take Advantage of LED Lighting
If you are not taking advantage of LED lighting, you could be missing out on a large part of your home's functionality. Well thought-out landscape lighting can completely change the way you use your outdoor space. Let's face it: hanging out on a dark patio isn't that appealing. But strategically placed LED lighting can transform the area, in effect giving you an additional living space that happens to be outdoors, and in the Chicago area, summers are wonderful times to come together and enjoy nature and each other.
LED Lighting Can Provide Safety
There are really two points here: first of all, if your yard is well-lit, you (or a guest) are less likely to fall when tripping over a dark stair or uneven piece of pavement. You don't want to have to grope about to move in and out. It can literally be a life-saver when people can see their way safely in and outside your home. Also, security experts will tell you that a home that is illuminated at night will be much less attractive to would-be intruders, who are looking for the dark properties to get in unseen.
Enhance Your Home with LED Lighting
At American National, we consider every home lighting project a team effort. We bring our experts to your home and work with you to figure out how you currently use your outdoor space, and how we can change the lighting to enhance your home living experience. So we take pride in customizing a plan just for you. It starts with a free consultation, where we listen to you, and incorporate your desires with our years of outdoor lighting experience to come up with something magical for your home. It can be illuminating walkways, trees, gardens, patios, sculptures and other special features.
Every home is different: every landscape is different, so the plan needs to be tailor made for you. We want it to be beautiful, and we want it to work within your budget. We have some systems we have designed in phases so you can incorporate additional lighting elements as your budget allows.
Our team at American National has more than 40 years of lighting experience. We would love to meet with you to see how we can improve the look, feel, and functionality of your home! Contact us at (847) 388-0321 for a free consultation!