Outdoor Lighting Installers
Experts with Decades of Experience
At American National Sprinkler and Lighting, we know that outdoor lighting is only as good as its quality of installation. That's why we employ skilled installation foremen who are trained in both the design and installation of outdoor lighting systems.
Our primary foreman has been working with American National since 1996 and has more than 40 years of experience. Most of our other installation experts have been employed by us for an average of 20 years.
With decades of experience comes incredible attention to detail. Our outdoor lighting installers take the time to address every aspect of your project, from burying all of your wires with care to gently working around your delicate plant life.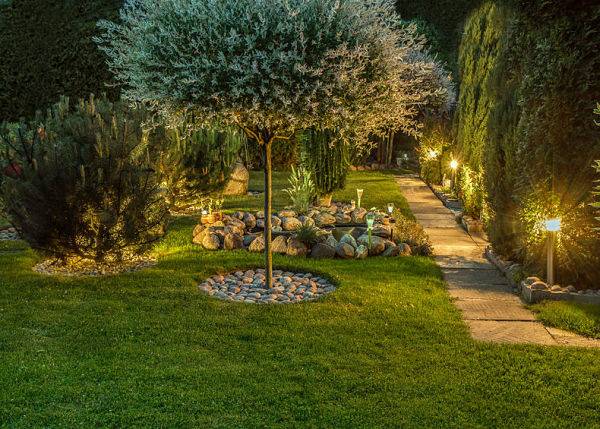 Full Service From Consultation to Installation
From your initial consultation until the last light is installed, our outdoor lighting installers work to create a top-notch lighting system for your home or business. Even after your system is completed, we are available throughout the life of your lighting to service your system, add future expansions and make necessary design changes and updates.
Our outdoor lighting installers kick off every project with an assessment of your property and your lighting needs. We'll combine our assessment with your vision to put together a customized design for your property. During every step of the installation process, we'll check in with you to make sure your design comes to life just as you envisioned it.
Quality Installed Systems Built to Last
A well-designed and installed outdoor lighting system should last for years to come. As part of our commitment to our clients we couple our experience installation team with nothing but the highest quality products. These include:
The best-tested products from Kichler, FX, Hunter, and more
Commercial grade fixtures made of bronze, copper, and cast aluminum
Fully sealed lenses made of heat resistant glass
LED and eco-friendly lighting options
The Types of Lighting Systems We Install
Bring your outdoor lighting vision to life with:
Uplighting of medium to large trees
Illumination of smaller trees
Walkway lighting
Wall lighting
Lighting of pillars and columns
Down-lighting from trees to focal points
Recessed lighting of patio and deck steps
Dramatic luminosity of patio seat walls
Talk To A Professional Today
I highly recommend American National Sprinkler & Lighting. They make the process of opening and closing my sprinklers a breeze. I get a call in the spring to open them up and in the fall to close. Diego and his crew just came out to close the sprinklers recently and they could not have been more professional and polite. Keep up the great work!!

Rani Dabbs


October 8, 2019
Recognition of Our Expertise
It is our commitment to continually live up to the standard of excellence we've set for ourselves and that our customers have come to expect. We're proud to be recognized for our quality of installation and customer service by the following organizations:
President's Kichler® Club
Angie's List™ Super Service Award 2016

BBB Accredited Business
Start Your Installation Project Today
If you are ready to work with professional outdoor lighting installers          to create a beautiful system for your home, give our team a call at          (847) 566-0099.