Full Service Outdoor Lighting Professional
At American National Sprinkler, our outdoor lighting professionals are eager to fulfill all your exterior lighting needs. Beginning with your first consultation and extending past final installation, our team is completely dedicated to you, your home and your lighting system. Our exterior lighting services include:
Outdoor lighting design
Outdoor lighting installation
Outdoor lighting service
Light Up Your Home
We can come out to your property and give you a free quote
Customize Your Lighting System
Your exterior lighting system should be as unique and vibrant as you and your home. That's why our outdoor lighting professionals custom design your system to match your personal tastes, needs and desires. After a free consultation, we'll take into account your vision and our assessment of your property to create a comprehensive lighting system to fit your budget. We can install your system all at once, or in bits, adding extensions over time when your budget allows.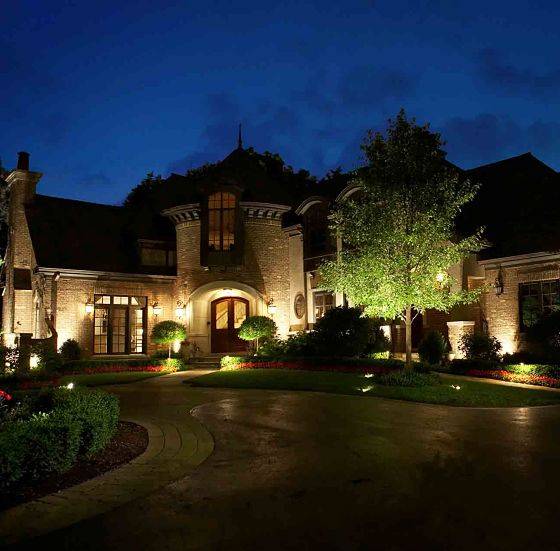 Customizing Your Light Through:
LED drop in bulbs with adjustable beam spread
Integrated LED fixtures with a range of brightness equivalents, beam spread options, color temperatures and filters
Smart zoning, dimming, and color changing 
Exterior Lighting Options
Whatever areas of your home you need lit, our experts will create a lighting system to highlight the most stunning features of your exterior. Our outdoor lighting professionals are expertly trained and ready to install:
Low voltage exterior lighting
Outdoor window lighting
LED fixtures
Landscape lighting
Security lightng
Front/backyard lighting
Pathway lighting
Patio lighting 
Garden lighting
Address highlights
Home feature lighting 
Talk To A Professional Today
I highly recommend American National Sprinkler & Lighting. They make the process of opening and closing my sprinklers a breeze. I get a call in the spring to open them up and in the fall to close. Diego and his crew just came out to close the sprinklers recently and they could not have been more professional and polite. Keep up the great work!!

Rani Dabbs


October 8, 2019
Quality Lighting to Last for Years
A well-installed lighting system will last for years and years to come. Our outdoor lighting professionals use only high-quality, commercial-grade lighting fixtures made of strong bronze, copper and cast aluminum. All of our lenses are made of heat-resistant glass and are fully sealed to withstand even the harshest elements.
Hire an Outdoor Lighting Professional
To get high quality lighting and work, hire an American National outdoor lighting professional to get the job done. Our team is ready to hear your ideas and create a design and installation plan that will highlight to chosen and best features of your home. Use our Contact Form or cal us directly at (847) 566-0099 to ask questions or schedule a free quote!