Outdoor Security Lighting
Protect Your Home with Outdoor Security Lighting
With professional outdoor security lighting, it's easy to illuminate the dark spots of your yard while highlighting your home's most beautiful features. While many companies charge an arm and a leg for expensive home security systems, outdoor security lighting from American National Sprinkler & Lighting can work just as hard to deter home invaders and burglars from your property. In addition to beauty and increased home security, outdoor lighting helps:
Prevent falls and accidents at night
Provide peace of mind
Add to the safety of your neighborhood
Increase the value of your home
Illuminate Your Home
Increase your home's value with outdoor security lighting
Professional Consultation
When you first consult with our team of lighting experts, we'll walk through your property and help determine what kind of lighting is right for you and where your lighting should be installed. It's our goal to provide you with a beautiful safety system that will keep your family and home secure for years to come.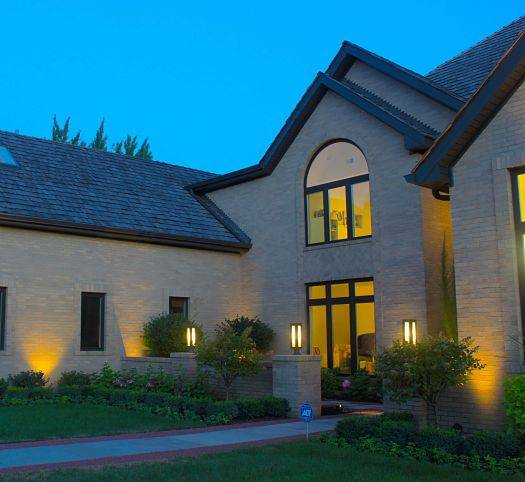 Where Should I Install Outdoor Security Lighting?
Exterior lighting can be installed in just about every area of your yard. Many of the most common places we install security lighting include:
Pathways
Dark spots
Home perimeter
Doorways and windows
Front or backyards
Treeline surrounding the home
Outdoor Security Lighting Considerations
When choosing security lighting for your home, there are several important factors to keep in mind. These include:
How the lighting is controlled (automatic, timer, etc.)
The durability of the lighting
How far the radius of the lighting extends
Initial costs and those over time
Outdoor Security Lighting, Installed Around Your Schedule
With more than 75 years of industry experience, we have been, and always will be, dedicated to meeting all of our customers' needs. Whatever security lighting you choose, our team will work around your schedule to complete your installation as quickly and professionally as possible.
If you're ready to start your next project or would like to learn more about our outdoor lighting options, contact our team at (847) 566-0099 or schedule a free quote.