Pool Lighting Above Ground
Installing Pool Lighting Above Ground
You probably had your pool built or chose a home with a pool for summertime fun, but have you found that when the days get really hot you use the pool less often than expected? Installing pool lighting above ground can extend your pool usage into the night.
Sometimes it is just too hot during the day to be outside, even if you are swimming. Concerns about too much sun exposure and resulting wrinkles or skin cancer may mean your guests aren't excited about lounging in the sun either. Installing lighting above ground extends the time that you get to enjoy your pool, as well as having other benefits for your home's value and safety.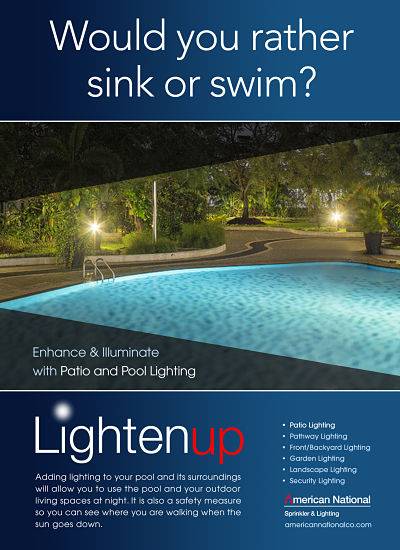 Why Install Pool Lighting Above Ground?
There are a number of reasons why you may decide to install pool lighting above ground, including function, safety, and aesthetics. Here are just a few reasons to consider above ground pool lighting for your yard.
The last thing that you want is for someone to accidentally fall in your pool. Pool lighting above ground thoroughly illuminates the area around your pool to make it much less likely that anyone will accidentally fall in the pool.
Furthermore, plenty of Illumination means that you'll be able to see someone creeping around your backyard when they shouldn't be. Well-lit areas are a deterrent to criminals.
More Affordable & Easier to Maintain Than Underwater Lighting
Above ground pool lighting can shed just as much light into the water as lights placed below the surface, but they don't need to be able to survive being underwater or require special maintenance. You can enjoy the beautiful effect of rays of light falling into the depths of your pool without having to install anything directly in your pool.
You can have pool lighting above ground that offers excellent flexibility for lighting around your pool and patio. Shine the lights directly into the pool when you want to enjoy some nighttime swimming then use them to illuminate the perimeters of your property for security the rest of the time. Want to shine light onto your porch for an impromptu karaoke performance? Just point the lights where you want the spotlight to shine.
Something about having attractive lighting all around your patio and pool just seems to draw people out. Even if it isn't a nice night for a swim, your guests may be tempted to dip their toes into the beautifully lit water. You won't have to worry about your guests falling in with plenty of illuminating light. If you want your guests to feel drawn out into your yard, pool lighting above ground is a great option.
Expertly done patio lighting around your pool can create beauty and drama that makes your space seem much bigger and more magnificent than it is. Lights can highlight aspects of your landscaping or garden that may otherwise go unnoticed.
Why should your beautiful flower bushes and attractive landscaping only be admired during the day time? Effective landscape lighting throughout your yard and around your pool will create beauty that your family will enjoy all of the time.
You may be amazed by how much time you want to spend hanging out around the pool once the area is lit attractively. This can be a charming place for a glass of wine at the end of the night or the perfect location for a late-night chat with friends without bothering your family.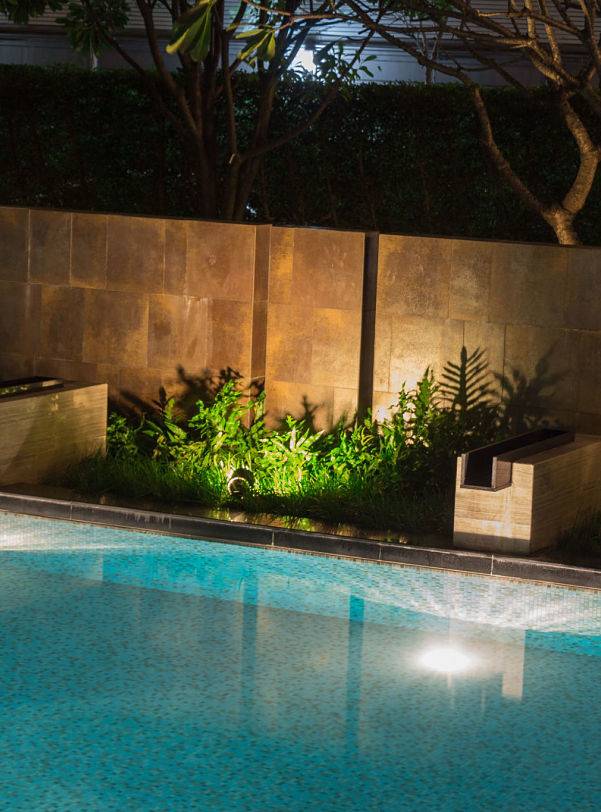 Do it Yourself or Hire a Professional?
Installing pool lighting above ground is certainly easier than installing lights underwater in your pool, but is it easy enough for you to take care of it yourself? Here are a few important things to keep in mind when deciding whether to install lights yourself or have a professional do it.
Electricity and water don't mix well. Just because these lights aren't going to be installed directly underwater doesn't mean that there isn't any chance that they will come into contact with water. If the lights will be low enough that they could be splashed or they're going to be positioned over the water where they could potentially fall in if they are not secured properly, they can be extremely dangerous if you make any mistakes in the installation process.
Imagine if an improperly secured light fell in the water when people were in the pool. This could be a hugely dangerous situation, especially if the light was still attached to electricity. In order to get the most from your above ground pool lights you'll probably want to put them near the water or over the surface of the pool, but to be sure that no disasters occur it may be best to hire a professional. If you are considering installing the outdoor lighting yourself, carefully look through the regulations to be sure that you do so safely - but it's always best to use a professional.
Ensure that Results Will Be Aesthetically Pleasing
It may initially seem pretty straightforward for you to install pool lighting above ground that will make your pool, patio, and yard look attractive, but you may be surprised by how much effort and know-how it requires to make everything look good.
You want lights to shine into the pool to illuminate the water for swimmers and give that glowing effect of rays of light cutting through the water, but you don't want to blind anyone in the pool who looks up at the light.
You want lights that thoroughly cover the patio area around the pool and highlight some key aspects of your landscaping, but you don't want it to appear that your backyard is washed in spotlights. If you are considering installing the lights yourself, get ready for lots of experimentation as you try to figure out the best way to illuminate your landscaping.
Try to find a light that is very easy to install and uninstall while still being very secure so that you can make changes as you need to. You may find that it is a lot less frustrating and ends up being less expensive to just hire a professional who knows how to use lighting to make your yard look its best and provide the most functionality.
Lights that are properly installed around your pool can improve your property value in two ways. Firstly, they will increase the aesthetic value around your pool, making this feature more attractive to anyone who is considering buying or renting your home. Secondly, good lighting improves your home security, which will further improve your home's value.
If you are trying to sell or rent out your home, be sure to offer a good picture of your pool beautifully lit by landscape lighting. Landscaping in general and especially pools have a way of seeming bigger at night. Take advantage of this to sell your home. If lights malfunction or the result is less than aesthetically pleasing, or if lights do not add benefit as far as security because they don't cover shadowy areas of the yard where a criminal may hide, you will lose out on improved property value as a result.
Talk To A Professional Today
Our system continues to work great, and we always appreciate getting the phones calls to let us know when it is time to schedule the opening and the closing of our system. Andres and his partner do a terrific job putting our system to bed in the fall, and opening it up again in the spring, noting any work that might need to happen before we can begin to water again the next season.

Erica Regunberg


October 16, 2019
Other Ways to Improve the Look of Your Pool at Night
Installing pool lighting above ground isn't the only way to make your pool and patio shine in the nighttime. Here are a few options to make your pool look its best in the evening.
Pathway and Landscape Lighting
Nothing will make your pool more tantalizing for an evening dip than a beautifully lighted path leading the way to it and attractive landscape lighting throughout the garden. Transform your backyard from a casual garden to a night time fairy world by lighting up the paths and presenting your pool as a focus feature.
A pool is a unique opportunity to bring some peace and aesthetics to your yard with floating lights. Choose from solar lights or battery-powered options, depending on how much tree cover or shade you have over your pool during the day.
You can use standard floating lights that match your overhead lighting or choose colorful varieties that change colors or have intriguing designs. Floating lights are generally much easier for the homeowner to put into place than underwater lighting and do not need to follow installation guides for safety codes for swimming pools like lights that go underwater in swimming pools.
Lush, beautiful plants don't just look beautiful in the daytime. Use pool lighting above ground to cast a glow on the plants that are surrounding your pool as well. If you have trouble keeping plants alive around your pool, consider putting in a sprinkler system to make your own lush oasis.
If you use umbrellas to offer shade during the daytime, you can also use them to provide charming fairy lights at night. Just wrap holiday lights or other very small lights around the structure of the umbrella, being careful not to interfere with the opening and closing mechanisms. When you turn the lights on, the space under the umbrella will be adorably lit.
Pool Lighting Above Ground with American National Sprinkler & Lighting
If you want to have above ground pool lights installed around your pool, contact American National Sprinkler & Lighting. These experts can install landscape lighting throughout your property, including around the pool, that emphasizes the best of your home while enhancing beauty and offering added security.