Chicagoland Landscape Lighting
Lighting for your Chicago Home
Chicagoland is well-known for its architecture. People from around the world come to Chicago to study and enjoy its beautiful buildings. Architects have been coming here for decades to study as well. Chicago is home to the Chicago Architecture Center (CAC) that was formed in 1966 as the Chicago School of Architecture Foundation. There is so much to see here. The CAC offers 85 tours of the impressive and unique architecture of the city structures, including the Chicago Board of Trade, the Arquette Building, the Monadnock Building and John Wellborn Root's Rookery, not to mention the Sears Tower and the John Hancock Building, and many more. Visitors can also take a docent-led cruise along the Chicago River from April through November and admire the variety and beauty of the architecture. What makes these structures so stunning is not only their intricate detail and engineering during the day, but also their beautiful Chicagoland landscape lighting at night.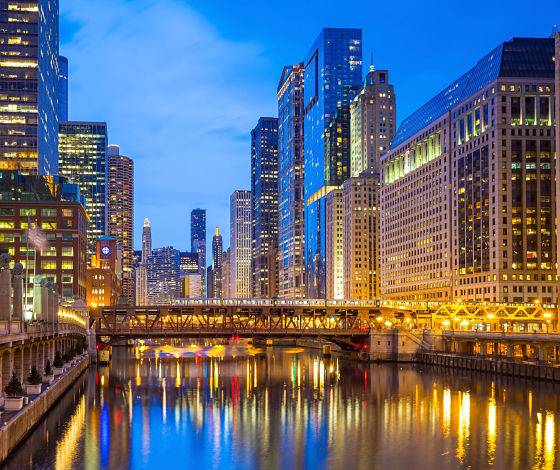 Why is Chicagoland Landscape Lighting Important For My Home?
As you can see, good lighting placed strategically changes everything! It can highlight architectural features, or create a comfortable and beautiful ambiance in the suburbs. Whether you live in Mundelein, Waukegan, Naperville, Wilmette, or in the heart of Chicago near Wrigley Field or Printer's Row, the lighting in the evening makes all the difference. It may be that you are planning to live there from here on out. You may possibly be looking to put your home on the market in a few years. The right Chicagoland landscape lighting in the right places can make all the difference in your asking and selling price. We know real estate can be expensive in our area, so you want to make sure you take care of your investment so that it looks its best at night when prospective home buyers are driving through your neighborhood looking at properties that are available.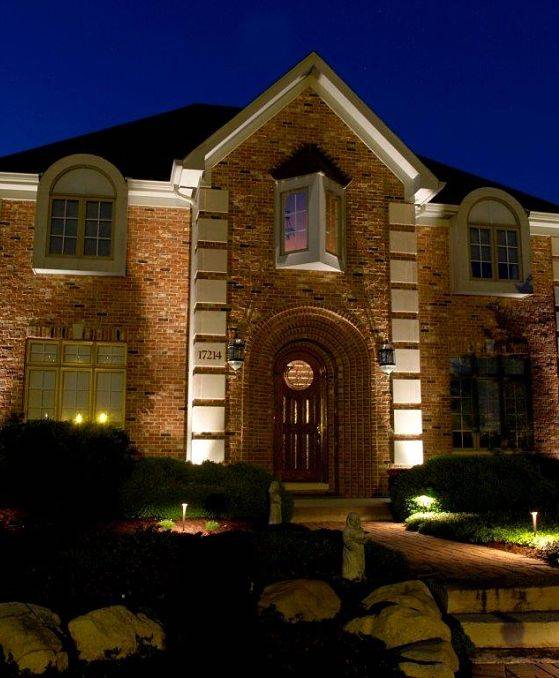 Why Should I Think About Lighting Now?
Residents in Chicagoland know winters can be pretty brutal here. Chicagoans hunker down and stay inside while the weather brings cold temperatures, wind and snow. But as you know, summers are just spectacular in the Windy City. It is the perfect time to invite friends and family members over for grilling out and enjoying the weather. When the sun goes down, it is important to have beautiful and strategically-placed lights in the front and back yards, so you can continue the party when the sun sets and you have your grilling going on!
What Can American National Do For Me?
American Standard Sprinkler & Lighting can assist you with a variety of lighting services. Think of your home's exterior, and see if you need assistance with:
Home Exterior Lighting: Showcasing your home's best architectural features
Pathway Lighting: Not only is it beautiful, but also creates a safety net for those walking to and from your home
Front/Backyard Lighting: Illuminating the main focal points to make your yard seem bigger
Garden Lighting: To light up specific areas in your flower beds in order to make them shine
Security Lighting: Strategically-placed lights at the corners of your home and at your doorways in order to ward off unwanted visitors
Patio Lighting: This is to be used for ambiance and keeping the party going
Is it Environmentally Friendly?
We know you want your Chicagoland landscape lighting to be beautiful, but also be energy efficient and good for the environment. You can save money and the environment when our team helps you with our low voltage lighting fixtures. Our team at American National Sprinkler & Lighting has a team of experts who can help you with eco-friendly options with your Chicagoland landscape lighting. We have low voltage lighting systems that provides the same illumination without the cost. It can help you:
Save money on electric bills
Reduce the carbon footprint, being eco-efficient
Can be as effective as higher voltage systems
How Can American National Help?
Our expert team at American National Sprinkler and Lighting takes the time to work with you on accentuating your home's best features. It may be a beautiful doorway, or some unique architecture. Sometimes it can be a fountain, or a statue, Often, we work with clients on large trees or bushes that may help lighten your home's best features.