Green Oaks Landscape Lighting
Why Choose Green Oaks Landscape Lighting?
Green Oaks is an aptly named village about 30 miles north of the O'Hare International Airport in Chicago. Despite its relative proximity to Chicago, it is a very natural neighborhood with large lots and plenty of green space, including lots of oak trees. You may find that you can make significant improvements to your property by choosing Green Oaks landscape lighting to enhance your property.
The area that is now Green Oaks has always been very densely vegetated. This was a major hurdle to civilization of the area back in the 1840s when it was first settled. There were swamps that needed to be drained and dense forest to cut down.
Abundant wildlife, including wolves, made raising livestock a challenge. As the years went by, the area was developed with a school along with farming property. It was known as the Village of Oak Grove until 1960 when it was founded as Green Oaks.
From the beginning, this village strove to maintain its natural identity in contrast to the rapid urbanization and industrialization going on around them. This area still strives to provide an "open countryside environment," in which to live even as the surrounding areas become more and more densely populated.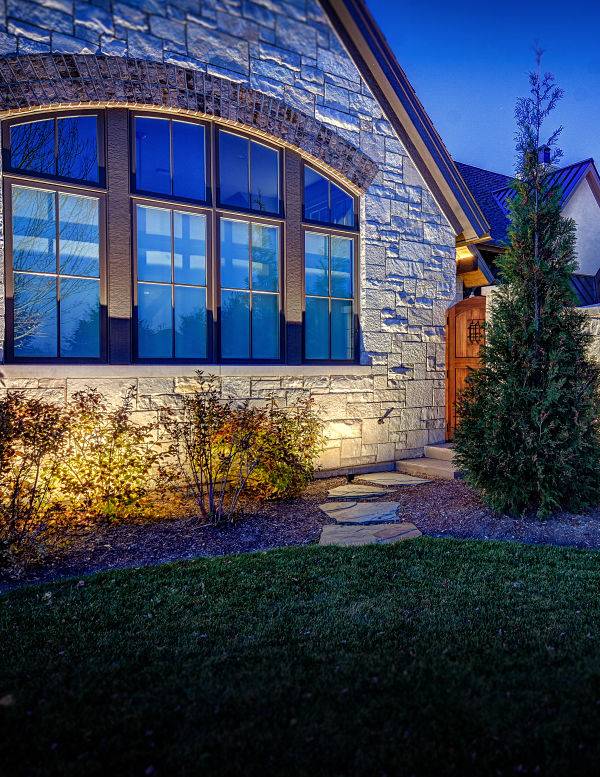 Why Consider Green Oaks Landscape Lighting?
Green Oaks Landscape Lighting is Protection Against Wildlife
Wildlife has been both an attraction and a potential problem for residents of Green Oaks since the very beginning. While having wolves go after your livestock is likely not a significant problem for most of the residents of Green Oaks at this time, wildlife can still pose a threat to your family and property.
One of the great attractions of Green Oaks is its proximity to natural areas. This village emphasizes the planting of native plants as well as celebrating its proximity to forests. It borders the Middlefork Savanna Forest Preserve and is also very near to the Greenbelt Forest Preserve. Middlefork merges into the Captain Daniel Wright Woods Forest Preserve, the Fort Sheridan Forest Preserve, and even more preserves going south. This means there are very wide spaces of natural areas where wildlife can wander. In fact, Green Oaks is one of the first areas of significant civilization that wildlife encounters as it moves north.
While some of this wildlife, like seeing the occasional deer in your yard or enjoying plenty of birdlife at your bird feeders is a wonderful aspect of living in Green Oaks, other times proximity to wildlife is not as desirable. Wild animals like possums and raccoons can be problematic for your landscape, digging into your yard and raiding your trash.
Some wildlife, like coyotes may even be a threat to pets or children. Landscape lighting is a powerful deterrent to undesirable nocturnal wildlife. Landscape lighting design that creates a border of light along your property line or is motion-activated can do a lot to frighten wildlife away without doing it any harm.
Green Oaks Landscape Lighting is a Deterrent to Criminals
Green Oaks is not far from Six Flags Great America and it is quite near to Chicago as well. This proximity is wonderful when you are looking for a weekend outing or a way to entertain visitors from out of town.
However, there are downsides to being very near a large city and an amusement park as well. These environments may be more likely to attract crime. Opportunistic criminals looking for homes to rob may be drawn by the large, beautiful homes of Green Oak as well as the forest that surrounds the town which can make it easy for criminals to move onto property undetected.
Motion-activated lights and lighting that is carefully set up to create a perimeter by a quality landscape lighting company can be a very strong deterrent to criminals, encouraging them to keep looking somewhere else rather than stopping at your house.
Green Oaks Landscape Lighting Makes Your Home More Enjoyable
One of the reasons that you may have chosen to live in Green Oaks is because you enjoy your lawn and time spent outdoors. This village is made up of very large lots with big, beautiful homes and huge yards. Most of the families in this area enjoy backyard barbecues and playing with kids and pets on the lawn.
However, if you're just enjoying your beautiful Green Oaks landscape during the day, you're really missing out on an opportunity. The best landscape lighting for your property can enable you to enjoy your home as much in the evening as you do during the day. Here are just a few of the ways that landscape lighting can give you more to love about your home:
Porch lighting. Gently lighting up your porches and patios will make you want to spend more time enjoying them. It's also very charming to approach your home when the patio is sweetly lit with lights. You'll find yourself sitting out and having your evening drinks or even dinner on the porch or patio all of the time with good porch lighting.
Pathway lighting. Landscape lighting can illuminate the paths that already exist in your yard or shine down from the trees to make pathways across your back lawn, making a nighttime stroll almost irresistible. As an added benefit, lighting up paths makes it safer to navigate your property at night as well.
Enjoy your flowers. Landscape lighting that shines into your flower beds can make your flowers as bright and colorful at night as they are during the day. You work hard to maintain beautiful flower beds, so why should you only enjoy them during the day when you're usually at work?
Emphasize what's best about your house. You surely take pride in your beautiful Green Oaks home. Landscape lighting can make it look even more beautiful at night. Lighting that washes across the face of the house can draw attention to its best aspects, while lighting for signature trees can turn each one into a beautiful piece of art.
Use your lawn at night. Gentle landscape lighting shining down from the trees can create pools of light on your lawn that replicate moonlight, enable you to play a quick game of catch or stroll through the lawn in the evening.
Make the most of your pool. Swimming in a pool in the evening can be a very fun aspect of summer. The right landscape lighting in your pool and around the pool area will make it much more likely that you will enjoy an evening dip.
What to Look for in an Outdoor Lighting Company & Why DIY May Not Be Your Best Bet
When you're ready to invest in Green Oaks landscape lighting, you are likely to find yourself wondering exactly what you should be looking for in the professional who will take care of lighting for you. You may even be trying to decide whether you should invest in your own landscape lighting. After all, there are plenty of kits at your local hardware store or home improvement big box store to install landscape lighting. However, you are likely to decide that it is best to hire a professional to install your landscape lighting for the following reasons:
DIY landscape lighting tends to have inconsistent results, as lights are often brighter near the power source and dimmer further away.
Landscape lighting that you install yourself will need more maintenance and not last as long as professionally installed lighting.
You are much more limited in your options for what landscape lighting can do for your home if you install it yourself.
Even low voltage landscape lighting comes with some risks in installation and for your property once the lighting is installed, so having a professional take care of it is a safer option.
Here are some key things to look for once you are ready to hire a professional to install your Green Oaks landscape lighting:
Experience in the area. You want someone who has decades of experience installing landscape lighting in your area so that they are knowledgeable about soil types, weather conditions, etc that may affect installation and maintenance.
Local. If you have any issues with your landscape lighting, you do not want to have to wait for your installer to drive very long distances to take care of the problem.
A good listener. You need the installer you choose to care about your priorities and tastes to be sure that the landscape lighting that they install will be exactly what you have envisioned.
Choose American National Sprinkler and Lighting for Green Oaks Landscape Lighting
American National Sprinkler and Lighting has been working in Green Oaks for over 30 years, so they have the experience necessary to do a great job in your area. As many as 25 service technicians are available locally so that they can tend to the needs of your landscape lighting if ever you want a change or have a problem. When you're ready for superb landscape lighting for your Green Oaks home, don't hesitate to fill out a contact form or give us a call.