Schaumburg Landscape Lighting
What Do You Need to Know About Schaumburg Landscape Lighting?
Schaumburg is a wonderful place to live, full of both natural and man-made attractions. But can Schaumburg landscape lighting benefit your home? Here's what you need to know about landscape lighting to help you decide whether this is the right investment for your home.
Schaumburg is a rather large village in the northwestern suburbs of Chicago. It belongs to its own township, the Township of Schaumburg, with a population of about 71,400.
Schaumburg is a large village with four zip codes: 60173, 60193, 60194, and 60195. It's about 50 minutes from Chicago along I-90 East, and also about 50 minutes to the coast of Lake Michigan. Hoffman Estates is to its north, Streamwood to the west, Keeneyville to the south, and Elk Grove Village to the east.
Schaumburg is known for having one of the biggest malls in the United States: the Woodfield Mall, which is the 10th largest mall and has over 300 stores. Schaumburg has a variety of other great attractions as well, including the Water Works Indoor Water Park and the Legoland Discovery Center.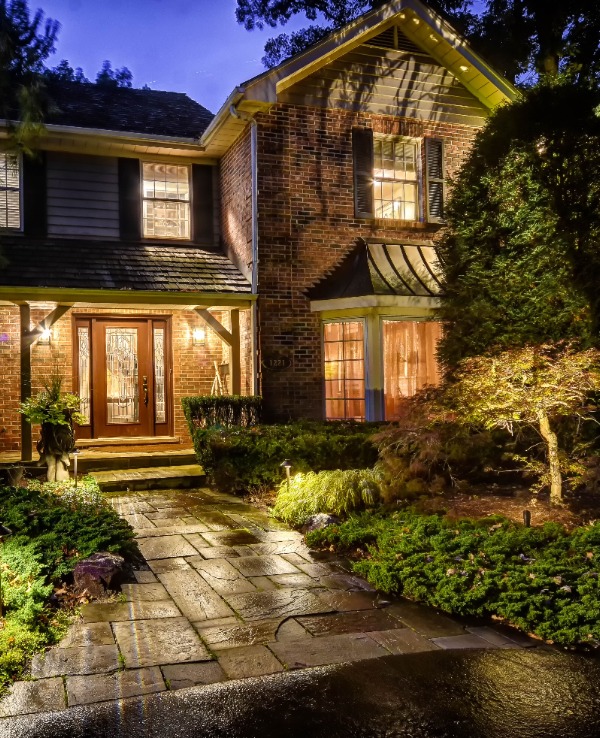 Waterworks is worth coming to from miles around during the cold winter when water fun is otherwise out of reach. Legoland is also a wonderful indoor destination for cold-weather fun.
There are lots of natural areas in Schaumburg as well, including the lovely Spring Valley Nature Center & Heritage Farm and a number of golf courses. Schaumburg borders the sweeping Busse Woods which surround Busse Lake.
On the other side of town, the Arthur L. Janura preserve is a lovely destination situated around Poplar Creek. Although most of the neighborhood is fairly residential, there are also some awesome restaurants in the area.
The Village Tavern and Grill is a favorite neighborhood diner with comfort food like chicken fingers, burgers, and nachos. Lalo's Mexican Restaurant is a fun Mexican Cantina with rustic food and a special on jumbo margaritas. The Opolska Restaurant is an cool place to dine that is equal parts chic and rustic and serves traditional Polish dishes like meat-stuffed cabbage.
Schaumburg has a very long history going back to the early 1900s. It was incorporated in 1956. Previously, it was inhabited by a number of Native American tribes including the Pottawatomie and Kickapoo.
The first immigrants to the area were mostly German-speaking farmers. The first recorded settler was Johann Sunderlage. He explored the area as a member of a survey team to divide up Cook County in 1830. He liked the area so much that he brought his family from Germany and settled in Schaumburg around 1836.
By 1870, the township was almost entirely German. Records show that the property was owned almost entirely by German immigrants and their descendants. This remained true until the Great Depression in the 1930s, which caused German-owned farms to foreclose. These farms were then often purchased by non-German settlers.
German heritage has remained an important part of the community. It was the first language of most households until the 1950s.
Why You Should Consider Schaumburg Landscape Lighting
Schaumburg Landscape Lighting Offers Protection from Criminals
Schaumburg has many attractions that draw people from the surrounding areas and from Chicago. These attractions are one of the reasons that you probably love living in this village.
However, there are some downsides to living very near places that attract a lot of tourists, like the Water Works Indoor Water Park, the Legoland Discovery Center, and the Woodfield Mall. People who come into town to visit these attractions may also opportunistically be considering places to rob.
Since Schaumburg neighborhoods are full of trees and plenty of greenery, there may be opportunities for criminals to sneak onto your property undetected. Schaumburg landscape lighting is a great way to make it less likely that criminals will target your home.
Security landscape lighting can illuminate the edges of your property, making it more difficult for criminals to get onto your land undetected and making your property less attractive to them. The best landscape lighting for security purposes turns on when it detects motion, which is a sure way to deter even the most determined criminals since lighting that turns on automatically is often associated with security cameras.
Use Schaumburg Landscape Lighting to Deter Wildlife
One of the great things about living in Schaumburg is the proximity to natural areas. You probably love seeing songbirds and butterflies in your backyard. However, you likely are not as excited about finding raccoons, possums, or coyotes on your property.
Animals like these can be pests or even threats to children or pets. Schaumburg landscape lighting is a great way to convince nocturnal wildlife to keep on the move. Lighting that stays on all the time is a powerful deterrent, and lighting that is activated by motion will scare off even wildlife that's very used to an urban environment.
Schaumburg Landscape Lighting Helps You Make the Most of Your Home
You probably love living in Schaumburg, in part, because you enjoy the lovely outside spaces that this area has to offer. You doubtless spend some time most days in your garden, playing with your kids or dogs on your lawn, and hanging out on the porch.
A great landscape lighting company can empower you to enjoy your property after dark as well as during the day. Lighting that gently cascades down from the trees to light your lawn like moonlight can allow you to have fun playing on the lawn even at night.
Lighting along paths and in flower beds can make your gardening look as gorgeous during the night as it does during the day. Lighting for your porches, patios, and other outside spaces can make these very pleasant places to have a cup of coffee before the sun rises or dinner outside on a pleasant day even when the sun is setting.
If you want to enjoy your home as much as possible, Schaumburg landscape lighting is a great idea. Excellent landscape lighting design doesn't just make your home appealing to you; it also increases your property value and makes your home appeal to potential home buyers as well.
Great landscape lighting shows that you have made a significant investment into your home and indicates that you have likely taken care of other aspects of home care as well.
What to Look for in Schaumburg Landscape Lighting
If you want to get all of the benefits that Schaumburg landscape lighting has to offer, the outdoor lighting company that you choose to install landscape lighting is an important decision. If you are thinking about installing landscape lighting yourself, you should think again for a couple of important reasons:
Safety. Even low voltage landscape lighting carries some risks of electrical shock. It can be dangerous for the person who is installing the landscape lighting and for anyone who may dig in the yard or be around lighting, including gardeners, kids, and pets.
Appearance. It may seem at first glance that landscape lighting installation is pretty straightforward. However, in reality, getting your landscape lights to look good can be a challenge. Creating pools of light instead of floodlighting, choosing the right level of brightness, and making sure that all fixtures have the same tone of color are very important.
Effectiveness. You don't want security landscape lighting that leaves gaps that criminals can sneak through. Lights that shine into your neighbor's windows or into the streets can be annoying and dangerous for your neighbors. If there isn't as much light as is needed to enjoy your patios or yard, you'll wish you never went through the effort of installing the lights.
Instead of installing landscape lighting yourself or choosing somebody who doesn't have a lot of experience in landscape lighting, choose professional landscape lighting services like American National Sprinkler and Lighting. We have been lighting up the suburbs of Chicago since 1984, and we know exactly what it takes to install landscape lighting that will make your home look its best and accomplish your goals.
Since we started out with just one vehicle and a handful of employees, we have grown to include over 40 vehicles and 80 employees housed in a state-of-the-art facility. While we still have the small company culture and care for each individual customer, we also have the resources to get the job done right.
If your lights go out unexpectedly or you decide that you want something changed, just let us know and we can be there in no time. After installing so many lights in Schaumburg and the surrounding neighborhoods, we know just how to install lighting to make your home look amazing and provide as much functionality as possible.
Contact American National Sprinkler and Lighting for Your Landscape Lighting Needs
American National Sprinkler and Lighting is more than happy to talk to you about what you want from your landscape lighting and give you a quote to help you decide whether this is an investment that you would like to make into your property. Contact us today to get started.