How to Install Low Voltage Landscape Lighting
Tips on How to Install Low Voltage Landscape Lighting
Landscape lighting can make your garden look beautiful in the evening and increase the functionality of your outdoor living spaces, and low voltage lighting is less expensive and safer to run than high-voltage lights. What do you need to know in order to transform your outdoor spaces with low voltage landscape lighting? Here are some essential tips on how to install low voltage landscape lighting.
Do it Yourself or Hire a Professional?
Low voltage landscape lighting is safer to work with than high voltage options, but it still carries some inherent risks of electric shock. Furthermore, troubleshooting low voltage landscape lighting can be a challenge. You will need to understand some essentials of wiring and be able to install a transformer.
This guide will tell you everything that you need to know about how to install low voltage landscape lighting yourself, including the basics of how to splice low voltage landscape lighting wire, install a transformer, and install lighting fixtures. If you do not consider yourself an advanced do-it-yourselfer and especially if you have a heart condition or other medical concern in which low voltage shocks could be dangerous, it may be best to hire a professional.
High-quality professional landscape light installers will stand by their product so that you will have trouble-free landscape lighting for years to come. If you don't have the patience to deal with lots of troubleshooting, you may want to skip the do-it-yourself option.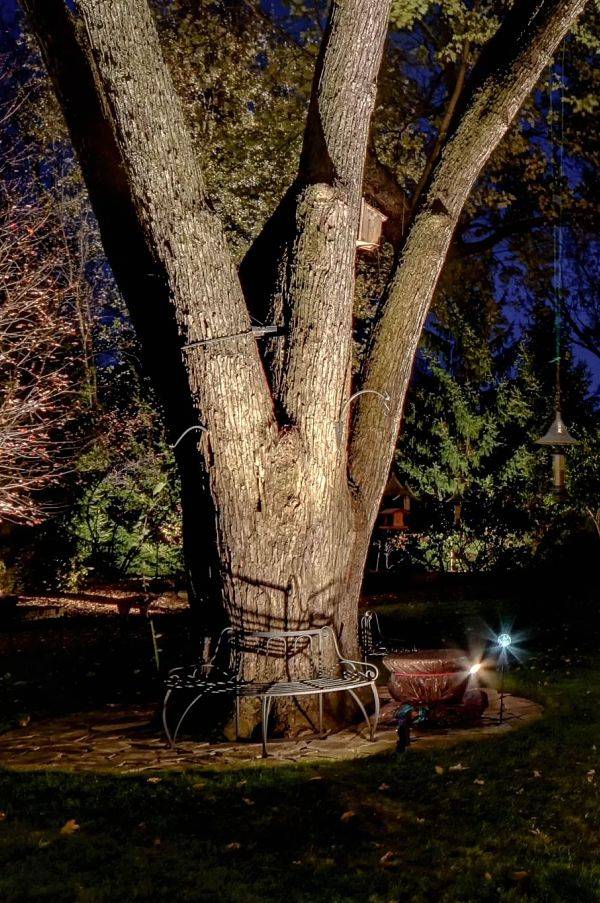 7 Steps for How to Install Low Voltage Landscape Lighting
1. Gather materials
This is what you will need in order to install low voltage landscape lights.
Landscape lights. Obviously, you'll need the lights themselves. You can choose between plastic and metal housing and an array of bulb effects and colors. Be careful to make sure that if you are choosing different types of lights for mounting in the ground, on trees, etc, that they each have the same type of light, whether warm or cool, and the same brightness level, so that your Landscaping will have continuity. When deciding on how many lights to use, keep in mind that lights at the end of a long strand of lights tend to be dimmer.
Transformer and in-use weatherproof cover. The transformer that you buy will depend on the number of lights that you are installing and how much wattage they require. It is wise to buy a transformer that is larger than what is needed for the lights you currently have since it is common to want to add more lights down the road. A weatherproof cover is necessary since the transformer will always be plugged in outdoors.
Outdoor wire. You'll need 10 gauge outdoor wire for between lights and 12 gauge wire going from the transformer to the first light. Determine how much wire you'll need by measuring out the distance you want to light. Err on the side of more wire. Remember that you will need to strip and install from this wire. If you aren't experienced in stripping wire, it may take a couple of tries, so give yourself enough wire to work with.
Wire cutter, wire stripper and wrench set. You'll need these tools in order to connect lights to the wire and the wire to the transformer.
Waterproof wire connectors. Since you'll be wiring outside, you need wire connectors that can protect your splices from the weather.
Tent Stakes. Aluminum tent stakes are the best way to secure wire in place anywhere that you don't want to dig a trench in order to bury the wiring.
Rake, shovel, spade, post hole digger, and other gardening supplies. Anywhere that you want to place wiring on grass you will need to dig a trench for it deep enough to avoid aerators. You also need to dig fairly deep holes in order to firmly set light poles.
Volt meter and tester. You will need to monitor the voltage going to each light, for which a volt meter and tester are necessary.
Level. You'll need this in order to make sure your lights are straight.
* Optional: PVC pipe with female thread and cap and copper pipe with mail threading. You'll need these tools if you need to increase the distance of the poles that come with your landscape lights or if your landscape lights do not come with their own poles. Be sure to choose a width that matches your light poles.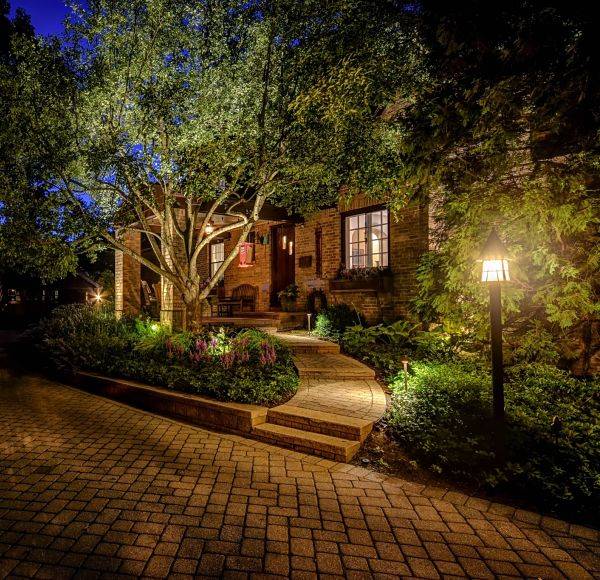 2. Plan your landscape lighting
Lay out both lights and wiring over the entire distance that you will be lighting. Remember to keep in mind how bright your lights will be. Landscape lighting looks best as individual pools of light to accent highlights of the landscaping. Don't place lights so close together that they overlap. If you will need to bury wiring or string it up mounting poles, make sure to leave plenty of extra wire in your plan.
3. Install the low voltage transformer
Install the transformer near a ground fault circuit interrupter (GFCI). It is a good idea to install it on a post but you can adjust the photocell so that the lighting system will automatically turn off when it is light and turn on when it is dark.
Strip off about three-quarters of an inch of insulation at the end of your 12 gauge main wires.
Twist the small strands together.
Attach strands to the terminals.
Your transformer may come with multiple terminals for 11, 12, or 13 volts. Be sure that you use the proper terminal voltage that you'll need.
4. *Optional* make solid bases for your lights
Many low voltage landscape lights come with mounting posts, whether the light is staked into the ground or mounted on a tree, wall, etc. However, the posts are often not very sturdy and they may not be tall enough to position the light where you want them to be. Therefore, you may opt to make posts for your lights.
Run the wire into the PVC pipe, screw the copper pipe into the PVC threading in the cap, and run the wire up the copper pipe and to the light.
Dig a hole with a post hole digger and bury the PVC up to the copper pipe.
Use a level to make sure that the pole is perfectly vertical. This is important because even a slightly tilted pole will throw light unevenly.
5. Connect the wires to the lights
Whether you have additional poles made from PVC and copper pipe or not, this step is the same. The only difference is that if using a PVC extension, you will finish by screwing the cap back on to the extension to secure the pole.
Connect the wires to the light with weatherproof wire connectors. If your lights have press on connectors, cut them off and strip 1/2 inch of insulation in order to install the connectors. Use a blob of sealant to connect and weatherproof.
If you have not already used a level to make sure your pole is straight, now is the time to do so. Pack soil or gravel around the stake in order to keep it in place.
6. Test each light
Before you go through all of the work of burying or securing the wire check each light fixture for its voltage level. Low readings mean a bad connection somewhere or too many lights for your transformer. High readings may result in premature burnout and will result in brighter lights than desired. The voltage that your lights received will vary by light, but in general, between 10.5 and 12 volts is appropriate.
7. Hide wire
Once all of your wires are in place and working appropriately, it is time to hide the wire. If possible, it is a good idea to wait until you can see how the lights look in the evening before going through this final step. It can be very frustrating to have to dig up wire after the job is done.
Once you are confident that your lights are working properly and in their final positions, it is time to hide the wire. You can use tent stakes to secure the wire in place among shrubbery or in flower beds and then cover the exposed wire with mulch. If you are laying wire across a lawn, you will need to bury the wire at least 6 inches deep in order to avoid lawn aerators and so that wire will not be disturbed by moles or other pests.
Talk To A Professional Today
Our system continues to work great, and we always appreciate getting the phones calls to let us know when it is time to schedule the opening and the closing of our system. Andres and his partner do a terrific job putting our system to bed in the fall, and opening it up again in the spring, noting any work that might need to happen before we can begin to water again the next season.

Erica Regunberg


October 16, 2019
Troubleshooting Low Voltage Landscape Lighting
If you find that one or more of your lights fail to function properly you will have some troubleshooting on your hands to find out what is wrong. It may be that a bulb has gone out, wiring is faulty somewhere along the line, or the transformer is malfunctioning.
If only one light is out, then a faulty bulb or wiring at the pole is likely at fault. If multiple lights are out, especially in a row to the end, there is likely a fault In the main line connecting the lights. If all the lights go out, look for problems with the transformer or the photocell. Forums where DIY-ers discuss issues can be a great way to get answers to specific questions or problems.
Get Professional Help from American National Sprinkler & Lighting
If the details of how to install low voltage landscape lighting are leaving you wondering whether you're really up for the task, it's not a bad idea to consider going to a professional. By the time that you buy everything that you need to install your own lights, you may find that you aren't saving as much money as you expected.
If you need to teach yourself how to splice low voltage landscape lighting wire, install a transformer, etc. you may waste hours watching YouTube videos and reading how-tos, only to find that you still encounter problems. Troubleshooting low voltage landscape lighting is especially hard if you are unfamiliar with what can go wrong and how to fix it.
American National Sprinkler & Lighting installs extremely high-quality lights that will look amazing for years to come. If you encounter any problems with your lights, they are more than happy to solve them for you. The low-voltage landscape lights installed by American National will offer a consistent, attractive, and professional appearance to make the most of your landscaping. Over time, these long-lasting fixtures that draw minimum electricity will save you money compared to doing it yourself.