Landscape Lighting and Irrigation
Landscape Lighting and Irrigation Can Transform Your Property
Landscape lighting and irrigation are too often overlooked as ways to improve your curb appeal and property value. Landscape lighting can increase the functionality of your outdoor spaces in the evening while dramatically improving the aesthetics of your property at night.
Irrigation can give you the lush green lawn and colorful flower beds that every homeowner dreams of while saving you money in the long term. Here is what you need to know about landscape lighting and irrigation.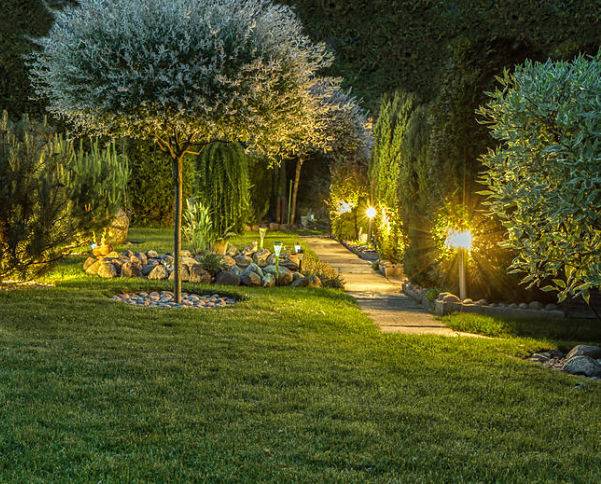 If you are depending on rainwater to keep your plants green and pulling out the hose during droughts, you probably realized just how labor-intensive this can be. There are important downsides to hand watering and important benefits of irrigation.
Hand Watering Can Be Bad For Your Plants
Many people are surprised to learn that hand watering can actually be detrimental to the health of your plants over time and will tend to make you lose more water through evaporation than deep watering with an irrigation system.
Most people do not water plants for long enough. Plants and grasses that are repeatedly exposed to light watering will grow their roots near the surface of the soil instead of reaching down. This leads to the roots being very vulnerable to drying out and prevents them from developing the extensive underground system that can provide them with moisture between waterings.
It is best for plants to be watered early in the morning. This allows plants to prepare for the day's heat with a healthy dose of water but gives time for water to dry from the leaves before the full heat of the sun sets in. Watering just before the sun gets hot or while it is already hot can result in spotting from direct sunlight on water drops. Watering in the evening can encourage pests like snails and slugs.
a Professional Watering System is Best for Lawns
Lawns are the most grown crop in the United States for good reason. For most suburban homes, a lush green lawn is the pride of the landscape. If you are hand watering, especially as days get hotter in the summer, you are probably going to find it difficult to consistently and evenly water your lawn, which means that dead spots and weedy patches become more likely. On the other hand, consistent and thorough watering with an irrigation system will grow grass that is lush, green, and over time becomes resistant to drought.
Irrigation Allows for Worry-Free Garden Care
Even if you love hand watering your garden or have an attachment for your garden hose which works fine, life can get pretty busy. You may find that some of your precious plants succumb to even a day or two of missed watering, especially as the days get hotter in the summer. Professional irrigation can be attached to a timer or rain sensor so that you don't have to worry about remembering to water.
If you want the best for your lawn and garden, excellent irrigation that offers just the right amount of water to every part of your garden is the best way to keep it looking beautiful.
Professional Irrigation is More Attractive & Effective than Do-It-Yourself Options
There are all kinds of contraptions that you can buy and attach to your garden hose in order to provide irrigation to your garden. Some of these sprinklers spin in a circle, shooting water out from their base, while others create a line of water that slowly moves across your lawn or garden.
Most of the time, these sprinklers are not very durable. If left out all of the time, they are likely to develop leaks or clogs which results in an incorrect spray. This can cost you a fair amount of money when water is wasted by being pumped out inappropriately, and it may cause your plants to die when they don't get the water that they need or are swamped with too much water.
Furthermore, these contraptions tend to be tripping hazards and don't look very nice in your garden. By contrast, professional irrigation is subtle, resistant to breakage or leaks, and delivers just the right amount of water every time.
Increase Your Home's Value
Few things can add curb appeal to a home like beautiful, lush landscaping. A lovely lawn and garden can attract the attention of potential buyers and make them fall in love, which means that they may be more willing to pay your asking price rather than taking a risk on losing a house that they are visualizing themselves living in.
Furthermore, a well cared for lawn and garden indicate a high level of dedication in the homeowner, which gives potential buyers confidence that the rest of the home has been cared for as well as the garden.
Talk To A Professional Today
I highly recommend American National Sprinkler & Lighting. They make the process of opening and closing my sprinklers a breeze. I get a call in the spring to open them up and in the fall to close. Diego and his crew just came out to close the sprinklers recently and they could not have been more professional and polite. Keep up the great work!!

Rani Dabbs


October 8, 2019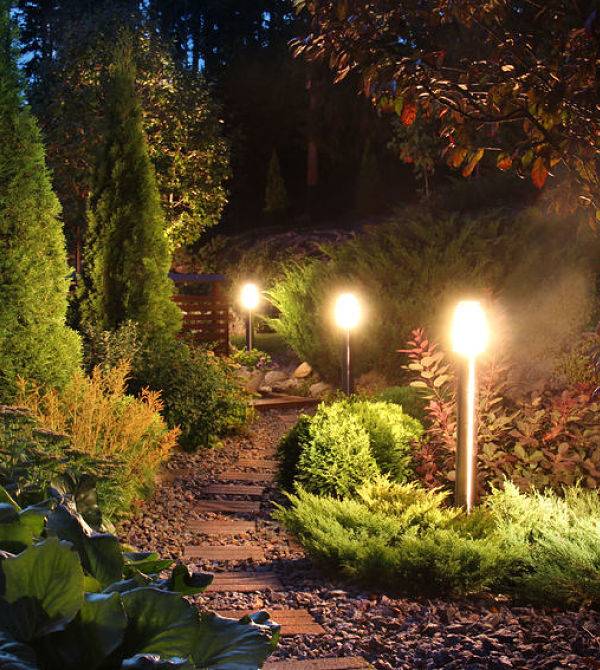 Advantages of an Outdoor Lighting System
You put a lot of effort into planting, weeding, mowing, and irrigating your garden and lawn, so why should you only get to enjoy it during daylight hours? After all, many of us are away working most of the day, so we don't get to enjoy our gardens for long each day. Landscape lighting lets you enjoy your beautiful plants throughout the evening as well and even improves the functionality of your outdoor spaces.
What is your favorite part of your garden? Perhaps it is a signature oak or maple tree with beautiful spreading branches. Maybe it is a lovely arbor that supports vines with beautiful flowers. It might be a water feature or an exceptionally colorful flower bed.
Whatever you like best about your garden, landscape lights can highlight it. Landscape lighting that shines into the branches of trees creates a piece of artwork instead of just dark shadows. Lights that shine down through the branches can replicate moonlight in a very romantic way. Lights highlighting your pond or flower beds will draw the eye to these features and can provide a splash of color even in the evening.
Create Outdoor Living Spaces
If you aren't enjoying your outside spaces in the evening, you're missing out on an opportunity. There is something so pleasant and soothing about sitting out under the moonlight and listening to the crickets chirp and the frogs sing. By providing landscape lighting along paths and in seating areas you can dramatically increase the functionality of your outdoor spaces.
You may find yourself enjoying dinners outdoors at a patio table gently lit with lovely lights or sipping your coffee on a patio chair early in the morning while admiring your flower beds before work. Throwing parties is easier when outdoor seating and spaces can contribute to your overall seating area, and cleaning up after guests is easier with outside parties as well.
If you are considering selling your home, why limit its attention-getting capacity to the daytime hours? A beautifully lit landscape that draws attention to the best architectural features of your house and the most beautiful aspects of your landscape, combined with light highlighting your "For Sale" sign is sure to draw in potential homebuyers.
Well-lit properties deter both criminals and animals. Criminals look for dark areas where they can creep up to a window or door unseen and break-in. If you have a great landscape system that lights up your property as soon as it gets dark, you will make it next to impossible for criminals to sneak into your home unseen. Burglars are likely to look for an easier target rather than taking a risk on your well-lit landscape.
Nocturnal animals like raccoons and foxes who may dig up your landscaping, eat pond fish, or go through your trash tend to stick to areas that are dark enough to hide them. If you are trying to protect your pond fish or your trash from predators, lighting up these areas as well as the rest of your garden is a good way to do it.
How Landscape Lighting and a Watering System Can Work Together to Improve Your Property
Together, excellent landscape lighting and irrigation can make your home look wonderful during the day and at night without you having to do much except for mow the lawn and weed the flower beds every so often. Landscape lighting can be tied to an automatic sensor so that lights go on as soon as it gets dark and turn off when the sun comes up.
Irrigation systems can be automated to go off at a particular time every few days or every week or you can choose a system that has a sensor that knows how long it has been since rain so that irrigation water is never wasted. You can come home every day to a beautifully lit, perfectly watered garden, and lawn without having to do anything except for choosing a great company to install your systems.
Choose American National Sprinkler & Lighting For Your Landscape Lighting and Irrigation Needs
American National Sprinkler & Lighting has been installing extremely high-quality irrigation systems and Landscape lighting since 1984. American National Sprinkler & Lighting installs systems that only need to be installed once and will last a lifetime.
Both their sprinkler systems and their lighting systems are subtle, durable, and lead to wonderful results at the lowest possible maintenance cost. Over time, systems installed by American National will save you money over installing your own systems or trying to hand-water plants. Give them a call today and achieve the beautiful and functional outdoor space you've always dreamed of.