Benefits of a Lawn Irrigation System
Watering your yard with a hose or traditional sprinkler is often time-consuming and results in wasteful overwatering. With an automatic lawn irrigation system from American National Sprinkler and Lighting, you can cut down on the water you use and the time you spend tending to your yard.
A professionally installed lawn irrigation system not only gives you a low-maintenance, perfectly watered yard, it also adds value to your commercial or residential property and automatically waters your yard on a consistent schedule – even while you're away.
Get a Lawn Irrigation System
Our team can install the right system for your landscape
Talk To A Professional Today
I highly recommend American National sprinkler and Lighting. They make the process to have our sprinklers opened and closed so easy. Jose Luis and his team always do such a great job!

Sima Nielsen


10/31/2019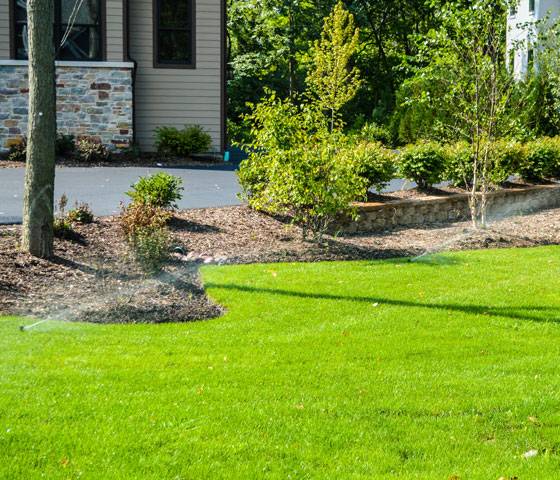 The Best in Lawn Irrigation Technology
Our mission is to provide you with a quality lawn irrigation system that can serve your family or business for years to come. That's why we utilize nothing, but the most advanced sprinkler technology.
All of our residential and commercial sprinkler systems are completely self-sufficient
Easily adjust your system with the simple press of a button or turn of a dial from a convenient control panel
Make controlling your lawn even easier with our new Wifi Sprinkler Controller 
Each sprinkler works on a timed cycle that automatically shuts off when the cycle is complete or when it begins to rain
We install our systems with state of the art machinery that leave just a small slit in your yard and preserves the aesthetics of your landscape
Customized Systems You Can Count On
Every lawn irrigation system we install is just as unique as the yard it serves. Before designing your system, we do a walk-through of your property to evaluate its unique elevation, sun exposure and various grass versus plant zones. Each of these nuances helps us create the most customized and efficient sprinkler for your yard.
The American National Advantage
With more than 75 years in the irrigation industry, we are experts at designing, installing and servicing lawn irrigation systems for any home or business. Once designed, we'll install your system in as little as one day and continue to address ongoing service requests for the life of your system.