Professional In-Ground Sprinkler Systems
In-ground sprinkler systems are the easiest and most efficient way to water your landscape. Whether you have an over-watered yard, under-watered yard or are just looking to cut down on the time you spend watering, in-ground sprinkler system designs are the perfect way to nourish your landscape with the perfect amount of water.
Custom Sprinkler System Design
At American National Sprinkler & Lighting, we work hard to evaluate the unique features of your property and construct a sprinkler system design custom-made for your landscape.
We take into account your yard's sun exposure, various elevations and plant versus grass zones to design a sprinkler system that is as efficient as possible. Trees, grasses and flowers each require unique care, as do commercial and residential properties.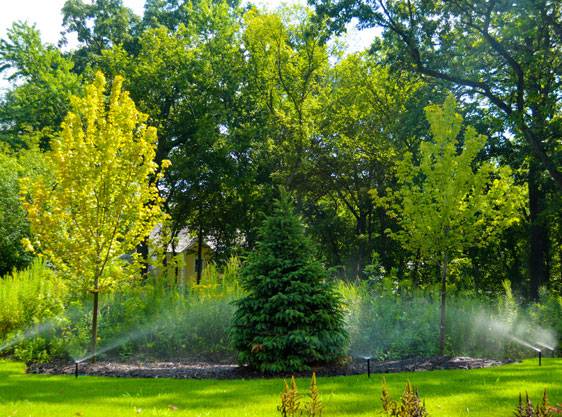 The Latest in Sprinkler Technology
As one of Lake County's leaders in sprinkler system design, we are dedicated to staying on top of the most recent advancements in irrigation technology. All of our commercial and residential systems are completely self-sufficient. Just let us install your system and sit back, relax and enjoy a perfectly watered yard with practically no effort.
Installation You Can Count On
It is our goal to get your irrigation system up and running as quickly as possible. That's why most of our residential and small commercial sprinkler system designs can be fully installed in as little as one day. While larger properties and weather conditions may require longer installation times, we'll work around your schedule to get your sprinkler installed on a timeline that works for you.
American National Expertise
With more than 75 years of combined experience in the sprinkler system industry, we know a thing or two about quality and customer service. Not only do we work with the top technology, our team is available before, during and after installation to guide you through the process and answer any questions and service requests you may have once your system is installed. To learn more about our sprinkler system design and installation  call 847.566.0099 today. You can also fill out our Contact Form to schedule a free quote or ask a question and we will reach out to you!
Talk To A Professional Today
Andres from American National Sprinkler & Lighting came by yesterday to perform the annual "shut-down" of my sprinkler system. As always, they were on time, professional and finished the job quickly. My system is 10 years old now and I've never had a problem with it, and the support for the system is always right on the mark. I would recommend Andres and ANSL without hesitation to anyone looking for a great systems.

Stan Clement


9/29/2019