What To Look For in a Commercial Irrigation Company
What To Look For in a Commercial
Irrigation Company
When you decide to install an irrigation system at your place of business, partnering with the right commercial irrigation company is a big decision. The key is to look for a company that understands the unique needs of your property to maximize the effectiveness of your system.
At American National Sprinkler and Lighting, we do a thorough inspection of your property before designing your system to take into account your varying elevations, sun exposures and plant vs. grass zones. Each of these factors will impact how many sprinkler heads we'll install, where they should be placed and how often they should run.
Our goal is to ensure that your commercial property receives the perfect amount of water in the right place, at the right time.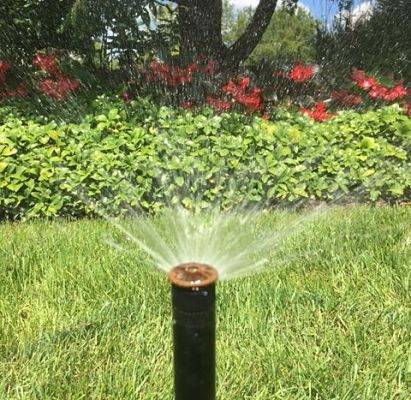 The Benefits of Working with a Commercial Irrigation Company
By choosing to invest in a commercial irrigation system, you are adding to the curb appeal of your business while cutting back on landscaping costs. A healthy, green yard shows potential customers and clients that you take pride in your business and care about putting your best foot forward. Your landscape is often the first impression people have of your company and partnering with the right commercial irrigation company can help make sure it's a good one.
An automatic commercial irrigation system has the added benefit of decreasing the amount of time and money you need to invest in landscaping upkeep. Perfectly placed and timed watering cycles maximize the health of your plants and grass to cut down on property maintenance and let you focus your time and money on what matters most – your business.
At American National, we'd love to work with you to create the perfect commercial irrigation system for your business. With more than 75 years of combined industry experience, we know what it takes to design and install a system that will serve your business well for years to come. To get started, contact a member of our team at (847) 566-0099.