How to Install the Best Low Voltage Landscape Lighting
What You Need to Know About the Best Low Voltage Landscape Lighting
There are few things that can make your garden look more attractive and be more functional in the evening than landscape lighting. The best low voltage landscape lighting can draw attention to the most beautiful landscape features and create outside spaces for you to enjoy after the sun sets.
Naturally, you don't want to pay any more than you have to for high-quality landscape lighting, so low voltage is a great choice for your electricity bill. Here is everything that you need to know about how to install the best low voltage landscape lighting for your home.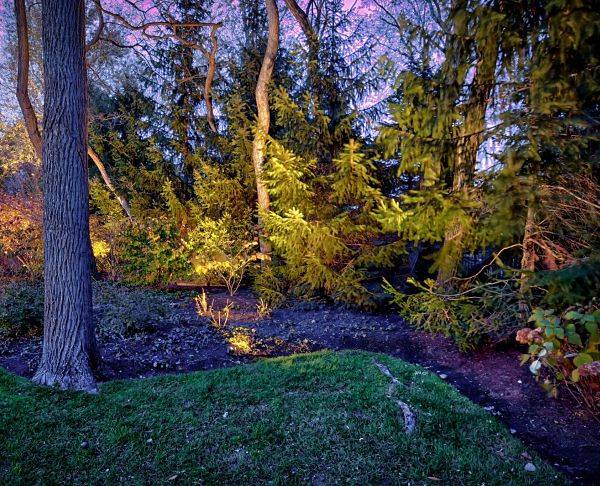 Why Choose Low Voltage Landscape Lighting?
Appearance. You want your landscape to be well-lit, not glowing like a Walmart parking lot. Low voltage lighting provides the accents and illumination that you want without washing your property in too-bright lighting which glares and has the opposite of the desired effect.
Safety. Low voltage lighting has less electricity running through it than standard lighting, which means there is a lower risk of accidental electric shock than with traditional outdoor lighting. This can be very important for homes with children or pets or when pests like mice have a tendency to chew on wires.
Versatility. Low voltage landscape lighting comes in a wide variety of fixtures including spotlights, pond lights, path lights, tree mounted lights, etc. You can accomplish all of your lighting goals with low-voltage lights, as long as you don't want very bright and extensive illumination from any one light.
Cost. Low voltage landscape lighting may or may not cost less to install, but it will definitely save you money over high voltage competition on your electricity bill over time.
Consideration for Installing the Best Low Voltage Landscape Lighting Yourself
It is possible to install voltage landscape lighting yourself. These lights are safer to work with than traditional landscape lighting, but that doesn't necessarily make them easier to install. It is also important to keep in mind that while these lights cannot produce as intense of a shock as regular landscape lighting, they can still produce quite an unsettling shock.
You can be shocked sufficiently to be knocked off balance, which is not only unpleasant but can be very dangerous if you are working on a ladder or near a garden pond. If you suffer from a heart condition, the shocks from low voltage landscape lighting can truly be quite dangerous.
Walk into your local garden center this spring and you are sure to be met with a wide array of low voltage landscape lighting options to choose from. You can find packages of ten or more for incredibly cheap prices or be confronted with a $100 price tag for a single light.
Fixtures may be plastic or metal and they have a huge variety of mounting options. You also will need to choose between different kinds of bulbs which cast different types of light. There are a lot of decisions that need to be made when choosing low voltage lights. Here are some things to keep in mind when making your choice.
Appearance of the light. Do you want a soft yellow cast that illuminates a small area without killing your night vision, or do you want a strong white light that replicates natural daylight? How about lights with colors that are less likely to interfere with wildlife? Most of the time you can't try lights out in the store, so it can be very difficult to decide what effect you want from your lights.
Material. Plastic lights tend to be cheaper, but they are also prone to breaking, especially if placed in direct sunlight or along paths where they may be kicked by people walking by. Metal can look great at first, but it may discolor or rust in weather.
Mounting. Do you want lights that you can insert in the ground on steaks, lights that can be draped from the branches of trees, or fixtures that can be installed into tree bark or into the side of your home? Take into account not only the mounting type but the distance which light can be thrown to determine how best to illuminate a given area.
The transformer determines how many lights you can install. You need to choose a transformer that is large enough for the lights that you are buying now and for any future expansion since it will be pricey to replace a transformer if you decide you want more lights down the road.
Keep in mind that different lights require different amounts of energy, so determine the lights that you want and their energy needs before choosing a transformer. Every transformer comes with different guidelines, so be very careful to follow the installation guidelines on your transformer in order to avoid a failure of the lights or an electric shock.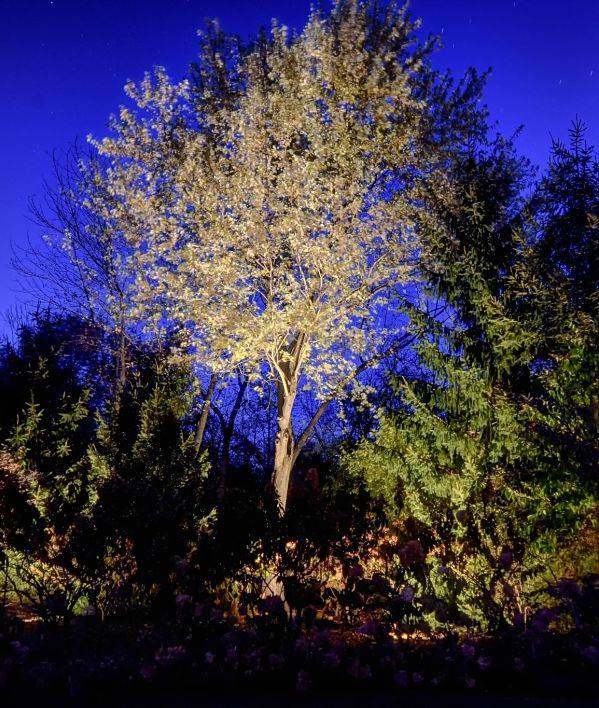 Sometimes lights come with everything that they need to be installed, but more often, you'll find that you need additional tools in order to install your low voltage lights effectively. Even the best low voltage landscape lighting sold in garden centers rarely comes with everything that you need to make it look good. Here are a few landscape tools that you may find that you need.
Stakes. Landscape lights depend on wiring to work, but wiring is unattractive and a tripping hazard in your landscape. When determining how to wire low voltage landscaping lighting, you'll find that you often need stakes to hold wiring underground or even with the dirt around perennial shrubs.
PVC pipe for the base. Landscape lighting fixtures tend to be top-heavy without poles long enough to secure them firmly in the ground. Buy PVC pipe with a hole near one opening for ground wires to come out of.
Mounting poles. Landscape lighting may come with some sort of mounting pole, depending on the type of light, but there's a good chance that you will want your lights at a different height than what comes with the package. Mounting poles can be installed in order to elevate your light to the desired height. Copper pipe works well with the PVC needed for the base.
Extension cords. Most of the time, even the best low voltage landscape lighting doesn't come with long enough cords to reach your electrical outlet, so heavy-duty outdoor extension cords are necessary.
Wire. Your low voltage landscape lighting may come with some wires included, but it is unlikely to include all the wires that you need. Choose a 10 gauge wire for the main lines from the transformer to the beginning of the lights and use 12 gauge wire between lights.
Before you install landscape lighting with wiring buried underground have your utility company mark the location of underground wires and pipes so that you won't have any costly and dangerous surprises as you're digging.
Talk To A Professional Today
We have had work done recently by this company. Their work is excellent. They care about your property and home. Julio was exceptional, extremely knowledgeable, very professional and courteous. I would highly recommend American National and definitely ask for Julio if possible. He was great!

Vicki Strobel


October 7, 2019
Time to Install: Best Low Voltage Landscape Lighting
Once you have all of your materials, it is time to install your low voltage landscape lighting. Be sure to start early in the day, as this project tends to be time-consuming and it isn't something that you want to leave out in between working on it.
Layout light fixtures and landscaping wire. Before you start digging and installing, lay out all of the lights and wire in the locations where you intend to install them in order to get a sense of how they will look and how they all work together.
Bury wires between lights. The usual solution for hiding the wires between lights is burying them. This is one of the most overlooked labor-intensive aspects of how to wire low voltage landscape lighting. You can use a flat nose shovel to dig trenches for your wire. Make sure that the wire trenches are at least 6 in deep so they won't be damaged if the lawn is aerated or when annuals are dug up at the end of the season.
Mount the Transformer. Installing a transformer requires some basic electrician skills, so if you don't feel comfortable with this step it is best to hire a professional. You will mount the transformer near your outdoor GFCI unit. It's a good idea to mount it on a post in order to keep it free of dirt and debris and to allow you to adjust the orientation. Strip about three-quarters of an inch of insulation from the 12 gauge main wire, twist the wire strands together and attach them to the terminals. Be sure to use a weatherproof cover since your transformer will be kept outdoors.
Construct bases. The poles and lights that you have bought are likely to be top-heavy. You can build a base for them out of PVC pipe. Bury the plastic pipe at least six inches to a foot underground, depending on the height of your pole. Make sure that the PVC has an exit hole near the top for round wires to go through as well as an open-top to attach the light fixture.
Connect the wires. Use weatherproof wire connectors to connect the wires from your low voltage landscape lighting to the connective wire that goes between lights. Use sealant to weatherproof the connections. Be careful that you are making good decisions about how to wire low voltage landscape lighting, as it can be impossible to remove the sealant after the fact.
Straighten the fixtures. Use a level to straighten the fixtures. A slight angle to the fixture may not be evident during the day, but once the fixture is shedding light, even a very slight tilt will look distinctly off-kilter.
Test each fixture. Even the best low voltage landscape lighting that comes with the highest pricing may not work properly or may be damaged during your installation. Use a digital voltage meter to test how many volts each light is getting. Too much voltage will result in an overly bright light which will burn out prematurely while low readings will result in dim lights. Very low readings may indicate that you have a bad connection somewhere or that you have overloaded the circuit with too many lights.
When It Might Be Best to Hire a Professional for the Best Low Voltage Landscape Lighting
If you've been reading about how to install low voltage landscape lighting and are thinking that this seems like an awfully big project fraught with possibilities for disaster, you're right. Installing low-voltage lighting should not be considered a beginner's do-it-yourself project.
It requires fundamental electrician skills, the capacity to make alterations to PVC piping, and a fair amount of digging. If you are not experienced with this kind of project, you are likely to save money by hiring a professional. This is especially true since it can be so easy to incorrectly gauge the necessary voltage or make a bad connection somewhere along your line. This can result in wasted electricity, which will make your efforts at saving energy with low voltage lighting obsolete.
Contact Us for the Best Low Voltage Landscape Lighting
American National Sprinkler & Lighting has been installing outdoor lighting systems since 1984. We have the experience and knowledge required to install lighting that looks amazing in your landscape while costing you as little as possible. We can offer an effect that you haven't even thought about, giving you options to extend lighting further than you imagined possible. Contact us today!