Are You Looking for Niles Landscape Lighting?
It is immediately apparent on a stroll through Niles, Illinois, that this is a village that takes pride in the appearance of its homes and gardens. While houses and lots here aren't usually huge, they are meticulously maintained and filled with charm. Niles landscape lighting can do even more to help you bring out the best in your home.
Great landscape lighting design can make a tremendous difference in both the beauty and functionality of your home. Here's what you need to know about Niles landscape lighting and why you may want to consider having it installed at your home.
Niles is a charming village located right on Chicago's Northwest border. It's in the Main and Niles townships, with the ZIP code 60714. Niles is in Cook County, with Glenview to its north, Skokie to its east, Park Ridge to its southwest, and Des Plaines to the West.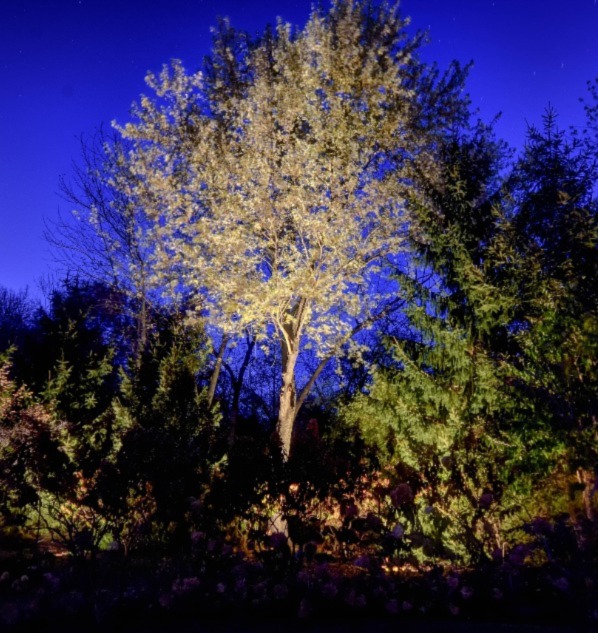 Despite being so near Chicago, Niles is rich in golf courses, parks, and other natural areas to enjoy. The Des Plaines river is not far to the east, along with natural areas like the Campground Road Woods and the Northwestern Woods. Randa Park is located here as well. To the east, the North Branch of the Chicago River is surrounded by a significant wilderness area made up of the Miami Woods, the Wayside Woods, and more. Lake Michigan isn't far either.
Niles is largely residential with a population of 29,198 as of 2020. It is filled with attractive single-family homes, often made of brick.
However, there are some commercial areas in Niles with unique attractions. The Leaning Tower of Niles is a half-sized replica of the Leaning Tower of Pisa, built by a businessman in the 1930s. The Niles Park District Oasis water park is a wonderful place to go with the family, complete with splash pads, playgrounds, and a zero-depth entry that makes it easy for kids to get into the water.
Along North Milwaukee Avenue, there are a number of restaurants to enjoy. Booby's is a popular burger and BBQ joint where you can sit at the counter and order local favorites like burgers with barbecue sauce and coleslaw or the Italian beef and sausage combo. The Augustino's D'Agostino's Pizza and Pub Niles is a casual place for pizzas, pasta, and other Italian favorites, with a full bar and outdoor seating.
History of Niles Illinois
Like most villages in Northern Illinois, Niles has a long history. It was first settled by Europeans in the 1820s and 30s. Originally, it was named Dutchman Point. It isn't clear where the name Niles came from. It is possible that the village was named after political leaders or a construction company known as Niles Construction.
The Village of Niles was incorporated into Illinois in 1899 with a population of 500. After World War II, it grew rapidly from a population of 3,500 in 1950 to over 18,800 people in 1962. Today, Niles is a lovely suburb of Chicago, proud to have multicultural neighborhoods, reasonable taxes, and multimodal transportation that supports everyone from families, to young professionals, to seniors.
Why You May Want to Consider Niles Landscape Lighting
One of the best things about living in Niles is the tremendous amount of natural space available, despite being so near Chicago. The two rivers running on either side of the village serve as a runway for many species of wildlife. Golf courses scattered throughout the village and the large cemetery on Dempster Street & North Milwaukee Avenue serve as places of refuge as wildlife moves through the community.
You may enjoy some wildlife on your property every now and then, but pests like possums and raccoons can destroy landscaping and get into garbage. Niles has some particular trouble with skunks nesting on properties and under homes, which can present obvious problems in your yard.
Niles Landscape lighting is one of the most effective ways to humanely deter troublesome nocturnal wildlife from your property. Lighting that is triggered by motion will deter even the most determined and street wise pests.
Even landscape lighting that stays on throughout the evening, increasing the beauty and functionality of your home, can be a powerful deterrent for unwanted wildlife. A skilled outdoor lighting company can strategically place lighting around the perimeter of your property, deterring wildlife and beautifying the space at the same time.
Unfortunately, crime is a serious consideration for residents of Niles, as it is for most suburbs that are so near Chicago and the O'Hare International Airport. It can be all too easy for criminals to find their way into the suburbs and look for targets.
Security landscape lighting is extremely effective at convincing a potential thief to ignore your house and look elsewhere for an easier target. Landscape lighting services can install lighting that is triggered by motion that will surely send criminals running. Attractive landscape lighting that stays on all night can beauty your home while simultaneously making criminals think twice about invading.
Increase Your Property Value and Curb Appeal
Niles is a lovely place to live, with neighborhoods full of trim, charming brick homes and neat grassy lawns. However, residents of this village may sometimes feel that all of the homes look the same. Never is this more apparent than when you are trying to sell your home. Getting your single-family brick home to stand out in a neighborhood full of similar houses can be frustrating.
Landscape lighting is an ideal solution. Make an investment into your home that simultaneously increases your property value, curb appeal, and the likelihood that someone will fall in love with your house and pay the asking price.
Not only does quality landscape lighting improve the look of your home, but it also makes your home look its best at just the time when a potential home buyer may drive by. People often look at homes in the early morning before work or evening before they go home. Landscape lighting that draws attention to your home and makes it look beautiful and inviting in the dawn and dusk can be a tremendous advantage.
Residents of Niles strive to get the most out of their spaces. Lawns, flower beds, and hedges are well-kept and trees are charmingly pruned. Many of the backyards are fenced in for the benefit of dogs and kids.
If you'd like to enjoy your outdoor spaces more, Niles landscape lighting may be the perfect solution. Lighting that gently highlight trees or shrubs can cast ambient light across the lawn, enabling you to keep playing fetch with the dog or ball with the kids even after the sun goes down.
Lighting along your flower beds and pathways encourages nighttime strolls so you'll appreciate the beauty of the garden you work so hard on at night as well as during the day. A great landscape lighting company can help you to highlight everything you love about your property and enable you to get more out of it in the evening hours.
What to Look for in a Landscape Lighting Company
You need a company that can install the best landscape lighting for your Niles home. Choose someone who has worked in the area for a long time and knows exactly how to highlight the endearing quality typical of Niles homes.
The company you select should have installation experts able to talk to you about exactly what you want from the landscape lighting you choose. Do you prefer lighting that highlights plants and structures for a sharp, dramatic effect? Maybe you'd rather have lighting that blends into the flowers and shrubs so you barely notice it?
Are there any key features on your property you want to highlight or specific security threats you want to prevent? The landscape lighting company you choose should be able to talk to you about every detail of the job so you know exactly what you'll be paying for.
You want to be confident that you'll get the landscape lighting you're dreaming of. Keep in mind that a quality landscape lighting company has many more lighting options than you would find at your local big-box store. Make sure that they are willing to talk to you about all of the choices to help you realize the vision you have for your Niles property.
American National Sprinkler and Lighting is Your Best Choice for Niles Landscape Lighting
American National Sprinkler and Lighting has been installing sprinklers and lighting throughout the North Shore since the early 1980s. We started out with just a vehicle and a few employees, but we've grown to a company with over 40 vehicles and 80 employees.
Although we are bigger now, we're still dedicated to providing highly individualized care to each of our customers in Niles and throughout the North Shore. We know exactly how to use our extensive collection of landscape lighting to make your property look its best and help you to enjoy it more.
Don't hesitate to reach out and talk to us about what you want from Niles landscape lighting.