Skokie Landscape Lighting
Is Skokie Landscape Lighting Right for You?
Skokie is a wonderful place to live, full of people who take a lot of pride in their homes and gardens. Skokie landscape lighting can make your home look its best and increase the functionality of your outdoor spaces.
Here's what you need to know about Skokie landscape lighting and why you may want to consider it for your home.
Skokie is a charming village in Cook County near the northern border of Chicago. It's about 15 miles north of Chicago's Downtown Loop. Evanston is to its East, Wilmette to its North, Lincolnwood to the South, and Niles to the West. The district is divided into three separate zip codes: 60076, 60077, and 60203.
Skokie is home to a number of attractions that draw people from Chicago and the surrounding areas. The Emily Oaks Nature Center is a beautiful natural preserve that is the perfect place to seek wildlife in this otherwise highly urbanized area. It is conveniently located right next to the Skokie water playground, making this area the perfect place to go with the kids.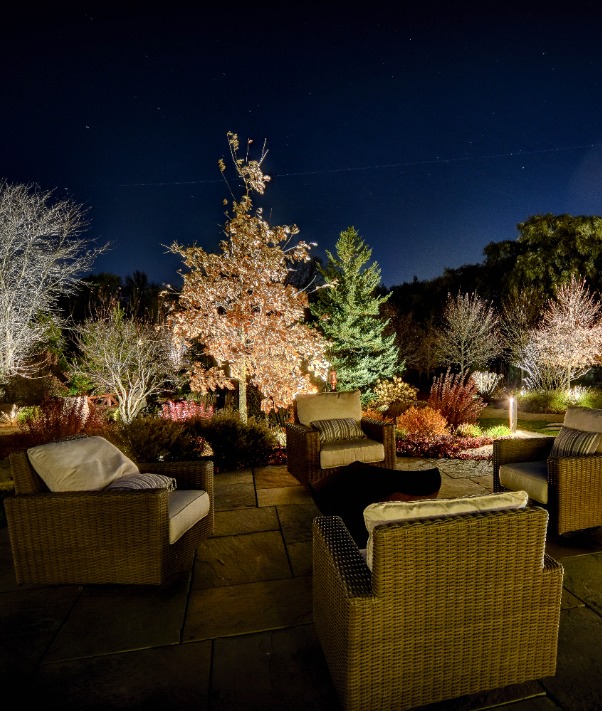 There are a number of great restaurants in Skokie. The Sarra Grill is a well-loved Mediterranean restaurant that is particularly popular for catering. Kaufman's Bagel & Delicatessen is a Kosher Bakery and Deli that's been in the area for many years. Sketchbook Brewing Company is the perfect place to go for a great beer.
The name Skokie is unusual in an area that mostly has typical English names. It comes from the Potawatomi word for "Marsh." Many of the other villages in this area started out with Native American names, but most of them have their names changed as the years went by.
Skokie was aptly named, as it used to be a very marshy area, rich in buffalo and deer. The first settler to the area was Henry Harms, a Prussian immigrant. He was a merchant and postmaster and founded the school districts in the area. The home that he built in 1869 still stood in 1999, when it was purchased by the Skokie Park District.
Skokie grew rapidly during the 1980s, becoming known as the world's largest village. The area was famous for its greenhouses and the produce produced in them. Real estate was in high demand until the Great Depression.
Even during the Great Depression, new churches were built, social organizations that are still in existence today started, and the education system expanded. Skokie continued to grow after World War II, and now has a population of approximately 64,784 people.
Why Should You Consider Skokie Landscape Lighting?
Skokie is a lovely neighborhood full of beautiful but not ostentatious homes. For many residents of the area, one of the best things about living in Skokie is the abundance of gorgeous mature trees and lots of greenery, which otherwise can be difficult to find this close to downtown Chicago.
However, there are some downsides to plenty of trees and shrubbery this close to a major city. Thieves may see all of these trees as protection that allows them to sneak onto your property undetected. This close to Chicago, criminals may be looking for neighborhoods where they can take advantage of any opportunity to steal.
Skokie landscape lighting is a powerful deterrent to criminals. Anyone who is looking at your home opportunistically will likely look elsewhere when they realize that you have landscape lighting protecting your home.
Landscape lighting that illuminates your home all night long is a great way to encourage thieves to look elsewhere. Landscape lighting that turns on when it is triggered by motion can send even the most determined criminal running.
In such an urban setting as Stokie, you may not think that wildlife will be a significant problem for you. However, you may be surprised by just how prevalent wildlife can actually be in this area.
This is particularly true if you happen to live near the Evanston Golf Club or the Emily Oaks Nature Center. The North Branch of the Chicago River and the extensive forested areas that surround it are not far from Skokie to the West. To the east, the North Shore Channel also has lots of forested area around it.
Wildlife can use these waterways to move through the Chicago area. Because Stokie has plenty of trees and greenery, wildlife may feel comfortable wandering into the neighborhoods in this area under the cover of darkness. You may appreciate some wildlife, like songbirds, however, you'd probably rather not have other kinds of wildlife on your property.
Possums and raccoons can carry disease and make a mess of your landscaping and your garbage. Some wildlife, such as foxes, coyotes, or bobcats may even be a threat to pets or children.
To keep nocturnal visitors at bay, consider landscape lighting. Wildlife may be unwilling to cross a well-lit boundary into your yard. Motion-activated landscape lighting will encourage even the most urbanized wildlife to keep looking for another yard to invade.
Make Your Skokie Home as Beautiful and Functional as Possible
One of the reasons that you enjoy living in Skokie is surely because of the opportunity to enjoy time outdoors and appreciate the beauty of your home and neighborhood. Skokie landscape lighting can make your home look its best and enable you to enjoy it more.
Furthermore, installing high-quality landscape lighting is a highly visible investment into your home which can increase your property value. Landscape lighting can highlight the features of your home that you like the best:
Do you have gorgeous structured topiaries or lovely flower beds? Make them as attractive at night as they are during the day.
Perhaps you have beautiful signature trees that define your landscape. Lighting shining up into the branches can turn them into works of art.
If you loved sitting out on your patio or porch during the day, you'd probably enjoy extra time to appreciate these areas at night by utilizing landscape lighting.
Special features like fountains or sculptures look their best when you utilize landscape lighting.
Lighting that gently glows down from trees can replicate moonlight and enable you to enjoy playing out on your lawn with kids or dogs even when the sun goes down.
Lighting up paths that run through your garden with special attention to flowers or shrubbery can draw you out for nighttime strolls.
Should You Do it Yourself or Hire a Company?
Should you hire an outdoor lighting company to install your Skokie landscape lighting, or is this something you can take on yourself? There are good reasons to consider a landscape lighting company:
Safety. Low voltage landscape lighting comes with fewer risks than high voltage, but there are still risks associated with the installation of landscape lighting. By hiring a professional, you can have confidence that your landscape lights won't be dangerous to people working in the garden, children, or pets.
Effectiveness. You may be surprised by how difficult it can be to install good security landscape lighting that does the job of preventing anyone from sneaking onto your property and still looks good. Landscape lighting services are much more likely to be able to accomplish your lighting goals.
Attractiveness. Landscape lighting design may seem straightforward, but in reality, getting the best possible look is difficult. The best landscape lighting gently accentuates what you love about your property without making your lard look spot-lit.
Don't upset the neighbors. It's challenging to utilize landscape lighting effectively to light your yard the way you want without shining light into the neighbor's windows or into the street. You may not even realize that the lighting you've installed is problematic for neighbors unless they come knocking to tell you about it. A professional knows how to install lighting without bothering the neighbors.
Quality. There are plenty of lighting kits available from big box stores or online, but they're unlikely to be as high-quality as professional Skokie landscape lighting, regardless of the price tag. Problems like the lighting being brighter near the power source than at the end of the line and lighting fixtures degrading quickly in the weather are very common.
Choose American National Sprinkler & Lighting for Skokie Landscape Lighting
If you want your Skokie landscape lighting to look it's best and achieve your goals for landscape lighting, American National Sprinkler & Lighting is the company for you. We've been working in the area since 1984. In that time, we've grown from a one vehicle and three employee company to an impressive 40 vehicles and 80 employees housed in a state-of-the-art facility.
We have extensive experience working throughout the suburbs of Chicago and we know just how to make your home look its best. Whatever you want from your landscape lighting, we can help you to achieve it. We are available seven days a week and are happy to come out on short notice if you have any issues at all with your lighting. Talk to us about your goals today and see what we can do for you.