Northfield Landscape Lighting
It's Time to Get Northfield Landscape Lighting
Northfield is a beautiful community known for its country feel, wide-open lots, and beautiful architecture. If you live in this village, you surely take a lot of pride in your home. Northfield landscape lighting can help you make the most of your home and property, offering increased functionality, beautiful aesthetics, and raising your property value. Here's what you need to know about why Northfield landscape lighting is a great investment for your home.
Northfield is located about 20 miles north of Chicago along I-94 West, making it a fairly convenient 35-minute commute. Northfield is to the west of the Skokie Lagoons and about four miles from the coast of North Michigan. Northfield is in Cook County, with the zipcode 60093. Winnetka is to its east, Glenview to the south, and Northbrook to the north.
Northfield is surrounded by many lovely natural areas and country clubs. Besides the Skokie lagoons, it is also near the Sunset Ridge Woods and country club, the Watersmeet Woods, the Skokie Country Club, and the North Shore Country Club.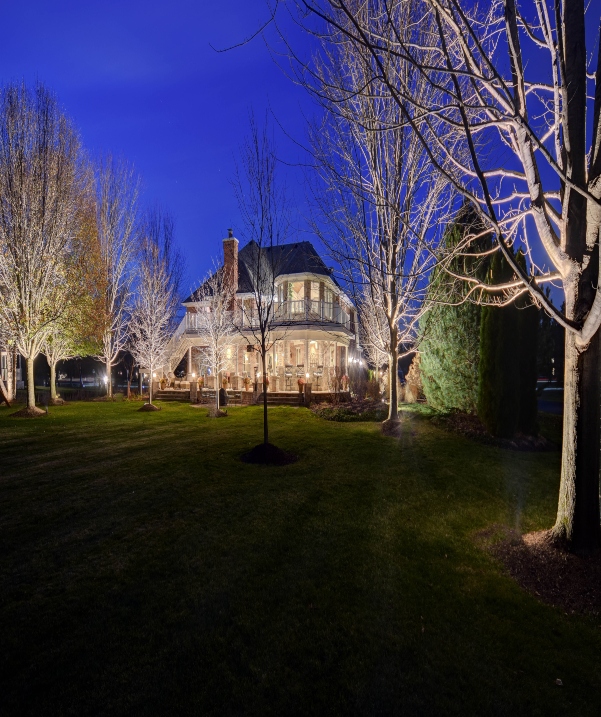 While this neighborhood is primarily residential, there are some great restaurants near the highway. The Three Tarts Bakery and Cafe is a favorite bakery and coffee spot in the area that also has delicious sandwiches. Tapas Gitana is a favorite neighborhood restaurant with small Spanish plates and a lovely outdoor patio. The Northfield Restaurant is a comfortable diner with all of the standard American and Greek food you could expect that is also beloved in this neighborhood.
This area was home to Native Americans for hundreds of years before settlers began to arrive midway through the 1800s. Settlers had a hard time navigating the area in their wagons, especially when they wanted to go to Lake Michigan and had to cross the Skokie lagoons and the Chicago River.
The Winnetka railroad was built in 1854 and made navigating the area much easier. Some of the early residents included the blacksmith John Hap and his nine children. His grandson, John, would be the first village president of Northfield when it was incorporated in 1926.
In the early 1920s, this rural farming community underwent a tremendous change. A Chicago entrepreneur known as Samuel Insull built the Skokie Valley Line on the North Shore Railroad and held a contest for naming the village. The Potawatomi name Wau-Bun, which means "dawn", was originally chosen, but in 1929 the village name was changed to Northfield.
As time went on, more and more families were attracted to the country atmosphere of the area, surging from 320 residents in 1930 to 5751 in 2020.
Why Consider Northfield Landscape Lighting?
One of the most unique and desirable things about Northfield is the amount of space it offers residents. Much of this village is distinguished by neighborhoods with extremely large lots and sprawling homes. There are plenty of signature trees, beautiful shrubs, and wide open spaces.
All of these features are part of what make this area desirable, but there are also some downsides. Because Northfield is known to be affluent, it may be a target for thieves. The relative nearness to Chicago can make it easy for burglars to find their way to the area. The quiet streets and large lots can make it easy for someone to sneak onto your property undetected.
Northfield landscape lighting can be a superb solution to keep your home safe. Security landscape lighting can light up the boundaries of your property, making it much more difficult for someone to slip onto your land undetected. Lighting that is turned on when triggered by motion not only reveals the presence of intruders but can also be a powerful deterrent. A great outdoor lighting company can install security lighting that keeps your home safe and makes it look great too.
Deter All Types of Animals
The country feel is one of the things that most people find most attractive about living in Northfield. However, along with wide-open spaces and plenty of greenery can come undesirable wildlife. The nearness of the Skokie lagoons and the fact that the North Branch Chicago River runs through Northfield also encourage the presence of wildlife.
While you are probably thrilled to see songbirds and even the occasional dear, other wildlife is not nearly as charming. Possums and raccoons can wreak havoc on your landscaping and make a mess of your garbage. Predators like foxes and coyotes can be dangerous for pets or even be threatening to children.
Northfield landscape lighting is a powerful deterrent for unwanted animals. Animals that would otherwise wander onto your property at night will likely keep looking for somewhere not as well lit. Landscape lighting design that incorporates motion-activated lights can frighten away even the boldest wildlife.
Make the Most of Your Home
Northfield landscape lighting is a great way to help you enjoy your home more. You have probably chosen to live in Northfield because you love the large, spacious lots and the ability to really stretch out and enjoy your land. Landscape lighting can help you do just that:
Pathway lighting encourages pleasant nighttime strolls across the grounds.
Lighting that shines down from trees can replicate the look of moonlight and gently light your lawn so that you can enjoy a game of fetch with your dog or ball with your kid even after the sun has set.
Lighting for porches and patios can make these locations the perfect place to sit and enjoy a cup of coffee early in the morning or have dinner at night.
If you want to enjoy your property in the evening as well as during the day, landscape lighting is a great idea.
Make Your Home Look it's Best
The homes in Northfield are absolutely stunning, and the best landscape lighting can make them look beautiful at night as well as during the day. Landscape lighting can highlight what you like best about your home.
Are you proud of signature trees that are as historic as your home? Make them shine and highlight details in the branches and bark. Do you love your flower beds or structured topiaries? Turn them into artwork at night. Perhaps the architecture of your home is what you'd like to highlight. Tasteful landscape lighting that shines onto your house can make all the difference.
If you have any desire to increase your property value or sell your home, landscape lighting is a great idea. It can draw attention to your house in the evening when people are most likely to be driving around and looking at houses. Landscape lighting is the kind of investment that is immediately evident and shows how much you care about your home.
Install Northfield Landscape Lighting Yourself or Hire a Professional?
Landscape lighting may appear straightforward at first glance, and it can be tempting to take advantage of online sales or big box stores to purchase your own landscape lighting and install it yourself. However, landscape lighting installation isn't necessarily as straightforward as it seems. Unless you have experience in the installation of landscape lighting, it's best to hire landscape lighting services.
Even low voltage landscape lighting can be dangerous. It needs to be installed properly so that it isn't a threat to pets, children, or anyone working to maintain the landscape. It can be very challenging to install landscape lighting appropriately so that it looks appealing and doesn't spotlight your property.
It can also be hard to make sure lighting doesn't end up shining into the street or into your neighbor's windows. It may seem that it would be easy to make sure this doesn't happen when there is so much property to work with as there is in Northfield. In fact, all of the open ground makes it even more difficult to light the property effectively while ensuring that lights don't end up being irritating for your neighbors.
If you want your landscape lighting to be attractive, effective, and safe, a professioanal landscape lighting company is the way to go.
Why Choose American National Sprinkler & Lighting for Northfield Landscape Lighting
American National Sprinkler & Lighting has been installing lighting in the North Shore and other suburbs of Chicago since the early 1980s. We started out with just a single-vehicle and a couple of employees, but we've grown to an impressive company with over 40 vehicles and 80 employees.
We'll take the time to learn exactly what you want from your landscape lighting company but also have the know-how and experience to advise you on what would make your Northfield home look its best and provide the best function for your specific needs. American National Sprinkler & Lighting will be there whenever you need anything, whether you're worried about security and want additional security lighting installed, you had a light go out, or there's anything else you need at all.
We're well-staffed to meet your needs, and after being in the area for so long, you can be confident that we're not going anywhere. Don't hesitate to reach out to American National Sprinkler & Lighting to install gorgeous landscape lighting for your home.