Palatine Landscape Lighting
Palatine Landscape Lighting Can Do Wonders for Your Home
Palatine is a lovely community, full of historic homes, gorgeous old trees, and plenty of charm. Palatine landscape lighting can highlight what is best about your property, increase the functionality of your home after dark, and deter pests and criminals. Here's what you need to know about Palatine landscape lighting and what it can do for your home and garden.
Palatine Illinois is a lovely village within Cook County, with a population of just over 68,000. It is a suburb of Chicago that is about 30 miles from the city and 17 miles from the shores of Lake Michigan. It is bordered by Arlington Heights, Inverness, and Berrington, among other suburbs. it is only 14 miles from the O'Hare International Airport, making it a very convenient place to live for anyone who needs to travel.
Palatine offers an incredibly convenient location that gives you all of the advantages of big city living and access to the lake while still enjoying a comfortable suburban lifestyle. Despite being so near to Chicago, it offers a lot of natural places to enjoy.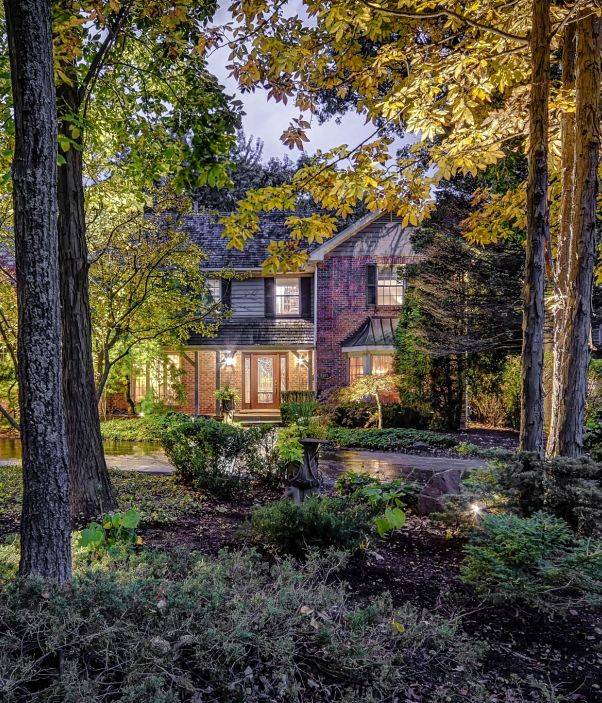 It also has some great restaurants and cultural areas, such as the Ramen House Shinchan, a beloved ramen restaurant, and the Brandts of Palatine, a cozy brick tavern that serves familiar American cuisine like burgers and sandwiches as well as offering cocktails. If you enjoy golf, Palatine is a great neighborhood for you.
There are several courses in the area, including the Twin Lakes Golf Course & Recreation Area, Inverness Golf Club, and the Palatine Hills Golf Course and Clubhouse. The West Meadows Ice Arena offers fun ice skating during the summer or winter. If you enjoy biking, you will have a lovely trip along the Palatine bike trail, which cuts all the way across the town and along some of the most attractive areas of it.
History of Palatine, Illinois
Palatine is a historic community with a history going back to the 1830s. The first residents of this village were travelers from New England and New York who wanted the opportunity to farm in the rich green prairies to the West. They traveled along native American trails to find the fertile land where they wanted to settle. Two of these trails, Woodstock and Lake Zurich, became roads that still exist today: the Algonquin Road and Rand Road.
The first settler to Palatine was very likely George Ela. He built a log cabin in Deer Grove in the mid-1830s. Soon, a railroad and station were built in the area and the village rapidly grew around it. Palatine was incorporated in the mid-1860s.
Residents of this area take a lot of pride in its history. Many of the homes in this village are historic. One of the oldest homes in the village, the George Clayson House, is beautifully renovated and on the National Register of Historic Places. You can see thousands of artifacts of Palatine's history at the Clayson House Museum.
Why Should You Consider Palatine Landscape Lighting
Landscape Lighting Offers Protection from Crime
Palatine is only 14 miles from the O'Hare International Airport, which is very convenient for anyone who needs to travel frequently or have guests from international locations. However, there is a downside to being so near to Chicago and to an International Airport.
Opportunistic thieves may find their way to this affluent suburb and target it. Landscape lighting is a powerful deterrent to thieves. Whether you want a quality outdoor lighting company to install perimeter lighting to deter thieves from trying to enter your property or you would rather have motion-activated lighting that will drive criminals away as soon as they step foot in your yard, the right landscape lighting can make a huge difference in convincing criminals to look elsewhere for the opportunity to steal.
Landscape Lighting Can Deter Wildlife
The rich natural spaces around Palatine are one of the great attractions of this area. However, lots of natural space also means wildlife which you may or may not want on your property. Deer Grove Forest Preserve to the north, Paul Douglas Preserve to the southwest, and larger natural areas further out such as the Lakewood Forest Preserve, all make it fairly likely that wild animals may find their way onto your property.
If you happen to live near one of the several parks or golf courses in the area, it is even more likely that wild animals may become a problem for you. Wildlife like raccoons and possums can get into landscaping and garbage. Larger predators like coyotes can become a threat to pets or even children.
Quality landscape lighting can be very efficient at deterring nocturnal predators while still encouraging desirable wildlife like birds. Landscape lighting at the perimeter will keep most predators and pests from coming onto your property. Landscape lighting that is motion-activated does a good job of deterring even animals that are unconcerned about lit spaces.
Palatine Landscape Lighting Can Make Your Home Look it's Best
Residents of Palatine tend to take a lot of pride in the look of their home. While these homes aren't always very large or grandiose, they are packed with charm. Many are historic and have lovely features like well-shaped shrubbery, carefully maintained lawns and flower beds, and signature trees.
You surely want your Palatine home to look as nice at night as it does during the day. Palatine landscape lighting can highlight all the features you love best about your home. Are you proud of your trees and shrubbery? Lighting can highlight the shape and structure of vegetation. Do you put a lot of effort into your flower beds each spring? Landscape lighting design can highlight the colors so that your yard will look as bright and beautiful at night as it does during the day. Whatever you love best about your home can look incredible in the dark as well as in the light.
Enjoy Your Home More with Landscape Lighting
Many homeowners in Palatine take a lot of pleasure in spending time outside. Whether you are gardening, playing ball in the yard, or enjoying some time on the patio, you probably like your outside spaces a lot.
Why should you enjoy the outdoors only on the weekends? If you leave for work shortly after the sun has risen and come home just before or after it has set, you probably don't get to enjoy your outside space as much as you would like.
Palatine landscape lighting can make all the difference. A great landscape lighting company can enable you to enjoy time outside even when it is dark. Here are just a few of the ways that landscape lighting can improve your experience of your home:
Light up the lawn. Would you like to keep enjoying time on the lawn even after the sun has set? Landscape lighting can shine down from the trees, replicating the effect of moonlight. You will have enough light to enjoy spending time on the lawn without making it seem that your property is lit with a floodlight.
Illuminate the patio. Would you like to enjoy a cup of coffee on the patio while the sun rises or have a drink or appetizers while the sun sets? Great landscape lighting can gently highlight your patio so that you will find yourself spending a lot more time enjoying it. You may even feel that extra square footage has been added to your property as your patio becomes like another room on your house.
Brighten paths. Landscape lighting along the paths in your garden not only looks great but can also draw you out for evening strolls and make a trip out to the street to bring the garbage out a lot safer and easier. If you have flower beds or other decor along the path, it can be very beautiful as well.
Schedule Palatine Landscape Lighting Today!
Since the early 1980s, American National Sprinkler & Lighting has been making homes in the suburbs of Chicago, including Palatine, look their best. We have the experience required to install the best landscape lighting for your needs.
Thanks to our many years of installations in this area, we know what looks great on the style of homes typical of Palatine. We will carefully listen to what you want from landscape lighting to provide greater functionality from your home and make it look its best.
With a team of over 20 highly qualified technicians and the ability to work 7 days a week to accommodate your schedule, we can install and maintain landscape lighting promptly, when you need it done. We can provide a wide range of different styles of landscape lighting. You may not even have thought of all the ways that our professional landscape lighting can help you enjoy your home more.
If you want to get the most from your home, improve your property value, and make your home the best-looking house in the neighborhood, let us install Palatine landscape lighting for you.