Consider Cary Landscape Lighting for Your Home
Cary is a lovely place to live, with lots of access to natural spaces as well as recreational facilities. If you love living in this gorgeous village, you may find that Cary landscape lighting can improve your experience of being a homeowner here even more. Here's what you need to know about Cary landscape lighting and why you might want to consider it.
Cary, Illinois is nestled along the banks of the Fox River, about 44 miles from Chicago, and 23 miles from the banks of Lake Michigan. This is a suburban area with a population of just under 18,000 within Algonquin Township. Oakwood Hills is to the North, Lake Barrington to the east, Barrington Hills to the south, and the village of Lakewood to the west.
This charming village is rich in natural areas as well as restaurants to enjoy. The Eggville Cafe is a favorite local breakfast shop, and Coleman's in Cary is a well-loved bar and grill. Kojak's is a delightful American and Greek restaurant that has a diverse menu including burgers, fries, and hot dogs as well as gyros and kabobs.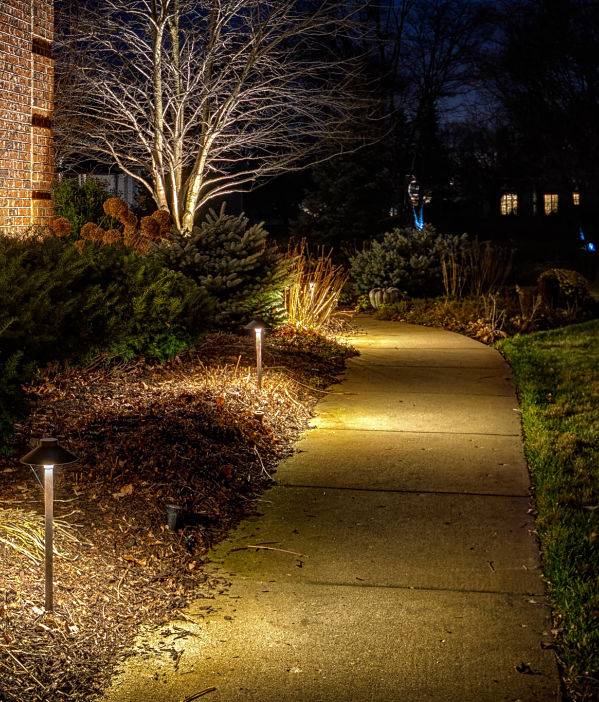 Cary also has some great recreational activities for residents and visitors to enjoy. The Norge Ski Club is right on the other side of the Fox River. It's the perfect place for winter activities.
In the summertime, check out the Chalet Hills Golf Club or the Three Oaks Recreation Area. If the weather is very nice, you can even enjoy hanging out on a beach on the shores of the Three Oaks Recreation Area Lake.
History of Cary, Illinois
Cary, Illinois is a historic village going back to the 1840s. It was founded by William Dennison Cary, and still has his name. He started the village with 82 acres of land in 1841.
As time went on, Mr. Cary continued to purchase more land in the area and built a house there. In the late 1850s, a strip of his property was purchased by the railroad and a train station was built.
In the 1890s, the three hundred or so residents of Cary voted to incorporate as a village. At the time, it was almost entirely a farming area, focused largely on pickles. In time, it became the lovely suburban village that it is today.
Reasons to Consider Cary Landscape Lighting
There are a number of very good reasons why you may want to think about installing Cary landscape lighting. Whether you're looking for ways to improve your home in Cary or you're trying to improve the resale value of your home, landscape lighting is a great idea. Here are a few of the reasons why:
You Can Deter Wildlife Away with Landscape Lighting
One of the reasons that so many people enjoy living in Cary Illinois is the many natural areas that surround this village. If you enjoy strolls through natural areas, you will never run out of places to explore when you live in Cary.
The Lyons Prairie and Marsh Conservation Area surround the Fox River to the east. The Silver Creek Conservation Area is along the river to the north. The Hollows Conservation Area and Hoffman Park are to the west. Following the river can bring you to even more natural areas, including the Fox River Shores Forest Preserve and the Silver Creek Conservation Area.
All of these natural spaces are a huge attraction to living in Cary, but they can also have some downsides. Wildlife like possums and raccoons can do damage to your landscape and get into your garbage.
Because the river runs along so many natural areas and then along the border of Cary, it's very easy for wild animals to follow the river and find their way onto your property. Since Cary has lots of trees and shrubbery, wild animals tend to feel very at home here.
Landscape lighting is a great way to deter nocturnal animals that you'd rather not have on your property while not interfering at all with wildlife that you would like to enjoy such as songbirds. Keeping your property well lit will go a long way towards preventing wild animals from coming onto your property. Landscape lighting that is motion-activated will likely deter even the more determined animals who may come onto even well-lit property.
Prevent Crime with Landscape Lighting
Cary is an affluent suburb of Chicago, which unfortunately means that criminals may be attracted to it. Although it is not extremely close to Chicago, it is still near enough that criminals from the city who are looking for lucrative opportunities may seek it out. Lots of heavy tree cover in the neighborhood can make it easy for criminals to access your property undetected.
A high-quality outdoor lighting company can install landscape lighting around your perimeter that will light up criminals before they can get onto your property, making it much less likely that they will target you. Motion-activated lighting will very likely send any potential thieves running for the hills. If you want criminals to look elsewhere, Cary landscape lighting is a superb solution.
Improve the Look of Your Home
Property owners in Cary tend to take pride in how their home looks. Throughout this neighborhood, there are lots of beautiful, mature trees, well-shaped shrubbery, and lovely grassy lawns.
Many of the homes are historic and packed with character. Landscape lighting design can help you to make your home look its best in the evening and at night as well as during the day. Why spend time and effort making your home look great when you only get to enjoy it for a brief period around work and on the weekends?
With landscape lighting, you will get to enjoy the beauty of your home at night as well. Here are just a few of the ways that landscape lighting can extend your enjoyment of your home into the evening hours:
Light up flower beds. Why should you appreciate the beautiful colors in your flower beds only during the day? Landscape lighting can illuminate flowers at night, making your yard bright and colorful even at night.
Illuminate the trees. Many of the homes in Cary are marked by large, beautiful signature trees, often as old as the historic homes themselves. Landscape lighting that shines up into the trees can make them into stunning sculptures, while lighting that shines down from them mimics the appearance of moonlight.
Highlight your home. The often historic homes of Cary are rich in attractive details, such as stone and brick designs, handsome siding, etc. The best landscape lighting for your home will highlight its most attractive features. Don't have a large and grandiose home? Don't worry, a quality landscape lighting company can make the most of even relatively modest homes.
Great landscape lighting will make your home look its best, but it can also help you to enjoy your home much more than you otherwise would. Do you find yourself driven inside by the darkness when you may prefer to spend some time on the porch or out in the yard? Landscape lighting can make all of the difference:
Light up your patio. Subtle and tasteful landscape lighting for your patio will have you out enjoying a cup of coffee before the sun comes up in the morning or enjoying appetizers or eating dinner outside after the sun has gone down in the evening. You may feel that you have increased your square footage just by lighting up your patio space.
Illuminate paths. Whether you just have a path going from the street to your front door or you have decorative paths in the garden, illuminating paths with Cary landscape lighting can improve the safety and functionality of your space. You'll find it a lot easier to bring garbage out after nightfall and also find yourself drawn out to wander along a beautiful well-lit path during an evening stroll.
Light up your lawn. Would you like to spend some time playing fetch with the dog or ball with your child even after sundown? Landscape lighting that shines down from the trees and lights up your lawn mimics the effect of moonlight, giving you enough light to see but not making it appear that your yard is spotlit.
Get the Best Cary Landscape Lighting for Your Home From American National Sprinkler & Lighting
For over 30 years, American National Sprinkler & Lighting has been installing gorgeous lighting systems in suburbs surrounding Chicago, including in Cary. With over 20 well-qualified technicians, we can install lighting and tend to any issues that may come up down the road without delay.
We have the experience necessary to install lighting that will accomplish all of your goals and make your home and garden look amazing. We have been doing quality work in Cary and surrounding areas for many years. You can trust us to install lighting that will improve the value and functionality of your home.