Why You Should Consider Kildeer Landscape Lighting
Kildeer is one of the most beautiful communities in all of the villages around Chicago. The large, open lots, majestic homes, and prevalence of lakes and rivers all work together to make this a truly stunning village. If you want your home to look it's best, you may have thought about Kildeer landscape lighting.
After all, why should you only enjoy the look of your home during the day, when you're usually at work? Landscape lighting can make your home and garden stunning in the evening as well. Here's what you need to know about what to look for in landscape lighting and how an investment into the best Kildeer landscape lighting can make your home looks its best at night as well as during the day.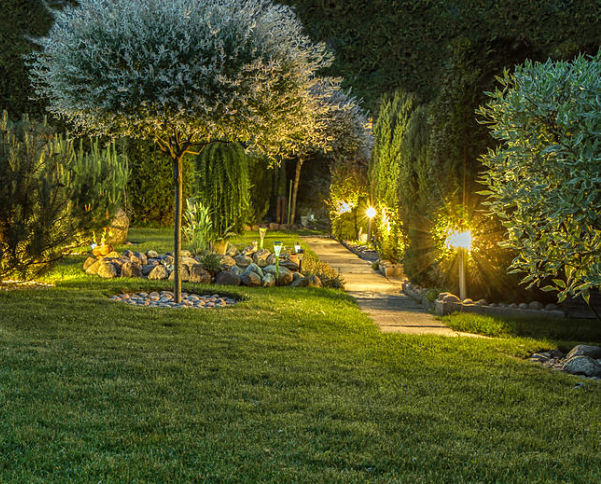 Kildeer is ranked as one of the top suburbs to live in. A lot goes into this ranking, including schools, services, amenities, crime levels, and transportation. One of the reasons that Kildeer is such a unique community and pleasant place to live is because of the way it is laid out. The entire village has a natural feel, with plenty of trees and grassy areas.
Lots are required to be large, contributing to the country feel of the neighborhood. All of Kildeer is made up of residential neighborhoods, with a variety of beautiful homes, forested areas, and plenty of charming lakes and ponds.
Kildeer has a population of just over 4,000. The ZIP code is 60047. It's an unusually shaped village, long, with a branch going out from it on North Rand Road. To the north of Kildeer is Hawthorne Woods.
Long Grove is to the east and Lake Zurich to the west. Deer Park is to the south of the community. Kildeer is almost entirely residential, with the exception of a few home remodeling businesses, private offices, and country clubs. However, you can find plenty of great restaurants at the southern border of the village, along North Rand Road.
First Watch is a healthy breakfast, brunch, and lunch cafe with great omeletes and salads. Tacos Guanajuato is a much-loved taco place with great dining or delivery options. Kildeer is a popular destination for golfers from all over, thanks to the extensive Kemper Lakes Golf Club, which takes up almost all of Kildeer north of Lake Zurich Road.
Kildeer's history as a neighborhood goes back to the 1950s, but it was likely settled by Europeans as early as the 1830s. It was primarily rural and undeveloped for a long time. However, suburban development in Lake County improved, and by 1950, many more roads were paved.
Kildeer began attracting individuals looking for a rural experience near the big city. It was incorporated in 1957, largely to prevent a developer, Joseph M. Brickman, from building a planned community in the area that was going to have much tighter living arrangements than the country feel the residents currently enjoyed. As time had gone on, the community has remained committed to the country feel they were so passionate about defending in the 1950s.
The history of the town's name is shrouded in mystery. It may be that the village was named after the many Killdeer birds in the area. Some speculate that it was the Kildeer Countryside School or Kildeer Country Club that inspired the name with the incorrect spelling.
Considering Kildeer Landscape Lighting
If you live in Kildeer, it's well worth looking into landscape lighting. The right landscape lighting design for your home can increase your security against human and animal pests, make it more beautiful, and enable you to enjoy it more.
Deter Unwanted Visitors
Landscape lighting is one of the best ways to keep unwanted nocturnal visitors off of your property. Whether the invader is an opportunistic thief searching through the affluent homes in search of a target, or whether it's one of the many animals from the nearby natural areas that has found its way into your yard, landscape lighting is a powerful deterrent.
While Kildeer does not have a lot of wilderness area in the town, only just crossing the border of the Heron Creek Forest preserve, it is near lots of wilderness areas. The Cuba Marsh Forest Preserve is to the west. The Deer Grove Forest Preserve and Deer Grove East are both to the south.
There are numerous lakes and rivers throughout Kildeer, which, combined with the open feel of the neighborhood, make it easy for animals like possums and raccoons to find their way around the neighborhood. Like many of the neighborhoods around this area, Kildeer is known for being an affluent area with beautiful homes. Unfortunately, this fact makes it a target for thieves.
Security landscape lighting can create a perimeter around your property that beautifully lights up the most charming aspects of your home while simultaneously making it impossible for people or animals to sneak onto the property undetected.
Lights that are automatically triggered by motion, in combination with security cameras or by themselves, are a powerful way to chase off anyone who doesn't belong on your property.
Make Your Home Look It's Best
Kildeer is known for the long, majestic landscape views available throughout the town. Despite this being a residential suburb of Chicago, you can easily feel like you're out in the country. It's common to have views of houses not just from the street, but from across a lake or open field.
This makes Kildeer landscape lighting especially effective. Seeing your home beautifully lit, with all of its best features accentuated across a lake or field when you come home could make you take pride in your home like never before. The large, majestic trees, shapely topiaries, and gorgeous rose gardens that are common to Kildeer all look gorgeous under the glow of the best landscape lighting.
Not only does excellent lighting enable you and your neighbors to enjoy a more attractive view of your home, but it can also do a lot to help if you're interested in selling your home. Kildeer landscape lighting makes your home stand out in a neighborhood full of lovely homes. Furthermore, since so many people look at homes after work, landscape lighting in the evening can make a huge impact, making it much more likely that someone will fall in love with your home.
Enjoy Your Home More
A well-lit property is more pleasant to be on. Why go inside when the sun sets when you could keep strolling the grounds, playing fetch with your dog or ball with your kid, or doing whatever else you enjoy doing on your lawn?
Landscape lighting can artistically and attractively shed gentle light across your lawn, providing enough illumination to keep using the lawn without making it seem spotlight. Lighting that illuminates the flowers along your paths encourages nighttime strolls.
A well-qualified outdoor lighting company can talk to you about exactly what makes your home unique and what you want from Kildeer landscape lighting to accentuate your favorite parts. Do you have a pool and think that having it lit for evening swims would be lovely? Are you proud of fountains or statues in your garden?
Perhaps an old tree on your property just has a certain flair that you'd love to accentuate. You'll be amazed by how many ways Kildeer landscape lighting can change your experience of your property. You'll find yourself spending more time outside than you ever have before.
What to Look for in Kildeer Landscape Lighting
Kildeer is a village full of people who don't settle for anything less than the best for their homes and properties. When it comes to choosing Kildeer landscape lighting, picking the right landscape lighting company is extremely important. How lighting is implemented matters.
For instance, motion-activated security landscape lighting can make the difference between a home that deters criminals and animals and a property that's an attractive target for thieves. However, if done incorrectly, it can be overly harsh, the motion activation can be triggered every time someone drives down the road, or lights can shine into your neighbor's windows.
A quality contractor can help come up with landscape lighting ideas that aren't just effective for your home, but truly accentuate what's best about it.
Looking for the Best Landscape Lighting Near Me?
If you want landscape lighting services that could make your home look better at night than it does during the day, look no further than American National Sprinkler & Lighting. We've been a trusted outdoor light contractor for homeowners throughout Kildeer and the suburbs of Chicago since 1984.
Our service technicians have over 400 combined years of experience installing exactly the kind of lighting that will make your Kildeer home stand out. We also install sprinkler systems that will keep your entire landscape green and lush while using as little water as possible. We can make your home look its best during the day and night. Just get in touch with us and let us explain how Kildeer landscape lighting can benefit your home and garden.