Kenilworth Landscape Lighting
Why You Should Get Kenilworth Landscape Ligthing
Kenilworth is one of the most beautiful communities in all of the North Shore. If you live in this gorgeous town, there is no question that you take a great deal of pride in your home and want to do all you can to protect it and make it look its best.
If you want to make your beautiful property look as lovely at night as it does during the day and provide security without negatively impacting the look of your home, Kenilworth landscape lighting is a wonderful idea. Landscape lighting can emphasize everything that you like best about your home and increase the functionality of your property.
Here's what you need to know about Kenilworth landscape lighting and why you should consider it.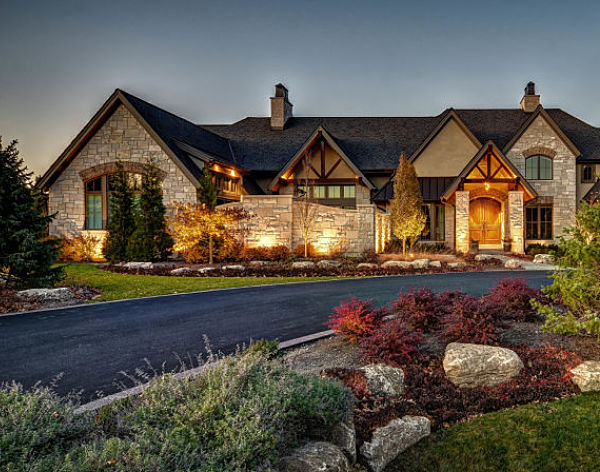 Kenilworth is located on the banks of Lake Michigan, about 17 miles from Chicago, making it a very convenient commute along I-94. This is a small but beautiful village located in Cook County between Winnetka and Wilmette, with the ZIP code 60043.
Kenilworth is laid out in large, perfectly even blocks made up of big lots with beautiful, historic homes. The homes east of Green Bay Road are particularly large and beautiful. Sheridan Road, which runs parallel to the Chicago River, is particularly lovely and serves as a popular place for tourists to take leisurely drives to appreciate the gorgeous homes. Homes to the west of Green Bay Road are also charming, but typically not quite so large.
In 2018, Kenilworth had the distinction of being the eighth wealthiest zip code in the nation and the wealthiest in the Midwest by a long shot, with an average AGI of $861,000.
Despite its small size, this is an area that is heavily steeped in history. You can learn all about its historical roots at the Kenilworth Historical Society, near Green Bay Road, off of Green Bay Trail.
There are also a number of great restaurants along Green Bay Road. The Marco Roma Pizzeria is a favorite family-owned pizza shop and Italian restaurant. Great Coast Commons offers a farm-fresh menu along with a great selection of cocktails, wine, and beer.
Kenilworth is one of several North Shore communities bordering Lake Michigan that were founded in the early 1900s. It has the distinction of being the only community in the area that was meticulously planned.
In 1889, Joseph Sears purchased 223 acres to build the community. A mere seven years later there were already 300 residents in the area and the township was incorporated as Kenilworth.
Joseph Sears had a vision for how the village should be laid out. It was designed with large, spacious lots and streets that were laid out to enable the most possible sunlight for every house. Utilities were laid underground and fences and alleys were forbidden in the village.
A church and school were built in the community on land donated by Mr. Sears. Many of the sculptures, benches, planters, bridges, etc that you can still enjoy in this community today were designed by town planner George W. Mayer when the community was originally built. This is still a fairly small community today, with around 2,500 people as of the census in 2010.
Why You Should Consider Kenilworth Landscape Lighting
As one of the wealthiest towns in the area, Kenilworth may be a target for thieves. Because it is so near Chicago, it may be even more tempting for people looking for a lucrative target.
Since fences are not allowed in this town, it can be difficult to keep people off of your property. Lots are large and heavily wooded, making it quite simple for someone to sneak unnoticed onto the property where they may be able to find an entry point. If your home is located along Lake Michigan, it may be even more tempting for criminals to approach, since they may be able to gain access from the lake itself and easily scout potential entry points by boat.
Security lighting can be an excellent way to deter criminals from coming onto your property and help you to notice them if they persist. A landscape lighting design that places lighting tastefully along the perimeter of the property, especially where there are lots of wooded areas and hedges, can be a strong deterrent to criminals.
Security landscape lighting that turns on when motion is sensed can send even determined criminals running. Kenilworth landscape lighting is one of the best ways to protect your home without marring the look of your property.
The large lots of Kenilworth are heavily wooded. This density of greenery, combined with the proximity to Lake Michigan, contributes to a lot of wildlife in the area. You probably enjoy both woodland and water birds on your property, but you may not be as pleased with some of the other wildlife that can find its way onto your land.
Potential pests like possums and raccoons can get into garbage and rip up plants. They can also carry parasites and diseases. Landscape lighting services can be a good way to gently encourage this kind of wildlife to make its home elsewhere. Nocturnal animals like possums and raccoons typically avoid well-lit areas. Motion-activated lighting can deter even persistent pests.
Part of the reason that you have chosen to live in a beautiful area like Kenilworth is surely that you want to spend time outside. Unfortunately, by the time you get up in the morning or come home from work at night, you may have little daylight with which to enjoy your property. Landscape lighting can make all the difference.
The best landscape lighting for your property can enable you to enjoy the outdoors even after the sun has set. A quality outdoor lighting company can make lighting subtly shine down from trees, replicating moonlight and lighting up the lawn enough to enjoy but not so much as to make it appear to be spotlit.
Lighting for porches and patios can make these cozy places to enjoy as you eat your dinner or have your coffee in the morning. Lighting along trails can encourage you to go for an evening stroll and enjoy your flower beds as much at night as you do during the day.
Make Your Home Look as Lovely at Night as it Does During the Day
Kenilworth has some of the most gorgeous homes in all of the Chicago suburbs. Why allow the beauty to be lost when your home is plunged into darkness at night?
A great landscape lighting company can illuminate what makes your home most beautiful. Does your house have lovely flowering vines growing up on an arbor or on the stone or brickwork? Landscape lighting is a charming way to make this feature stand out at night.
Do you have stately pillars bordering your front door? Landscape lighting can shine on each one, emphasizing the magnificent structure of your home. Whatever it is that you like best about your Kenilworth home, landscape lighting can make the most of it.
Increase Your Property Value
If you live in Kenilworth, you have probably invested a great deal into your home. You may be amazed by how much landscape lighting can add to that investment. Landscape lighting can make the other investments that you've made into your property, like a lovely exterior, gorgeous landscaping, and charming touches all seem as attractive at night as they do during the day.
Kenilworth landscape lighting is an immediately recognizable investment that can be seen when potential home buyers are driving by in the evenings after work, making it that much more likely that they will be interested in purchasing your home. Furthermore, landscape lighting is an extra touch that shows potential buyers how much you care about your property.
Why You Should Consider American National Sprinkler & Lighting for Kenilworth Landscape Lighting
When you are considering landscape lighting for your beautiful Kenilworth property, you need the best. The last thing that you want is gaudy lighting that fails to make your home look as beautiful as it can look.
Lighting that spotlights instead of gently illuminating or glares into neighboring homes won't do your beautiful architecture justice or endear you to your neighbors. American National Sprinkler & Lighting has been installing landscape lighting in the suburbs of Chicago, including the North Shore, since 1984.
We have extensive experience in this area and know exactly how to light up your property to make it look its best and to provide a great deal of function. We have over 20 technicians and a full team of office staff so we'll be available within a couple of days, no matter when you call. If your lights go out or you need any kind of service performed, you can be confident that we will be there in no time.
We take the time to carefully listen to your needs, preferences, and goals and develop a Kenilworth landscape lighting plan that will make you love coming home to your house in the evening and make your home the envy of your neighbors. Call us today or fill out our contact form for a free quote!