Highwood Landscape Lighting
Why You Need Highwood Landscape Lighting
Highwood landscape lighting can make a huge difference for your home. Whether you want additional security, more functionality, or just a more beautiful home in the evening, landscape lighting can do it all.
Here's what you need to know about Highwood landscape lighting and why you should consider it for your home.
Highwood is a charming suburb on the North Shore of Chicago in the Moraine Township, with the ZIP code 60040. It is bordered by Bannockburn to the west, Highland Park to the south, and Lake Forest to the north. It is about 28 miles from Highwood to Chicago along Highway 94 and Highway 90. Generally, this is about a 50-minute drive.
Highwood is a relatively small suburb with a population of just over 5,000. Most of this neighborhood is residential, but there are a number of great local businesses and restaurants along Sheridan Road and plenty of local events as well.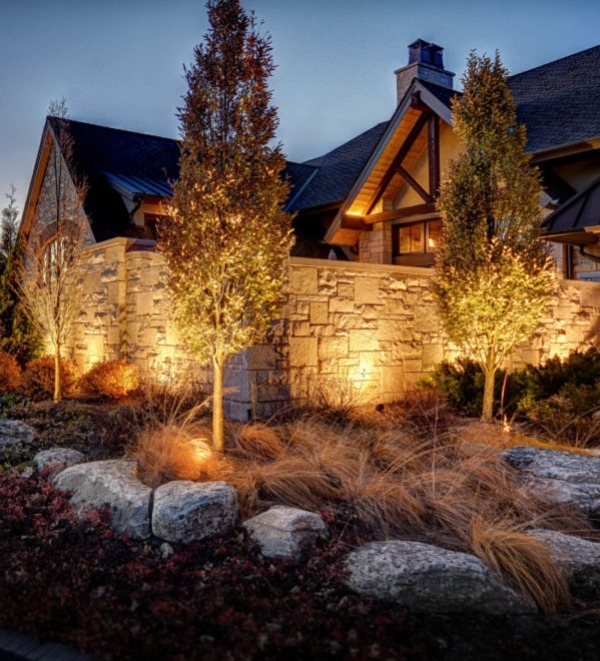 Tacos El Norte is a fun, casual restaurant with the typical Mexican cuisine. There is a cluster of tables with outside seating and a Cantina with TVs. The Mean Wiener is a fun little spot for comfort food like burgers and their famous jumbo hot dogs. If you're looking for somewhere a bit more upscale, Del Rio is a great option. It's a veteran establishment in the area, having been here for the last 90 years serving delicious Italian food.
There are a number of great attractions near Highwood, including the Openlands Lakeshore Beach on the shore of Lake Michigan and the sweeping Fort Sheridan Forest Preserve that's filled with plenty of beautiful nature trails.
History of Highwood, Illinois
Highwood Illinois has a long history going back to the 1830s. Prior to that time, the land was inhabited by the Potawatomi tribe, but it was ceded to the United States in 1833. By 1851, the Chicago North Shore and Milwaukee Railroad was headquartered in the town, which jump-started population in the area.
The area was heavily wooded, which is earned the name Highwood. In the 1880s, there was civil and labor unrest in Chicago, and businessmen in Chicago wanted a military presence near the city. Therefore, Camp Highwood was purchased and hosted the 6th Infantry Regiment. It was named Fort Sheridan to honor General Philip Sheridan.
Why You Should Consider Highwood Landscape Lighting
Highwood Landscape Lighting Can Deter Thieves
High-quality security landscape lighting can be extremely effective for deterring anybody who may want to rob your home. The houses in Highwood are lovely historic homes that may become a target for thieves.
Because these homes are older, they may have security weaknesses like older windows that can easily be pried open, door locks that stick, etc. Landscape lighting is a great way to keep thieves from coming onto your property in the first place.
Whether you want to have a landscape lighting design that lights up your perimeter so that anyone trying to come on your property would be clearly visible or you want Highwood landscape lighting that activates when it senses motion, a landscape lighting company can help you design security lighting that looks great and protects your home at the same time.
Highwood Landscape Lighting Can Prevent Animals from Coming onto Your Property
There are a number of natural areas around Highwood. The Fort Sheridan Forest Preserve, Openlands Lakeshore Preserve, and Moraine Park have lots of wilderness areas. The proximity to Lake Michigan also makes this suburb quite rich in wildlife.
While you may enjoy some animals like birds and butterflies around your house, you probably don't want pests like raccoons or possums or even potentially dangerous wildlife like foxes or bobcats on your property.
It is relatively simple for animals to navigate along the beaches of Lake Michigan and find their way into Highwood. Lighting up your property will make unwanted animals tend to avoid your home.
Make the Most of Your Home with Highwood Landscape Lighting
You surely enjoy living in Highwood, in part, because of the lovely suburban feel of the neighborhood. This is an area where people enjoy being out in their yards playing ball with their kids or fetch with their dog.
Most of the homes are beautifully maintained with gardens that emphasize the historic architecture. Landscape lighting services can emphasize what you like best about your garden and make your home as beautiful at night as it is during the day.
Here are just a few of the ways that the best landscape lighting by a high-quality outdoor lighting company can help you to enjoy your home more:
Pathway lighting. Lighting that illuminates the edges of paths or driveways can draw you out for an evening stroll through the garden. It can also make it a lot safer for you to go to your front door or bring out the garbage at night. Path lighting can also illuminate flowers or ground cover along the path, creating a lovely effect.
Tree lighting. Lighting that shines up into trees or down from branches can turn a signature tree on your property into a work of art. As an added benefit, lighting for trees casts ambient light onto your lawn so that you'll be able to enjoy outdoor activities even after the sun has set.
Patio lighting. You probably enjoy sitting out on your patio on a pleasant evening or as the sun comes up before work in the morning. Why limit your enjoyment to the daytime when the patio can be such a pleasant place at night as well with landscape lighting? Patio lighting can be simple and charming, making you want to spend your whole evening on the patio.
Lighting for special features. Do you have a fountain or statue in your garden that is your favorite part about your home? Special feature lighting can highlight features like these and make them stand out at night even more than they do during the day.
Highwood Landscape Lighting can Raise Your Home Value
Landscape lighting is a wonderful investment into your home. It is very likely to make potential homebuyers as attracted to your home in the evening as they are during the day. Landscape lighting is the sort of investment that shows you care about your home and are going the extra level to take great care of it.
When a potential buyer sees that you have invested in landscape lighting, they are more likely to expect that you have also invested in other aspects of your home. Therefore, Highwood landscape lighting can do double duty by attracting more people to your home and making it more likely that they'll pay the asking price for it.
What to Look for in Highwood Landscape Lighting
If you've decided that landscape lighting is a good option for your Highwood home, you are doubtless wondering how best to install it. Should you hire a professional or install landscape lighting yourself? What should you look for in landscape lighting?
It is best not to install landscape lighting yourself for a couple of key reasons:
It's likely not to look as good since home kits tend to have irregularity in the color and tone of the lights and be brighter near the power source and dimmer further away.
Installing landscape lightly safely can be a challenge, as it may tend to shine into the street or into the windows of other houses.
Making aesthetically pleasing choices when installing landscape lighting isn't always intuitive. For instance, most novice installers tend to put in landscape lighting so it creates continuous light, but landscape lighting actually looks best when gentle pools of light are created.
Professional landscape lighting will last much longer and raise your home value much more effectively than lighting that you install yourself.
Rather than installing your own Highwood landscape lighting, look for a professional who has been in business for a long time. You want a landscape lighting professional that has worked in Highwood and other North Shore suburbs of Chicago for many years.
You also want to be sure that the company you choose is big enough to be there when you need them but has a personal touch so they'll listen to your needs and provide exactly the landscape lighting that you have in mind.
Choose American National Sprinkler & Lighting for Highwood Landscape Lighting
American National Sprinkler & Lighting has been installing landscape lighting since 1984. We started out with just one vehicle and a couple of employees, but have now grown to have over 40 vehicles and 80 employees.
While the company has gotten a lot bigger, we still take pride in providing superior customer service and keeping customers for life. We have extensive experience in the North Shore and know exactly how to light up your Highwood home so that it will look its best. However, we'll always listen to your input and make sure that we provide the lighting that you want.
We take pride in every home that we light up and have both the technical know-how and artistic skill to make your home look amazing for the long term. Contact us to get started with a quote.