Lake Forest Landscape Lighting
Beautiful Lake Forest Landscape Lighting
The aptly named Lake Forest is a gorgeous, affluent neighborhood with unique historic homes and landscaping, resting on the shores of Lake Michigan and heavily forested with multiple natural preserves. Lake Forest landscape lighting can offer safety and aesthetic value to this lovely area.
About Lake Forest, Illinois
Lake Forest Illinois is a historic suburb founded in the 1860s along the coast of Lake Michigan. It is well known for a rich history, prominent liberal arts college, and stunning historic homes. Families tend to live in the neighborhoods of Lake Forest for generations, in part because of the unique homes and lovely streetscapes. It is not unusual to see landscaping centerpieces like majestic trees and dense flower beds that have been maintained for many years.
Nature is important to the residents of Lake Forest. In fact, the founding motto translates to "Love of Science and nature." It is not surprising, therefore, that the 19 square miles that compose Lake Forest have lots of natural open spaces, park settings, and plenty of trees. These natural landscapes continue into the neighborhoods as well. The unique homes are surrounded by sprawling lawns and often feature signature trees.
Not only are there lots of parks and natural areas for people to enjoy in Lake Forest, but there are also protected preserves for the benefit of wildlife. Multiple preserves including the Middlefork Savanna Forest Preserve and the Old School Forest Preserve run along State Road 94, providing acres and acres of wilderness for wildlife to enjoy.
Talk To A Professional Today
I highly recommend American National Sprinkler & Lighting. They make the process of opening and closing my sprinklers a breeze. I get a call in the spring to open them up and in the fall to close. Diego and his crew just came out to close the sprinklers recently and they could not have been more professional and polite. Keep up the great work!!

Rani Dabbs


October 8, 2019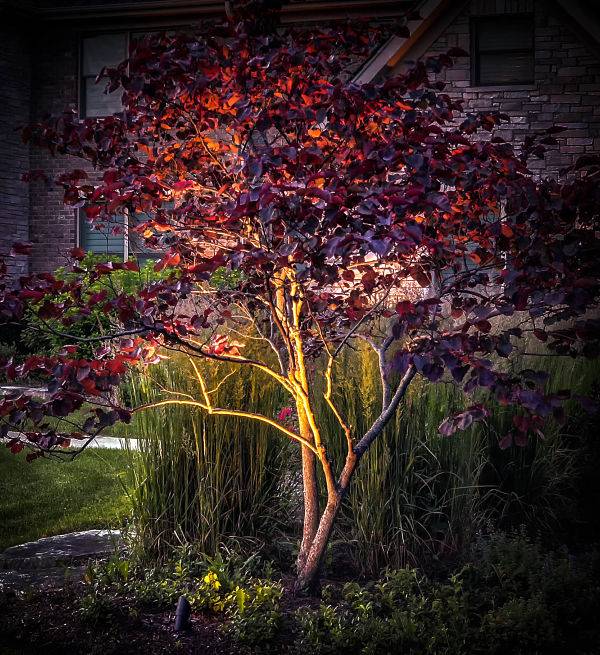 Why is Lake Forest Landscape Lighting Important for Safety?
Landscape lighting offers a number of safety benefits to homeowners, some of which are especially pertinent to the residence of Lake Forest. Here are some reasons to seek out landscape lighting for the safety of your family.
The large natural preserves of Lake Forest are a treasure for the city and provide all kinds of wonderful opportunities for wildlife viewing and nature walks. Improving urban habitats for wildlife is important for the success of our native species.
Unfortunately, these large natural areas also make it more likely that wildlife may wander into your yard. Especially if you live very near a wild area, there is a high probability that wild animals may find their way onto your property. Many animals travel by the safety of night and they deliberately avoid light. Landscape lighting for large homes with large areas of property is especially important If you would rather keep foxes, coyotes, bobcats, cougars, and bears out of your yard. This is especially important if you have pets or small children, which may be targeted by predators.
Lake Forest is well known to be an affluent area. Anyone driving down the street can see that there are likely valuables inside the homes. Unfortunately, this may make it a target for criminals looking for easy pickings. Homes that are well-lit are much less likely to be broken into. Effective landscape lighting also makes it more likely that you will see the criminal or capture them on a home surveillance camera.
Most Lake Forest homes have sprawling estates, often with large patches of rambling vegetation and lots of landscaping decorations like stones, statues, and fountains. All of this may be both beautiful and easy-to-navigate in the daytime, but it can quickly turn into a tripping risk at night. Landscape lighting will make it easier for you to move around your property without risking a fall. Landscape lighting for driveways is also important so that you and your guests will be able to easily stay on the pavement at night.
Talk To A Professional Today
Andres from American National Sprinkler & Lighting came by yesterday to perform the annual "shut-down" of my sprinkler system. As always, they were on time, professional and finished the job quickly. My system is 10 years old now and I've never had a problem with it, and the support for the system is always right on the mark. I would recommend Andres and ANSL without hesitation to anyone looking for a great systems.

Stan Clement


September 29, 2019
How Does Lake Forest Landscape Lighting Benefit the Aesthetics and Functionality of Your Home?
Landscape lighting has a number of aesthetic and functional benefits for your home and property. You, your family, and your guests will all appreciate the increased function and beauty. Furthermore, these long-lasting improvements can increase the value of your home and make your house easier to sell. Here are some ways that Lake Forest landscape lighting can benefit your home.
Highlight signature trees. Most homes in Lake Forest have at least one or two magnificent signature trees in the front yard. Landscape lighting for trees cast up into the branches can create a dramatic and magnificent effect
Spotlight artistic touches. Many lake forest homeowners enjoy an artistic touch. If there is a statue or fountain in your garden, accentuate its beauty in the evening with landscape lighting.
Encourage evening strolls. Lighting paths and offering glimpses of sweetly lit spaces throughout your garden can encourage people to wander out from your patio and explore at your next party
Emphasize unique homes. Lake Forest is known for its unique and historic architecture. The beauty of your home can fade in the evening, but landscape lighting draws attention to the parts of your home that are the most special.
Create outside spaces. Illinois has gorgeous weather throughout the summer and often during the spring and fall as well. If you'd like to enjoy spending time in your garden not just during the day but in the lovely evening hours, landscape lighting can create a space for you to relax.
Do it Yourself or Hire a Professional?
If you have decided that your home would benefit from landscape lighting, you may be wondering what your next step is. Should you try to buy and install landscape lighting yourself? After all, you know your home best. How hard is installing landscape lighting anyway?
Installing landscape lighting requires expertise both in the correct way to cast the light and in the best way to install the equipment. Care must be taken to make sure that lights don't shine into areas where the light will not be welcome, such as your neighbor's windows.
Experts know how to use the fewest lights possible, as well as using low voltage landscape lighting where appropriate, to accomplish your lighting goals and save you money. If your goal is to increase the safety of your Lake Forest home, it is even more essential that lighting is used properly in order to meet your security needs. Landscape lighting for large homes can be especially challenging when safety is the goal.
Lake Forest Landscape Lighting with American National Sprinkler & Lighting
The company that you choose should have the expertise needed to plan and install lights but also be committed to meeting the needs of your unique home and property. American National Sprinkler & Lighting has extensive experience with landscape lighting throughout the Lake Forest area.
With over 75 years of combined experience in the industry, we know just what it takes to provide the lighting that will meet your needs at the most reasonable possible price. Our materials are designed to last. You may think that you'll save money by buying your own lighting, but constantly maintaining faulty equipment will cost more money and much more frustration in the long run. Our team of highly trained landscaping professionals will meet with you during flexible appointments that fit easily into your busy schedule.
We will develop a unique lighting plan specifically for your landscape and needs. Tell us what you like best about your home and garden and we will choose a lighting plan to highlight these qualities. Let us plan a lighting strategy that makes your home gorgeous in the nighttime, offers you more extensive use of your property in the dark, and protects your home against criminals and wild animals.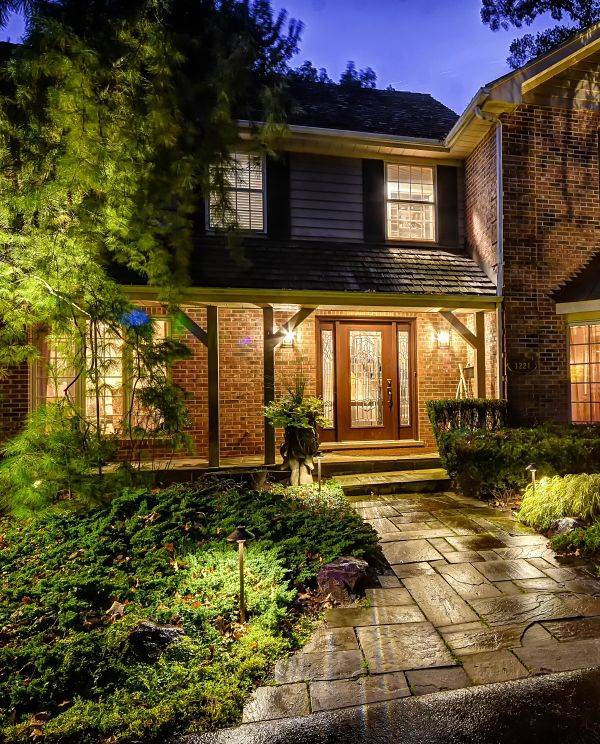 What Kind of Lighting Does American National Provide?
American National offers every sort of lighting that you may need or hope for, including some lights that you may not even know exist. Here are some of the services that we offer.
Tree lighting. A gorgeous signature tree in your yard can turn into a dense shadow in the night, but tree lighting can make it even more majestic than during the day.
Shrubbery highlights. Why should you appreciate the gorgeous flowers and foliage of your shrubbery only in the daytime? Shrubbery lights make flowers beautiful throughout the night as well and also help to light shrubbery so you won't bump into it.
Flower lights. Flowers should be appreciated night and day. Flower lights are designed to make your flower beds look beautiful 24/7. They illuminate your flowers at night but fade Into the background during the day.
Statue, decor, and art lighting. Is there a feature of your garden that you absolutely love? We want to make it look great at night as well as during the day. A fountain with light shining through the water or a statue dramatically lit for effect can add so much to the appearance of your garden at night
Trellis lights. Trellises are wonderful because they filter light, offer privacy, and provide vertical gardening spaces. A trellis delicately lit by lights that hide among the foliage can make an average space feel like a wonderland.
Call American National Sprinkler & Lighting for a Free Quote Today
Are you ready to transform your home's evening persona? Call our Lake Forest landscape lighting team today and schedule a flexible appointment so that we can provide you with a free quote. If you're on the fence about investing in landscape lighting, this is a wonderful opportunity to see what kind of value you can get for your home and how much it will cost.
Call us for your free quote at (847) 388-0321 or fill out our quick Contact Form so that we may connect with you.