What You Need to Know About Lake Bluff Landscape Lighting
Lake Bluff is a gorgeous village full of lovely neighborhoods and people who take a lot of pride in their homes. Lake Bluff landscape lighting can enable you to get the most out of your beautiful property, improving security, functionality, and aesthetics.
Lake Bluff is a charming village within Lake County on the shores of Lake Michigan, about 35 miles north of Chicago. It's a reasonable 50-minute drive along I-94 East to get to Chicago from Lake Bluff. It has the ZIP code 60044.
This village is quite large, but it is relatively sparsely populated, with a population of just over 5,500. It is located between Lake Forest to the south, North Chicago to the north, and Knollwood to the west.
There are lots of great places to go to the beach or launch a boat in this neighborhood, with Sunrise Park and Lake Bluff Beach being perhaps the best. This area is primarily residential, but there are some awesome local restaurants.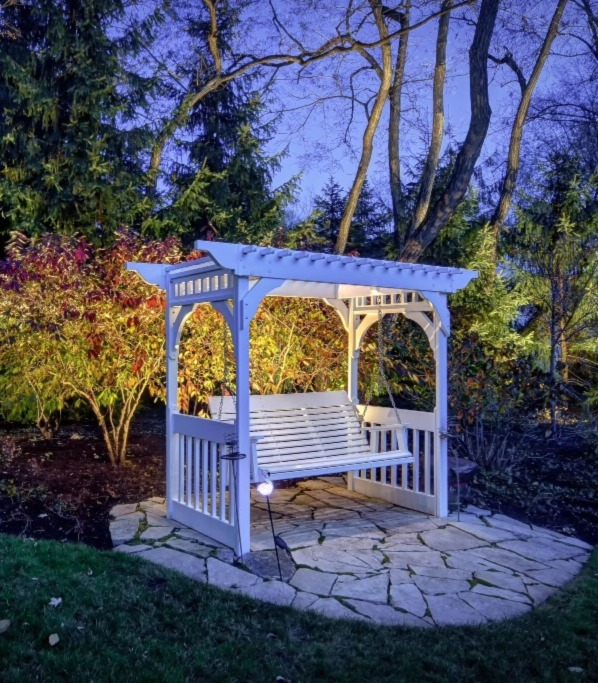 The Otherdoor is a delicious Mexican restaurant with some of the best chips and salsa you're going to find in the area. The Village Grill and Terrace is the perfect restaurant for you to visit if you would like to spend the day playing golf and have a great lunch or dinner, as it's located right on the golf course. Meatheads is a well-loved burger joint that also has great sandwiches & shakes.
Lake Bluff is a historic village with a history going back to the 1830s. The first settler came to the area in 1836 and claimed 100 acres of land on the lake. By 1855, a railroad went through the village, which enabled greater growth.
As time went on, the village became a favorite summer resort for residents of Chicago. People enjoyed the beaches, the lake, and the cliffs. In 1895, the village was incorporated. The town was likely named Lake Bluff because of its proximity to the lake and the fact that there are many ravines.
Why You Should Consider Lake Bluff Landscape Lighting
Lake Bluff Landscape Lighting Offers Protection From Thieves
Lake Bluff is an affluent neighborhood with large, beautiful homes on big lots. One of the lovely things about this neighborhood is the many mature trees and the fact that there are very few fences, giving the entire neighborhood a park-like feel.
However, the combination of homes that may tend to be attractive to thieves, plenty of trees and shrubbery to shield a potential burglar from view, and the lack of fences to obstruct access to the homes can make this neighborhood particularly likely to fall victim to a robbery. Quality security landscape lighting is a powerful deterrent to thieves.
Whether you choose landscape lighting that illuminates your perimeter or you pick lighting that senses motion, there's a very good chance that thieves will look elsewhere rather than targeting your home. If someone does persist in coming onto your property despite the lighting, you are much more likely to be able to see them with a well-lit property.
Security lighting doesn't have to be unattractive. An experienced landscape lighting services company can light up your property so that thieves will be less likely to target you while also making your home look better in the evening and increasing the functionality of your property.
Lake Bluff Landscape Lighting Can Deter Wildlife
One of the best things about living in Lake Bluff is the park-like feel of the neighborhoods. Lots of trees and greenery, few fences, and large grassy lots all contribute to the feeling. Another huge advantage of living in this neighborhood is the proximity to Lake Michigan. Lake Bluff is also very near to wilderness areas including the Middlefork Savanna Forest Preserve and a number of golf courses.
An unfortunate side effect of the proximity to Lake Michigan, the natural areas nearby, and the park-like feel of the neighborhoods in Lake Bluff is the tendency of wildlife that may not be welcome to find its way onto your property. While you probably like seeing some songbirds in your yard, you are less likely to feel welcoming toward raccoons, possums, and animals that could be a threat to pets or children like foxes, coyotes, or bobcats.
A good outdoor lighting company can provide lighting that will be a powerful deterrent to wildlife like this. Consistent outdoor lighting or lighting that is triggered by motion is very likely to make nocturnal pests keep going, rather than entering your property.
Enjoy Your Home More with Lake Bluff Landscape Lighting
Part of the reason you enjoy living in Lake Bluff is surely spending time outside. Homes in these neighborhoods are situated on large lots with plenty of grassy space and lots of beautiful trees. Residents of Lake Bluff enjoy spending time playing on their lawns, gardening in their flower beds, and generally appreciating the great outdoors. Good landscape lighting design can enable you to get even more out of your Lake Bluff home.
Here are just a few of the ways that landscape lighting can make your property more fun:
Path lighting. There's something wonderfully romantic about wandering along a gently lit garden path in the evening. Path lighting lines the edges of your path or driveway with gentle pools of light that are just enough to illuminate your way but not so much as to take away from the beauty of the evening. If you have flower beds or shrubbery along the path, the lighting can also bring out the colors so you can enjoy them at night as well as during the day.
Tree lighting. Lighting that shines up into the gorgeous signature trees of Lake Bluff can turn each one of them into a work of art. As an added benefit, the ambient light that is cast around the trees can provide enough light to enjoy your lawn or gently light up flower beds or shrubbery around the trees.
Porch lighting. Why should the setting sun send you inside when you're enjoying a lovely evening on the porch? Porch lighting can be carefully tailored by a landscape lighting company so that it fits the feel of your home, whether modern or historic, so that you can keep spending time on your porch even as the sun sets.
Feature lights. Are there statues in your garden that truly define the space? Perhaps you have beautiful fountains or ponds. Feature light can illuminate your favorite parts of your garden so that they draw even more attention and look more striking at night than they do during the day. Landscape lighting that shines through running water or shines down into a pond can be particularly attractive.
Riase Your Property Value with Lake Bluff Landscape Lighting
The best landscape lighting is an investment in your home. In a neighborhood as beautiful as those in Lake Bluff, it can be pretty hard to think of ways to increase the value of your home or make it stand out to potential home buyers. Landscape lighting is the perfect solution.
Quality landscape lighting installed by a professional is the kind of investment that shows potential home buyers that you care about your home and are going above and beyond to make it look its best. Furthermore, landscape lighting can draw attention to your home (and your "For Sale" sign) at night, making it more likely that someone will notice and fall in love with your house and want to buy it.
Landscape lighting is a rare investment that not only can make it more likely that a potential home buyer will pay your asking price, but that they will notice your house in the first place.
American National Sprinkler & Lighting is the Best Choice for Lake Bluff Landscape Lighting
If you're ready to make an investment into landscape lighting for your Lake Bluff home, you have a lot of important decisions to make about who does the installation. It may be tempting to install landscape lighting yourself, but if you want your landscape lighting to look great and serve its intended purpose, it's better to hire a professional.
There is a lot of technical as well as artistic skill required to install landscape lighting well. You want to hire someone who has significant experience installing landscape lighting in Lake Bluff who will listen to your needs and provide lighting that is perfect for you.
American National Sprinkler & Lighting has been installing landscape lighting in Lake Bluff and throughout the North Shore since 1984. We started out with just one vehicle and three employees, but have grown to a significant company with over 40 vehicles and 80 employees.
While we have gotten big enough to provide you with the best possible service and equipment, we haven't forgotten how to provide a personal touch and listen to our clients' specific needs. Contact us today and let us know what you want from your landscape lighting and we'll be happy to provide you with a quote.