Evanston Landscape Lighting
Evanston Landscape Lighting Will Make You Love Your Home Even More
Evanston Landscape Lighting can do a lot to improve the aesthetic, practicality, and safety of your Evanston home. Evanston is a lovely city with a border on the North Shore near the far south bank of Lake Michigan, about 14 miles north of Chicago. Northwestern University is located within the borders of this city. It is within Cook County, near Skokie to the west and Wilmette to the north. If you need to commute to Chicago regularly, you'll love the drive, which follows the water most of the way.
There are a number of reasons why you may want to consider hiring an outdoor lighting company to improve your beautiful Evanston property. Here's what you need to know to find the best landscape lighting for this area as well as why you should be considering landscape lighting.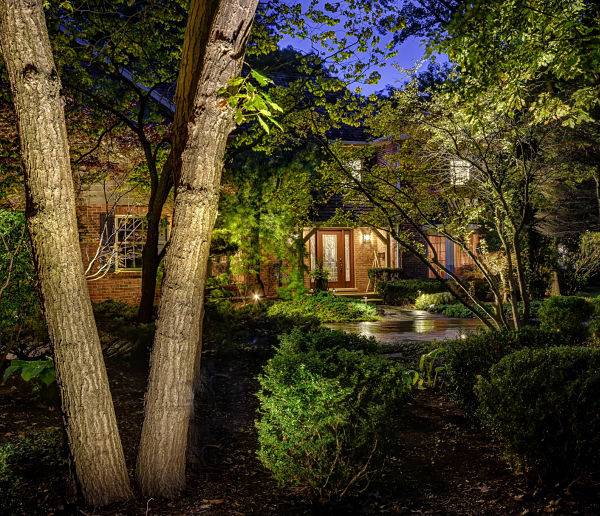 Evanston is a sizable city made up of large, comfortable lots. It has a population of around 75,000 people. This is a college town, home to Northwestern University, which is a leading research university.
The university has been here since before the city was even incorporated. Northwestern University opened its doors in 1855 and the town of Evanston was named in 1857. Since the early days of this university city, it has been known for gorgeous architecture, particularly along the lake.
The city has always prided itself on existing independently of Chicago rather than just being considered a suburb of the larger city. It has a vibrant culture unto itself, including highly desirable restaurants like the Hewn Bakery which offers freshly baked hand-shaped bread, Dave's New Kitchen, a beloved Italian restaurant, and Soul & Smoke, which offers classic BBQ.
Why You May Want to Consider Evanston Landscape Lighting
Landscape Lighting Can Prevent Crime
With the average home valued at nearly $400,000, it is very clear that Evanston is an affluent city made up of primary well-off neighborhoods. It's historic architecture, particularly along Lake Michigan, is one of the most well-known things about this area.
Unfortunately, there are some downsides to living in an area that is well known for its beautiful and expensive homes. Crime may be attracted to this area. The university brings lots of people who may be opportunistic in searching out places to rob.
Chicago is close enough that criminals from the area could easily make it to Evanston. Furthermore, the lake offers the potential for crime to make its way into backyards without attracting the notice of a passerby.
Evanston landscape lighting is a great way to deter criminals. Thieves are less likely to choose to target a home that is well lit. Even if you would rather not have lights on all of the time, motion-activated lights will surely send any potential criminal on their way. By lighting the perimeter of your home and avoiding any dark areas where someone could sneak in undetected, you can make it much less likely that your home will be the target of crime.
Deter Undesirable Animals with Landscape Lighting
A river cuts through Evanston in the north and forms the Western border through the rest of the city. This river is one of the many attractive features of the town. It is lined by parks and a nature trail known as the North Shore Channel Trail runs along it for most of the way.
However, there are some negative aspects to this attractive river and the parks that surround it. It can easily become a thoroughfare for wildlife passing from the banks of Lake Michigan to the series of forested areas further west including Blue Star Memorial Woods, Wayside Woods, and Miami Woods.
Sometimes you're sure to enjoy the wildlife that this river and forested areas attract such as songbirds, squirrels, and maybe even the occasional deer. However, some wildlife is surely less attractive to you. Possums and raccoons can be pests, destroying your landscaping and getting into your garbage. Larger predators like foxes, coyotes, and bobcats can be a threat to pets or even children.
Evanston landscape lighting is a safe way to deter wildlife without doing it any harm. Animals are much less likely to wander into a well-lit landscape. Lights that are triggered by motion sensors are very likely to frighten away any nocturnal animals that find their way onto your property.
Evanston Landscape Lighting Can Improve the Look of Your Home
If you live in Evanston, you probably take some pride in the appearance of your home. After all, one of the hallmarks of the city is its celebrated architecture. Many of the homes in this area are historic and have been beautifully maintained for many years. Elegant brick features, beautiful signature trees, and charming patios are the norm in this area.
When you are looking for ways to make your home look even better, you can't overlook landscape lighting design. The best landscape lighting can make your home look as beautiful at night as it does during the day.
Draw attention to the things you like best about your property, whether it is the lovely stone or brickwork of pillars, a charming patio, or signature trees. Do you put a lot of effort into a lovely flower bed in the summer? Why not make it as colorful at night as it is during the day with landscape lighting?
Enjoy Your Home More with Landscape Lighting
There's something about coming home to a well-lit home that just makes you feel cozy. With gorgeous porch lighting, you may find yourself meandering on the patio with an evening beverage rather than going straight inside. Lighting along pathways can draw you out into your garden whereas you would otherwise spend the time inside.
Lighting that comes down from trees and replicates the appearance of moonlight can even encourage you to spend more time in your yard playing a game of fetch with your dog or playing ball with the kids even after the sun has set. In a number of different ways, Evanston landscape lighting can help you enjoy your home more.
What to Look for in a Landscape Lighting Company
You may toy with the idea of installing landscape lighting yourself, but you are likely to find that hiring a professional to install landscape lighting is a better option. Professionals know exactly how to highlight what is most attractive about your home, and the lighting they install is more likely to improve your property value and offer long-term benefits than doing it yourself.
There are many more options available to a professional landscape lighting installation expert as far as the type of lights and the options with what to do with them than are available to the amateur from a big-box store.
Once you have decided to go with a professional, what should you be looking for in a company to install your landscape lighting?
Experience working in the area. You want to choose a professional that has been in the area for at least a decade or more so that you can be confident that they are here for the long run and will be able to maintain your lighting for many years to come.
A significant company. A single-person company may be fine for some of your installation needs, but when it comes to a major improvement like landscape lighting, you want to choose a company big enough to have technicians available when you need them.
Good reviews. The company you choose should be well-known in the community and be frequently referred by landscape contractors and architects.
Licensed, bonded, and insured. For your protection, make sure the technicians who will be working on your property have these essential qualifications.
Willing to listen. The company that you choose should employ people who are interested in your ideas about what you want from landscape lighting and willing to tailor the services they provide to exactly what you need.
A beautiful track record. The company you're considering should be able to point to jobs well done that show off excellent use of technical skill and aesthetics to dramatically improve the look of the homes they serve.
Choose American National Sprinkler and Lighting: The Best Evanston Landscape Lighting for Your Home
High-quality landscape lighting can improve the value of your home, help you to enjoy your property more, end make your family safer. With all of these benefits, it's no wonder that landscape lighting is a very popular option for many suburbs of Chicago and surrounding cities, including Evanston.
Think carefully about what you want for your landscape lighting and be sure to choose a company that has a long-standing track record of successful installations. American National Sprinkler and Lighting has been serving the area since 1984. They have grown to a very successful company that is regularly referred to by architects and contractors in the area. They know what it takes to use landscape lighting to make the most of your home, but are more than happy to listen to your ideas and create a customized lighting plan that fits your needs.
Call us today or fill out our contact form to get started!