Are You Considering Bannockburn Landscape Lighting?
Landscape lighting can do wonders for any property, but Bannockburn landscape lighting may be an even better decision than lighting for other neighborhoods in Illinois. The huge lots, wide open country feel, and beautiful, affluent homes of Bannockburn make this neighborhood a superb fit for landscape lighting.
You can get more enjoyment out of your property, protect your land from thieves and pesky animals, and make your home look even more beautiful at night than it does during the day with landscape lighting. Here's what you need to know about Bannockburn landscape lighting to help you make the right choices about lighting your property.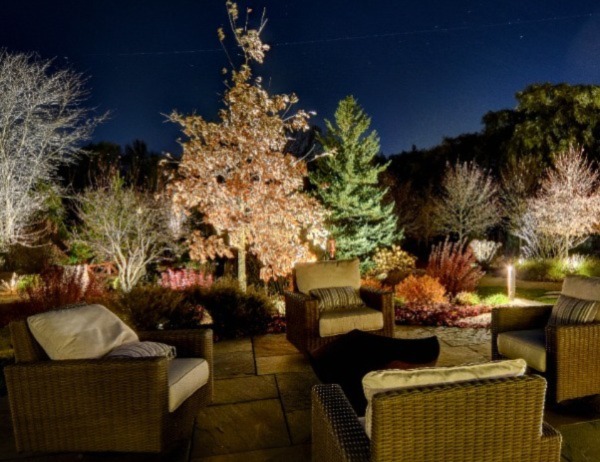 Bannockburn is a lovely and historic village in Lake County, Illinois. It's nestled between Highway 94 and Highway 43, a short 15-minute drive to the edge of Lake Michigan and a reasonable 45-minute commute to Chicago. The zip code in Bannockburn is 60015. Highland Park is to its east, Deerfield to the south, Lincolnshire to the west, and the sweeping Middlefork Savanna Forest Preserve is to the north. As of the 2000 census, the population of Bannockburn was 1,429.
Bannockburn is home to Trinity International University, which gives the community a college-town feel. Bannockburn is overwhelmingly residential, with few businesses within the town limits. However, just outside of town, there are plenty of places to enjoy. The Newport Coffee House on the intersection of Half Day Road and Highway 43 is a longtime favorite in the neighborhood, with artisanal coffee blends and delicious baked goods. Eggsperience Bannockburn is another great restaurant in the same plaza, which offers lunch and breakfast, as well as delicious smoothies. On the other side of Blackburn, at the intersection of Half Day Road and Highway 94, you'll find the lovely Leaf Cafe, conveniently located in the lobby of one of the university buildings. It's the perfect place to go if you want a college feel and yummy fried food.
The first settlers in Bannockburn arrived from Ireland in the 1830s. The first buildings were a log cabin on 280 acres near where is now Hilltop Lane. However, modern Bannockburn as we know it today was founded in the early 1920s by a Scottish real estate developer who wanted to build lovely country estates near enough to the lake to be convenient but not right on the water.
Bannockburn is still a community designed to make you feel like you're living in the country. Originally, each lot had to be at least an acre. Now each lot has to be on at least two acres, intensifying the country feel of the area. The village grew quickly after its original construction. In the 1950s the Tri-State Tollway went through the village, encouraging growth. In the 1980s, the community developed a commercial district.
Why You May Want to Consider Bannockburn Landscape Lighting
Bannockburn Landscape Lighting Can Deter Thieves
The huge lots, extensive greenery, and little ambient lighting coming from streets or businesses are what people love about living in Bannockburn. Despite being less than an hour drive to downtown Chicago, when you're in Bannockburn, you feel like you're out in the country. Nature trails cutting all over the village intensify this feeling.
While it's wonderful to hear the birds singing instead of lots of traffic and chatter from the street, the relative isolation of Bannockburn, combined with its proximity to Chicago, can make this village a target for thieves. The university within the town limits may also make it more likely that people will be coming and going through the area, searching for opportunities to take advantage of.
Bannockburn landscape lighting is the most effective way to deter thieves from your property without hurting the beauty or open feel of it. Putting a fence around your Bannockburn property would hinder the look, and it may not even be allowed depending on where you are in the village. However, motion-activated light is a powerful way to scare thieves away while being invisible during the day. No one will even know you have landscape lighting unless you want them to. As soon as a thief steps foot on your property, they'll be lit up and quick to step back off again.
Avoid Unwanted Wildlife With the Help of Bannockburn Landscape Lighting
Since you chose to live in a village with huge country lots and plenty of trees and shrubbery, it's fair to assume you probably enjoy the outdoors and seeing some wildlife. It's wonderful to see songbirds, butterflies, and even somewhat larger wildlife like the occasional turkey or even deer coming from the Prairie Wolf Forest Preserve. However, if there are raccoons and possums getting into your trash and landscaping at night or even foxes or coyotes threatening your children or pets, you'll probably be a little bit less excited about visitors from the neighboring woods.
Landscape lighting is an effective way to safely deter unwanted nocturnal wildlife without hurting it. Nocturnal animals will naturally avoid brightly-lit places, choosing instead to stick to the many dark and forested areas in Bannockburn. Lights that are motion-activated work well, but attractive landscape lights that stay on all night are also a great solution.
Enjoy Your Property More With Bannockburn Landscape Lighting
If you live in Bannockburn, you doubtless take pride in the rolling acres, gorgeous old trees, and of course, the beautiful home on your property. However, if you're letting the sinking sun drive you inside at night, you're missing out on the maximum enjoyment of your home. Bannockburn landscape lighting can enable you to enjoy nighttime strolls, appreciate the beauty of your flower beds, and generally just get the most out of your property at night as much as during the day.
Since you probably work during the day and spend more time at home at night than during the day, getting a little more out of your property after dark is a huge advantage. Here are just a few of the simple ways that Bannockburn landscape lighting can make a difference in your property:
Invite nighttime strolls. Properties in Bannockburn must be at least two acres. Although the houses are large, they certainly don't take up most of the property. This makes Bannockburn the perfect place for putting in lots of lovely paths through the property to enjoy. If those paths are gently lit you'll be much more tempted to stroll along them in the evening as well as during the day.
Enjoy color at night as well as during the day. Why go to the work of planting vibrant flower beds, brilliantly colored and textured ground cover, or trees with leaves in shades of changing red and orange in the fall if you only see them for a few hours during the day? Landscape lighting can shine color into your nocturnal landscape.
Keep the fun rolling. The next time you're playing ball with your child or fetch with your dog as the sun sets, just keep on playing as landscape lighting automatically turns on and washes the yard with a gentle light that replicates moonlight. It's just enough light to see the ball and keep having fun, but not so much that the area feels spotlit.
If you're considering installing Bannockburn landscape lighting, it's essential to choose the best outdoor lighting company you can find. You might have some landscape lighting ideas of your own, making you think that perhaps this is a project you can do by yourself. However, when it comes to Bannockburn landscape lighting, it's best to choose a landscape lighting company that knows what they're doing.
Landscape lighting design may seem straightforward at first glance. However, to highlight the most stunning features of the gorgeous homes and properties in Bannockburn, you need the best landscape lighting. An outdoor light contractor who has spent years making homes like yours look stunning in the evening is your best bet.
If you want security landscape lighting installed, professional landscape lighting services are potentially even more important. A professional can examine your property and talk to you about your goals to design a lighting system that leaves no gaps where a thief could slip by.
How Should I Choose Landscape Lighting Near Me?
Who Should I Choose For Bannockburn Landscape Lighting?
American National Sprinkler & Lighting has been in business since the 1980s. Over 8,500 satisfied customers speak to our skills in lighting and sprinkler installation. Our 25 service technicians offer over 400 years of experience. A state-of-the-art 13,000 square foot facility allows us to stock more inventory than the competition, and much more than you'd be able to find at a home improvement store if you were doing it yourself.
This expansive inventory and experience with multiple installations enables us to customized lighting systems that truly fit your home's specific character and your exact tastes. We're passionate about landscape lighting installation. We'll take time to talk with you about everything you want from your landscape lighting so you'll be 100% satisfied with the job that we do. Contact us today so we can start tailoring your outdoor lighting to meet your specific needs.