Morton Grove Landscape Lighting
Should You Consider Morton Grove Landscape Lighting?
Morton Grove is a charming village with a long history of farming and growing flowers for the floral industry. It still has a park-like feel today. If you want the most beauty and functionality from your home, Morton Grove landscape lighting may be something you should consider.
From making flowers pop with color as much at night as they do during the day, to protecting your home and property from unwanted guests, landscape lighting has a lot to offer. Here's what you need to know about Morton Grove landscape lighting to help you decide whether this is the right investment for your home, and to enable you to find the best company for the job.
About the Morton Grove Area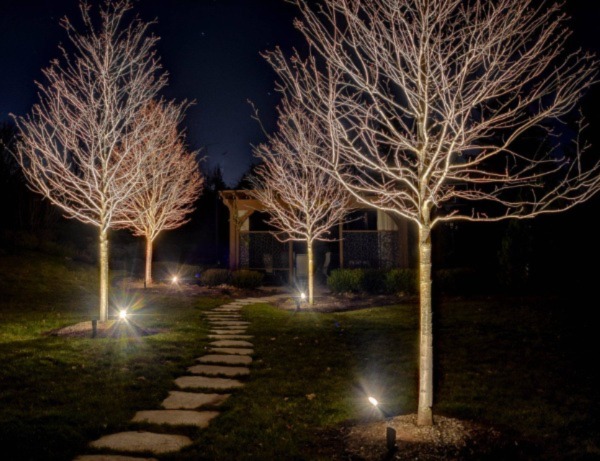 Morton Grove is a large village neighborhood with a population of over 25,000 people, located just west of Skokie Boulevard in Cook county, in the Maine and Niles townships. The North Branch of the Chicago River runs through the town. Skokie is to the east, Niles to the northwest, and Glenview to the north. Morton Grove has the ZIP code 60053.
Morton's Grove is largely residential, but there are plenty of great restaurants along the major roads in the village: Dempster Street and Waukegan Road. Las Fuentes is a delicious Mexican restaurant with a great atmosphere and good drink specials. Tommy's Tavern Bar and Grill has excellent burgers and pool tables. If you're looking for something different, the Mazalae Mongolian restaurant offers a variety of authentic Mongolian dishes. The steamed dumplings are especially loved by fans.
Morton Grove is distinct for the amount of wilderness areas and excellent golf courses nearby. Significant areas around the North Branch of the Chicago River are preserved as parks with walking trails. South of Morton Grove, the forested area continues along the river. North of Morton Grove is the expansive Glenview Golf Club and Chick Evans Golf Course
Morton Grove was settled early in America's history, like much of the area around Chicago. Farmers from England moved into the area in the 1830s after Native Americans were driven from the area. Initially, there was a lot of logging so that charcoal could be created to heat Chicago homes. In the 1880s, greenhouses were built in Morton Grove which were heated by hundreds of tons of coal. These greenhouses were built to support a thriving floral industry in the area.
The village of Morton Grove incorporated in 1895. It was named Morton Grove to honor a New York financier of the railroad that had resulted in so much growth for the village. By the 1900s, farmland was being converted into businesses, an airfield, and nightclubs. Morton Grove grew steadily after World War II, along with the rest of the area.
Why Should You Consider Morton Grove Landscape Lighting?
Morton Grove is a charming village made up of attractive single family homes on reasonably sized lots. Walk through just about any neighborhood in this village, and you're sure to notice the park-like feel. Front yards are almost never fenced. Lawns and the grassy area between the sidewalk and the street are studded with mature trees of a variety of species. In fact, Morton Grove encourages its citizens to nominate champion trees, which are extremely old, large, or exceptional examples of their species.
If you'd like your home to add to the overall beauty of your neighborhood and stand out as the best looking house on the block, Morton Grove landscape lighting is worth looking into.
Make Your Home Look it's Best in the Evening as Well as During The Day
Morton Grove landscape lighting can transform the look of your home at night. You probably put a lot of effort into maintaining attractive flower gardens, keeping trees and shrubbery attractively pruned, and choosing the most interesting ground covers. You also probably put a lot of effort into the details of your home, like the lovely shiplap siding by the front door or the beautiful bay window in the living room. Landscape lighting can make every one of these details more beautiful:
Lights strategically hidden in flower beds illuminate the flowers so that they are just as colorful at night as they are during the day.
Illumination from below can cast a dramatic look to textured walls and emphasize features like decorative shutters or bay windows.
Charming brass fixtures along a pathway are a lovely feature during the day or the night, and they can make paths absolutely delightful to wander down in the evening.
Lighting that shoots up into the trees can turn every network of branches into architectural artwork
Morton Grove Landscaping Lighting Increases the Functionality of Your Home
If you're like most people in Morton Grove, you probably love spending time on your patio, hanging out grilling in your backyard, or playing ball with your kids or pets in the front yard. The best landscape lighting for your home can make it possible for you to do everything you love in the outdoors in the evening as well as during the day.
Lighting that casts down from tree branches replicates mood light, gently illuminating your yard so you can enjoy the space at night without feeling spotlit. Lighting that casts out from hedges and ground cover can also gently illuminate the grass and paths nearby, making it easy to walk along and enjoy the view. Lighting along pathways makes it much safer and easier to go for a night time stroll or even just bring out the trash. A great outdoor light contractor can put the lights on your porches or patios on a schedule so they always come on when the sun goes down. They can add dimmers so you can get exactly the feel that you want at any time and customize positioning so that you'll have the illumination you want without any glare or bothering neighbors.
Raise Your Property and Increase the Likelihood of Selling It
Landscape lighting is one of the best investments you can make into your home. Landscape lighting makes your home seem more valuable to a potential buyer. This is the kind of investment that shows you're going the extra mile to make your home it's best. Lighting installed by a quality landscape lighting company lasts a long time and shows its quality every time it gets dark with even, consistent lighting.
Good landscape lighting accentuates the best things about your house, making it more likely that a potential buyer will be interested. Want to make sure potential buyers notice the beautiful siding? Light it up.
Furthermore, landscape lighting makes your home look it's best at the times people are most likely to be cruising around looking for a house to buy: in the morning before work and in the evening after work. Landscape lighting services can even highlight your "For Sale" sign, making it impossible for potential buyers to miss your house.
Enable Greater Security With Morton Grove Landscape Lighting
One of the best things about living in Morton Grove is the wealth of natural areas around the North Branch of the Chicago River. However, there are some downsides to living so close to so many wilderness areas. Both opportunistic animals and criminals can take advantage of the river and woods to scout out and approach your home.
The heavy tree cover that makes Morton Grove so attractive can also make it easy for uninvited guests to approach your property. Wildlife like possums, raccoons, and even coyotes or bobcats use the tree cover and shrubbery to hunt and forage on your property. These animals can even be a threat to pets or children. Thieves take advantage of the cover to try door handles and look for unlocked windows. Security landscape lighting can keep both animal pests and opportunistic thieves at bay.
Great landscape lighting design utilizes motion activated lighting to illuminate anyone who shouldn't be there. If you'd like, pair it with a camera system so you can see who the intruder is. Good perimeter lighting is also a powerful deterrent to thieves and animals, as well as being attractive all night long.
What to Look for in Morton Grove Landscape Lighting Near Me
You need an outdoor lighting company who knows how to make your Morton Grove home look it's best. You'd like someone who has some good landscape lighting ideas, but you also want somebody who's willing to listen to what you need and accommodate your requests.
American National Sprinkler & Lighting has been installing lighting and sprinklers throughout the North Shore, including in Morton Grove, since the early 1980s. While we have grown from a three employee company to a 13,000 square foot facility with 40 vehicles and 80 employees, we still maintain a small business mindset when it comes to meeting our customers' needs.
Our goal is to install and maintain lighting that you'll enjoy for many years to come or sell with your home as a valuable addition. Contact us today so we can talk to you about what you need from your Morton Grove landscape lighting.