Lincolnshire Landscape Lighting
Lincolnshire Landscape Lighting Can Make Your Home Even Better
Lincolnshire is a truly stunning place to live. Homes tend to be large and beautiful, and there is plenty of green space and lots of mature trees across this sprawling village.
Lincolnshire is located about 30 miles from Chicago and only about six miles (or a 15-minute drive) from Lake Michigan, making it a highly desirable area. It is bordered by several other beautiful and affluent villages including Riverwoods, Mettawa, and Deerfield.
Here's what you need to know about why Lincolnshire landscape lighting may be a good option for your home to increase the safety, enjoyability, and desirability of your home.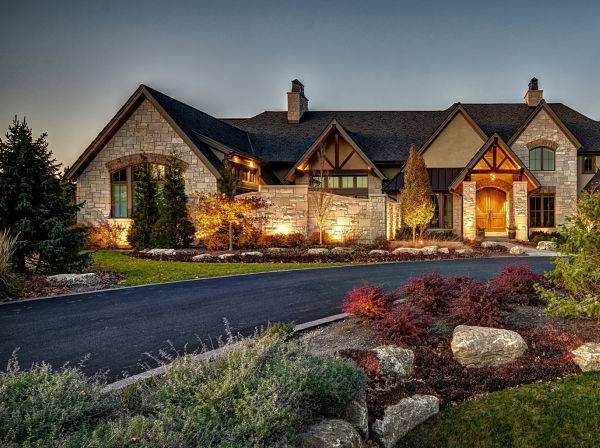 Lincolnshire is a historic village within Lake County that was incorporated in 1957 but has a history of being populated by Native Americans and then by European immigrants going back to the 1600s. It was inhabited by the Potawatomi until the 1800s, at which point it became part of a town known as Half Day, established by white immigrants. Half Day grew quickly during the 1800s, and had a school and other essential shops like a blacksmith, church, and country store by 1900.
At the end of World War 1, the area was carved up into a number of villages, including Lincolnshire. Since then, it has steadily grown while maintaining lots of natural areas and green space.
Why You May Want to Consider Lincolnshire Landscape Lighting
Lincolnshire Landscape Lighting May Reduce Crime
North Milwaukee Avenue cuts through Lincolnshire and there are a number of nearby restaurants including a couple of superb sushi restaurants like Starfish Sushi and Van Sushi Cafe as well as some great breakfast places including the Fried Egg and the Egg Harbor Cafe.
While being near to a metropolitan area like the shops along North Milwaukee Avenue has some clear advantages, there are downsides as well. Crime may be more common when there is a nearby Metropolitan space like this.
People traveling along Milwaukee Avenue can be tempted by the affluent neighborhoods within Lincolnshire. With a population of just over 7,000 10 years ago that has grown to 7500 as of 2019, growth in the neighborhood seems to have stabilized, but there are still a lot of people in this area. More people in affluent homes means that there is an even greater temptation for thieves.
Landscape lighting can go a long way to reduce the possibility of crime. Criminals are much less likely to target a well-lit home. If a criminal is trying to sneak onto your property, having motion-sensitive lights turn on is a great way to dissuade them.
Lincolnshire Landscape Lighting Can Deter Wildlife
One of the unique things about Lincolnshire that many residents love best is how natural this village is. The Des Plaines River cuts through near the center of the village, and there are a number of lakes and streams throughout it as well. The river itself is bordered by a large natural area, and there are a number of parks within the boundaries of Lincolnshire.
Even better for nature lovers, there are a couple of very large natural areas bordering the village. To the south is the Edward L Ryerson Conservation Area, and to the north is the Captain Daniel Wright Woods Forest Preserve and Grainger Woods County Forest Preserve. These natural areas are the perfect place to take a hike and soak in the wild, natural beauty.
They also mean that a fair amount of wildlife moves through town along the Des Plaines River, moving from one natural area to another. Residents love opportunities to glimpse deer, wild birds, and other attractive wildlife.
However, what may be less attractive to you are the pests and potentially dangerous wildlife that may also wander into your backyard. Possums, raccoons, and armadillos can be annoyances, uprooting landscaping and getting into garbage. Larger predators like foxes, coyotes, bobcats, and cougars can be a threat to pets or even children.
Landscape lighting is a great way to deter unwanted wildlife without harming it and still encourage desirable wildlife such as birdlife during the day. Nocturnal wild animals are much less likely to wander into a space that is well lit. Motion-activated lights are a great way to frighten away wildlife that may be acclimated to consistent lighting.
Lincolnshire Landscape Lighting Can Make You Enjoy Your Home Even More
It doesn't take much time strolling through Lincolnshire to recognize that this is a community that loves nature. The beautiful homes are set on large, grassy lots with lots of mature trees, attractive shrubbery, and beautifully tended flower gardens. This is a neighborhood where people enjoy being outside, gardening, playing ball, or enjoying time with the family dog.
Landscape lighting design can do even more to help you enjoy your outdoor space at night as well as during the day. Here are just a few ways that Lincolnshire landscape lighting can improve your experience at home:
Pathway lighting. Lighting your driveway and any paths around your home is a functional way to improve your footing, but it also can draw you out to enjoy your garden at night as well as during the day. It's hard to resist a beautifully lit path on a lovely evening, and you may find yourself strolling through your garden much more than you ever did before.
Tree lighting. Lincolnshire has more than its fair share of gorgeous, mature trees. In fact, as you are wandering through the neighborhood, the effect can almost be of walking through a forest. A high-quality outdoor lighting company can shine light into your trees, making each one into a work of art, or shine lights down from the trees to create the effect of moonlight, making your yard much more beautiful and enjoyable to be in at dark.
Lawn lighting. The lawns in Lincolnshire tend to be big, sprawling, and perfect for playing some outdoor sports. By lighting lawns effectively, you can enjoy them at night as well as during the day. Lawns bordered by landscape lighting are lit well enough to keep you from stumbling and to give you just enough light to see a ball, but not so light that they appear spotlit. Lighting coming down from trees replicating moonlight is also a great way to light lawns so you can enjoy them at night.
Flower bed lighting. You work hard to maintain gorgeous flower beds, so why should you enjoy them only during the day? Flower bed lighting provides a pop of color in your yard at night as well, which you can enjoy on nighttime strolls and from the home while looking out at your garden.
Increase the Value of Your Home with Lincolnshire Landscape Lighting
Most of the homes throughout Lincolnshire are quite affluent, boasting large floor plans on big lots. If you are in the market to sell your home, you may find it hard to compete with the other gorgeous houses in this area.
The best landscape lighting can do a lot to attract potential home buyers and increase your property value. Great landscape lighting is a long-term investment that will also benefit the next person to purchase your home.
Beautiful lighting helps to exemplify what makes your home special and can make a potential homebuyer fall in love, making it more likely that they'll pay the asking price. Does your home have beautiful brick or stone accents? What about stunning flower beds? Are your signature trees the most impressive feature of your landscape? Whatever it is that makes your home unique, landscape lighting can make that feature shine.
How to Choose a Landscape Lighting Company
If you are in the market for a landscape lighting company, it can sometimes be difficult to know what to look for. You need the best landscape lighting for your home, at a reasonable price, from a company you can count on. Here are a few things to look for:
A company that has a history in the area so that they are experienced in what works best for your type of home.
A local company that won't be too far away if you need to have your lighting serviced that is staffed with sufficient technicians to meet your needs whenever you call.
A vast selection of professional landscape lighting that offers you many more options than big box store choices.
Professionals who listen to your needs and strive to provide lighting that meets your unique style.
Choose American National Sprinkler & Lighting for Lincolnshire Landscape Lighting
American National Sprinkler & Lighting has been serving Lincolnshire and the surrounding areas since the early 1980s, and they know exactly what it takes to provide superb lighting for your home. Over 20 well-qualified technicians are available to meet your needs at any time.
American National Sprinkler & Lighting installs landscape lighting that is built to last at a price that is reasonable. They'll take the time to listen to exactly what you need from your landscape lighting and give you options from their extensive supply of professional lighting to achieve exactly the effect you are looking for.