Landscape Lighting Barrington
Throughout the North Shore, Barrington is known for its vast dining options, popular shopping centers, and rich history. Home to the state's largest residential historic district, Barrington homeowners take great pride in their beautiful Victorian houses and, of course, their landscapes. If you are looking to add landscape lighting to your Barrington home, or update an existing system, our team at American National is ready to help.
The Incredible Effects of Landscape Lighting
Landscape lighting is an amazing way to bring your home to life at night. In addition to enhancing your property's curb appeal, landscape lighting has the added benefits of:
Increase the value of your home
Improving your yard's functionality
Enhancing your home's security
Making your yard a safer place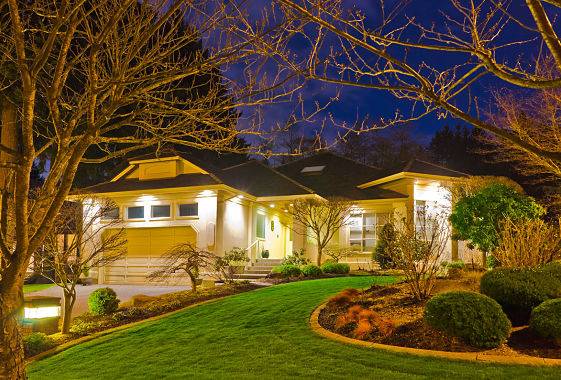 Creating Your Lighting System
Our landscape lighting Barrington team understands that every property and homeowner has unique lighting needs. After hearing your vision for your lighting system and doing an assessment of your property, we'll create a custom lighting plan tailored to your home and the areas you'd most like to highlight.
Talk To A Professional Today
Andres from American National Sprinkler & Lighting came by yesterday to perform the annual "shut-down" of my sprinkler system. As always, they were on time, professional and finished the job quickly. My system is 10 years old now and I've never had a problem with it, and the support for the system is always right on the mark. I would recommend Andres and ANSL without hesitation to anyone looking for a great systems.

Stan Clement


September 29, 2019
Get Landscape Lighting For Your Barrington Home
Our expert team is ready to help light up your home!
Popular Landscape Lighting Options:
Tree lights
Flower lights
Trellis lights
Outdoor window lighting
Home feature lighting
Address highlights
Meet Our Landscape Lighting Barrington Team
We've proudly served the Barrington and North Shore area for more than 30 years. With deep ties to the community, our landscape lighting Barrington team is fully committed to providing local homeowners with comprehensive, high-quality landscape lighting systems to last for years and years to come. We offer:
Trained professionals with more than 75 years of collective industry experience
High-quality, long-lasting fixtures and lighting
Flexible appointments to accommodate your busy schedule
Interested in learning more about American National or getting started on your next landscape lighting project? Give us a call at (847) 393-4379 or set up a free consultation today.